CP Small Block 5.0 302 351 Ford Pistons SBF Stroker Piston Sets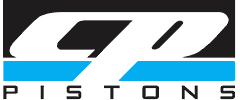 Ford Piston Sale! Big discounts on top of the line forged 5.0 302 351 Ford CP Pistons!
PLEASE NOTE: This sale is for a limited time only and these prices are good only on remaining piston sets in stock. Once these are sold these low prices will be gone forever!
CP Pistons is dedicated to producing the highest quality forged competition Ford pistons in the industry. CP Small Block Ford 302, 351 stock stroke and stroker Ford Pistons are for those wanting the absolute best possible forged piston for their Ford Windsor small block 5.0, 302 or 351 based high performance racing engine. CP Pistons supply racing components to top level competitors in NASCAR, Formula One, NHRA, IHRA, NMCA, CASCAR, the IRL and many other premier racing series. CP Pistons manufacturing is handled totally in house which enables them to produce a superior product. CP is committed to designing and producing the highest quality, lightest, best performing forged small block Ford pistons on the market.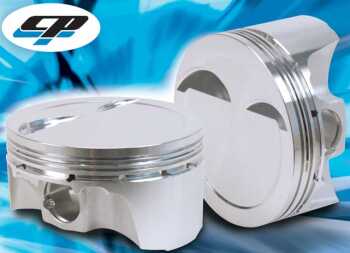 CP Small Block Ford Forged Pistons for racers that demand the best!
302 and 351W forged CP Pistons sets feature:
Set of 8 forged pistons
Suitable for nitrous oxide
Suitable for Supercharged or Turbo engines
Wrist pins and pin fitting included (set of 8)
Accumulator groove included
Double pin oilers are force fed from the oil ring
Large valve relief depths and diameters allow for high lift cams and oversized valves
Piston sets are balanced to +/- 1 gram
Pin lock grooves included to ease lock removal
Fully CNC Machined
Double spiral locks included
Ring groove widths 1/16 1/16 3/16
SALE prices limited to stock on hand!
CP Small block Ford Windsor 5.0 - 302 - 351 - Flat Top Forged Piston Sets

Bore = Cylinder bore size piston is designed to work in
Stroke = Crankshaft stroke in inches
Rod = Connecting rod center to center length that piston is designed to work with
CH = Compression height of piston
DISP = Displacement in ccs of valve reliefs
WT = Weight of piston in grams
NOTES = Installation note codes, please read notes at bottom of table

BORE
STROKE
ROD
CH
DISP
WT
NOTES
PART
4.000
3.000
5.090
1.6
-5cc
473
C, Z
S6000
4.030
3.000
5.090
1.6
-5cc
486
C, Z
S6001
4.000
3.250
5.400
1.17
-5cc
415
C, E, G
S6005
4.030
3.250
5.400
1.17
-5cc
428
C, E, G
S6006
4.000
3.400
5.400
1.09
-5cc
401
C, E, G
S6010
4.030
3.400
5.400
1.09
-5cc
412
C, E, G
S6011
4.000
4.000
6.200
1.28
-5cc
436
C, G
S6045
4.030
4.000
6.200
1.28
-5cc
449
C, G
S6046

$0.00
Contact us for availability!

Notes:

C - Supplied with double spiral locks
E - Oil ring support rails included
G - Supplied with .927 x 2.750 pin (130 grams)
Z - Supplied with .912 x 2.750 pin (123 grams)
CP SBF Windsor 5.0 - 302 - 351 Inverted Dome / Dish Forged Piston Sets

Bore = Cylinder bore size piston is designed to work in
Stroke = Crankshaft stroke in inches
Rod = Connecting rod center to center length that piston is designed to work with
CH = Compression height of piston
DISP = Displacement in ccs of valve reliefs and / or dish
WT = Weight of piston in grams
NOTES = Installation note codes, please read notes for codes listed here

BORE
STROKE
ROD
CH
DISP
WT
NOTES
PART
4.000
3.000
5.090
1.6
-9cc
481
C, Z
S6030
4.030
3.000
5.090
1.6
-9.25cc
495
C, Z
S6031
4.000
3.250
5.400
1.17
-16cc
417
C, E, G
S6035
4.030
3.250
5.400
1.17
-16cc
429
C, E, G
S6036
4.000
3.400
5.400
1.09
-20cc
404
C, E, G
S6040
4.030
3.400
5.400
1.09
-20cc
416
C, E, G
S6041
4.000
4.000
6.200
1.28
-32cc
429
C, E, G
S6055
4.030
4.000
6.200
1.28
-32cc
435
C, E, G
S6056

Notes:

C - Supplied with double spiral locks
E - Oil ring support rails included
G - Supplied with .927 x 2.750 pin (130 grams)
Z - Supplied with .912 x 2.750 pin (123 grams)
CP Pistons Forged SBF Windsor 5.0 - 302 - 351 TFS Twisted R Flat Top Piston Sets

Bore = Cylinder bore size piston is designed to work in
Stroke = Crankshaft stroke in inches
Rod = Connecting rod center to center length that piston is designed to work with
CH = Compression height of piston
DISP = Displacement in ccs of valve reliefs and / or dish
WT = Weight of piston in grams
NOTES = Installation note codes, please read notes for codes listed here

BORE
STROKE
ROD
CH
DISP
WT
NOTES
PART
4.000
3.000
5.090
1.6
-3.75cc
476
C, Z
S6013
4.030
3.000
5.090
1.6
-3.75cc
489
C, Z
S6014
4.000
3.250
5.400
1.17
-3.75cc
423
C, E, G
S6016
4.030
3.250
5.400
1.17
-3.75cc
436
C, E, G
S6017
4.000
3.400
5.400
1.09
-3.75cc
409
C, E, G
S6020
4.030
3.400
5.400
1.09
-3.75cc
422
C, E, G
S6021
4.000
4.000
6.200
1.28
-3.75cc
442
C, G
S6050
4.030
4.000
6.200
1.28
-3.75cc
456
C, G
S6051

Notes:

C - Supplied with double spiral locks
E - Oil ring support rails included
G - Supplied with .927 x 2.750 pin (130 grams)
Z - Supplied with .912 x 2.750 pin (123 grams)