Suzuki RM 250 Piston Kit CP Pistons Suzuki RM 250 2 Stroke High Performance Suzuki RM250 Piston & Gasket Kits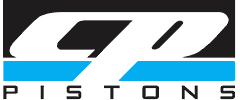 CP RM250 Pistons, for those that demand the ultimate in engine performance!
CP Pistons makes a top quality forged Suzuki RM 250 piston for high performance and off road racing. CP produces these forged RM250 piston kits for several model years of these powerful RM 250 2 stroke dirt bikes. In addition to these premium Suzuki RM250 piston kits, we also sell Cometic RM 250 gasket kits and other RM 250 parts. The gaskets are available with the pistons, or they can be purchased separately.
Here at Campbell Enterprises we are proud to be a dealer for the entire line of CP Pistons brand performance and racing Suzuki 250cc 2 stroke pistons. These forged 2 stroke RM 250 piston kits are designed to be used in everything from a bike that is used for play riding on trails, to engines used in all out off road and motocross racing bikes. They are premium forged pistons which provide greatly improved strength, dependability, power and less weight than stock piston, cast pistons, or other lesser quality aftermarket pistons. These CP Suzuki RM 250 piston kits come complete with a piston pin, pin locks, piston pin bearing and high performance piston rings.
When you need to perform a Suzuki RM250 top end rebuild we hope you will choose to purchase your piston and gasket kits from us. These pistons offer exceptional performance and durability and are engineered for maximum power output and acceleration.
Get Holeshot Winning Power with CP Pistons RM 250 Pistons from Campbell Enterprises!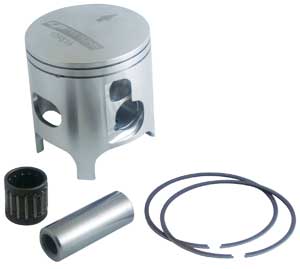 CP Pistons Forged Piston 2005 - 2008 Suzuki RM 250 Piston Kit High Performance RM250 Piston and Gasket Kits

Piston Kit includes: Piston, pin, locks, piston rings, and pin bearing
Gasket Kit Includes: Cometic high performance top end gaskets required to replace piston

Stock Standard Bore size is 66.4mm (2.614") Stock Stroke is 72mm (2.835") Liquid Cooled 2 stroke single cylinder

Description
Installation Notes

Piston Kit

Gasket Kit

Replacement
Piston Rings

66.4mm Standard Bore 250cc
deglaze cylinder

CP M24250

CP C3099

$35.10 $31.59





CPSC-6640
The piston and gaskets listed on this page fit the following model year RM125 Dirt Bikes:
2005 2006 2007 2008 Suzuki RM 125 Piston Kits and Gaskets