C4 Transmission Kit C4 Performance Racing Rebuild Kits
When it is time to do a C4 rebuild, a high quality transmission rebuild parts kit makes the job easier and insures maximum performance gain and longevity. We have the quality C4 transmission kits you need to for your performance rebuild. Whether for a muscle car restoration, high performance street vehicle, street rod, hot rod, or all out race C4 transmission, we have the transmission rebuild kit you need to do the job right. We offer a variety of performance C4 rebuild kits from a gasket and seal kit, to a master overhaul C4 kit.
We sell the top quality JW Performance Transmissions brand turbo C4 transmission kit and master overhaul kits. Each C4 transmission kit includes the same quality components that JW uses in the high performance and racing C4 transmissions that they build.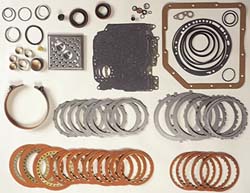 JW Performance Mercury Ford C4 Trans Rebuild Kits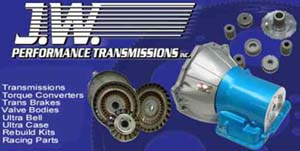 The time to perform a C4 transmission rebuild with one of these kits is before trouble strikes. Whether you are restoring a street car, or building an all out racing transmission, using a top quality C4 trans overhaul kit or master overhaul kit will insure maximum performance and reliability.
Ford C4 Transmission Rebuild Kits

For a further description of what is included in each kit, click here: Transmission Kit Contents

Part Number
Description
Price
jw 40090
short kit 1964 - 1969
$73.33 $69.66
jw 40091
short kit 1970 and newer
$73.33 $69.66
jw 40100
C4 trans overhaul kit 64-69 model years
$144.96 $137.71
jw 40101
trans overhaul kit 1970 and newer
$144.96 $137.71
jw 40110
C4 transmission master rebuild kit 64 - 69 model years
$223.65 $212.47
jw 40111
C4 transmission master overhaul kit 1970 and newer
$223.65 $212.47
jw 40006
C4 high flow transmission filter
$39.38 $37.41

Haynes Techbook Ford Automatic Transmission Overhaul

This book covers the covers rear-wheel drive C3, C4, C5, C6, and AOD transmissions and also the front-wheel drive models ATX/FLC and AXOD.

Included are the fundamentals, diagnosis techniques, and modifications. Softbound, 8 1/2 x 10 3/4, 288 pages, 691 b&w ill.

Ford Automatic Transmission Overhaul (Haynes Manuals)

Ford Transmissions Repair Book 1960-2007 Automatic and Manual Transmissions Author: Max Ellery

Automatic AOD, BW 35/40, LE85/91/93/95/97, C4, C5, C6, C9, C10, FMX and M51. Manual 3 speed, 4 speed and 5 speed single rail, Top Loader, T5 and M57. Step by step instructions for a pull down and rebuild. Includes specifications, torque settings, problem diagnosis, shift speeds plus more information. This book is from an Australian publisher, and covers both American and Australian applications.

Paperback - 8" x 11" - 264 pages - 919 b/w, 10 Ill.

Transmission Repair Book Ford 1960 to 2007: Automatic and Manual
If you do not find the C4 rebuild kit you are looking for, please e-mail, use our online chat system, or call us and we will be happy to help you.
Automatic Transmission model nomenclature and related model name reference:
Ford Mercury FoMoCo
C4
JW Performance Automatic Transmissions Catalog Index Page
Automatic Transmission Adjustment, Tips and FAQ
Powerglide Trans Rebuild Kit | TH 350 Rebuild Kits | TH400 Rebuild Kits | C6 Overhaul Kits | TF 727 Rebuild Kits |