Stroker Kit Performance & Racing Stroker Kits Rotating Assembly Stroker Engine Kits
Stroker kits are more popular than ever before and we offer a wide range of stroker crank kits, for many different engine types, with many choices of stroke, rod type and length, pistons, different compression ratios, standard or file fit rings and top quality main and rod bearings. We are happy to offer many custom options to get you the best possible kit, for your exact combination. We will also ship the rotating assembly unbalanced, if you prefer to have your local machine shop do the balancing, or we can balance the stroker kit before shipping if you prefer for an additional charge. We work hard to provide the exact components you need, for your exact combination, instead of offering just a few "one size fits all" stroker kits.
If you do not see a kit on our site that includes the items you want, or you need a different bore size or compression piston, please contact us and we will be happy to help you with a custom configured stroker kit.
Superior Quality Stroker Kits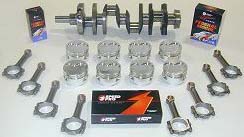 Our stroker kits are made up from top quality parts including stroker crankshafts and connecting rods from K1 Technologies, EAGLE, Manley, CAT, and more. Diamond Pistons, Ross Racing Pistons, BRC, Probe, Speed Pro, and others provide the stroker pistons for our kits. Piston ring sets are from Speed Pro, Childs & Albert, Ross, Hastings and others. We use Clevite 77 and Federal Mogul, Speed Pro, bearings. We also offer the complete line of EAGLE Stroker Kits. Unlike some companies, we do allow you to mix and match components if you have preferences about which brand parts are used to make up your kits and we are happy to let you know exactly what brand parts will be included in your stroker engine kit.
Engine Rotating Assembly and Stroker Engine Kit Choices and Options
You have your choice with our stroker kits, of not only different brand names, different bore sizes, and crankshafts strokes, but also different rod types, such as H beam, I beam or Pro I beam, different compression ratio pistons, different stroker rod lengths, and different piston ring choices for many bore sizes such as standard fit or file fit, and standard or low tension oil ring.
We will be constantly adding many of the more popular stroker engine kits, rotating assemblies, to our website. Due to the custom requirements of many stroker kits, we suggest that you contact us and let us know what you are looking for and we will be happy to get a quote back to you, for your exact application, ASAP.
Please click on the link in the below table for the stroker engine model you are working on to see more detailed info for your brand and basic model engine.
Stroker Engine Kit Listings by Engine Make
Chevy Stroker Kits
Small Block Chevy 305 331 334 355 377 383 406 412 420 434
LS1 Small Block Chevy 347 374 383 393 398 408 414 418 428 425 438
Big Block Chevy 460 489 502
Ford Stroker Kits
Small Block Ford 332 347 383 408
Big Block Ford 460 514
Chrysler Dodge Plymouth Mopar Stroker Kits
Small Block Mopar Stroker Kits and Rotating Assemblies
Eagle Small Block Mopar 340 360 5.9L Magnum Rotating Assemblies& Stroker Kits
Big Block Mopar 361 383 400 413 426Wedge 426 Hemi 440 500 Stroker Kits
Honda Stroker Kits
Pontiac Stroker Kits
Oldsmobile Stroker Kits
Back to Top Stroker Kit Info