Connecting Rods H Beam Rods and I Beam Rods
Connecting rods in modern high performance and racing engines, are subject to far more abuse than in years past, luckily, modern I beam and H beam connecting rods are up to the task. Advances in metallurgy and machining techniques, have made superior automotive con rod sets available, at reasonable prices. Modern connecting rods for performance and racing engines, as well as muscle car, hot rod and street rod engines are most often made in two basic types, the I-beam and the H-beam. Also available are aluminum connecting rods, and billet steel, and even titanium connecting rods for limited applications.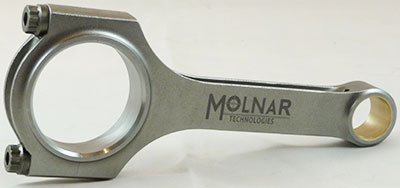 If you choose the correct connecting rod for your application, and install it properly, and maintain proper lubrication to it, while not subjecting your engine to detonation or excessive lean conditions, you will have the foundation for a strong, dependable rotating assembly that will last for many engine cycles, while giving trouble free service. You should always choose a performance conrod that is rated for the amount of power and type of driving you intend on doing. You can always go with a stronger rod than needed, for additional durability, but choosing a rod with less strength than required for your engine, is asking for trouble. On top of the fact that modern engines are making far more power than ever, with the use of turbo chargers, super chargers and nitrous, pistons, connecting rods and crankshafts are being more highly stressed than ever. Fortunately, the parts are available to stand up the the demands of current HP and race engines.
Stock Replacement, High Performance and Racing Connecting Rods
We offer several types of con rods, from the biggest names in the business, and all at discounted prices. We have engine rods available for stock rebuilds, which are often less expensive than having a set of old, stock rods, reconditioned. We have rods for high performance engines, street rods, hot rods, street strip cars, racing connecting rods for all out drag race, oval track and road race cars, as well as rods for specialty events like tractor pulls, mud bog vehicles, sand drags, etc. If you can not find the part you need, or if you have application questions, please feel free to e-mail us, and we will be happy to assist you.
We offer H Beam rods and I beam conrods from Molnar Technologies, Carrillo, K1 Technologies, Manley, Eagle Rods, Wiseco and more.
Please click on the links in the below table, to view more information on the rods we have available. Clicking the manufacturers name, will take you to their intro page, or you may select your make of engine to go directly to engine specific con rod listings.
---
Molnar Technologies Connecting Rods

To see all available Molnar Rods please click here > Molnar Technologies Connecting Rod Online Catalog
---
K1 Technologies Con Rods and Sport Compact Connecting Rod Set Index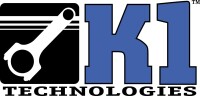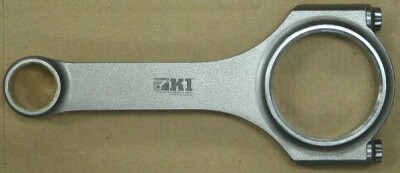 AMC
Buick
Chevy Ecotec 4 Cylinder
Chevy 6 Cylinder
Chevy LS1 LS2 LS6 LS7 LQ9 LSX V8
Chevy Small Block Rods SBC 283 302 305 327 350 383 400
Chevy Big Block Rods 396 402 427 454 502
Chrysler Dodge Mopar 4 Cylinder
Chrysler Dodge Mopar 6 Cylinder
Chrysler Dodge Mopar Plymouth Small Block 273 318 340 360 5.2 5.9 Magnum V8
Chrysler Dodge Mopar Small Block Hemi 5.7 and 6.1 Hemi V8
Chrysler Dodge Mopar Big Block Rods Wedge 361 383 400 413 426W 440 V8
Chrysler 354 Hemi
Chrysler 392 Hemi
Chrysler Dodge Mopar 426 Hemi V8
Dodge Viper V10 488
Ford 4 Cylinder
Ford 6 Cylinder
Ford 4.6L and 5.4L MOD Rods Modular V8
Ford Small Block V8
Ford Big Block Rods V8
Harley Davidson Motorcycle
Honda Rods
Hyundai
Mazda
Mitsubishi
Nissan
Peugeot
Subaru
Suzuki Automotive
Toyota
Vauxhall
VW
Manley Connecting Rods

Manley Connecting Rods Catalog Index
Chevy
Small Block
Big Block
Ford / Mercury
Mopar Chrysler Dodge Plymouth
---
Eagle Rods Eagle SIR I Beam Rods and Eagle H Beam Rods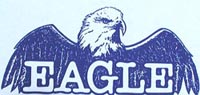 Chevy Connecting Rods
Chrysler Dodge Plymouth Mopar Eagle Rods
Ford Mercury Eagle Connecting Rods
Oldsmobile Eagle Rods
Pontiac Eagle Connecting Rods
Rods by Engine Showing Multiple Brands
If you do not see the rods you need for your engine please contact us. We have connecting rods for new applications arriving frequently.
Back to Top Connecting Rods Index
Additional connecting rod resources: Engine Connecting Rods