JW Performance Transmissions
JW transmission parts for Chevy, GM, Mopar, AMC and Ford, covering many different model performance and racing transmissions are available here. We are proud to offer the entire product line of quality automatic transmissions and parts from JW Performance.
Finding JW Performance Parts On Our Website
To browse our shopping cart listings of JW Performance Transmissions products please look on our home page at the "Browse our Catalog" box ( top left border ) and click on the make of car, truck, vehicle or OEM transmission manufacturer that you are interested in, then scroll down the browse box to select Transmission Auto, and then you may browse all available parts, or further refine the parts listing by clicking on the type of transmission parts you are interested in. Or, if you prefer you can visit individual pages on our site for the various JW Performance Transmissions parts and complete transmissions by using the table of contents listed below.
Many more parts available, individual repair parts, rebuild kits, shift kits, etc., if you do not see what you need, please use our online chat system, call, or use our contact form.
JW Performance Transmissions Online Catalog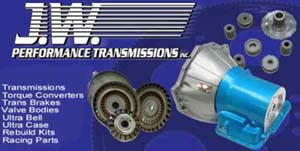 Clicking on one of the chapter subsections will take you directly to information on that line item.
Ultra Components by JW Performance Transmissions
Valve Bodies Manual Shift Valve Bodies and Transbrake Valve Body Kits
Transmission Kits Automatic Transmission Rebuild Kits Overhaul Kits Master Kits
Transmission Coolers and Transmission Cooler and Fan Kits
Transmission Pans
Torque Converters
GM Powerglide Chevy Buick Pontiac Oldsmobile PG
GM TH200 Metric 200 Transmission
GM Turbo 350 Chevy Buick Pontiac Oldsmobile TH350
GM Turbo 400 Chevy Buick Pontiac Oldsmobile TH400
GM 700R4
Ford C4 Mercury C4
Ford C6 Mercury C6
Chrysler 727 Torqueflite Dodge Plymouth Mopar 727
Chrysler 904 998 999 Torqueflite Dodge Plymouth Mopar 904 998 999
Automatic Transmission Adjustment, Tips, Questions and FAQ