Small Block Chevy Motor Plate Aluminum Front SBC Motor Plate
Our aluminum front plate type small block Chevy motor mounts for racing or engine swaps make it easy to install any small block Chevy engine into any type of vehicle. The use of a SBC motor plate provides a simple means of mounting any SBC engine in just about any application from a Hot Rod to an all out competition vehicle. These plates make engine mounting and installation a simple and straight forward task. Our front motor plates are made from 1/4 thick 6061-T6 aluminum.
We also have small block Chevy mid motor mounting plates. SBC mid plates are available in both 13 gauge mild steel and also 6061-T6 aluminum. In many applications where you use a stock type transmission cross member, the use of a mid plate is not required as you can use the front motor plate in combination with the transmission cross member. If you are not using a stock type transmission cross member, then you can use the mid plate in conjunction with the front plate.
These small block Chevy motor mount plates are very popular for all types of street and drag race vehicles, door cars, dragsters, and roadsters. A SBC motor plate offers an easy way to mount a different engine than what may have come in the car or truck you are working on. You can even mount a SBC engine into any make of vehicle. These plates also work well for street rods, hot rods, custom cars, "Pro-Street" type vehicles, mud trucks and more..
For installation information please click How to Install a Small Block Chevy Motor Mount Plate
SBC Motor Mounts 6061-T6 Aluminum Front Plate Type


Small block Chevy motor mounting plate #CE700 shown above
Chevy Motor Mounts Aluminum Front SBC Motor Plate Models

The plates listed here are 1/4" thick 6061 T6 Aluminum

Part #
Small Block Chevy Motor plate 12" X 36"

CE 700

$123.20 $113.34





Small Block Chevy Engine Plate, Profile cut

CE 711

$179.95 $165.55




---
Chevy Mid Plates
We sell Chevy mid plates in both mild steel and aluminum. These mid plates mount between the back of the engine block and the transmission bellhousing. The mid plate spans the area between the frame rails and you bolt it to brackets you provide and attach to the vehicles frame rails.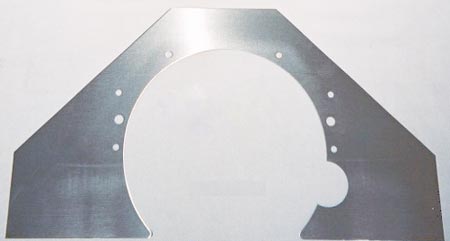 Chevy Mild Steel Mid Plate CE2005
13 gauge mild steel Chevy Mid Motor Plates

Part Number
Description
Price
ce 2005
Small and Big Block Chevy mid plate, steel, 16" X 30"

$77.44 $71.24





ce 2006
Buick Chevy Pontiac Oldsmobile mid plate, steel, 16" X 30" This plate has mounting holes for each of these different engine bolt patterns.

$77.44 $71.24




6061-T6 Aluminum Chevy Mid Motor Plates

Part Number
Description
Price
800
Small Block and Big Block Chevrolet mid plate, aluminum, 3/16" x 20" x 30"

$165.44 $152.20





801
Universal fit mid plate, aluminum, 1/4" x 24" x 24" with a 6" hole,

$156.64 $144.11





802
Small Block and Big Block Chevrolet mid plate, aluminum, 1/4" x 24 x 24 with all hole Chevy

$167.20 $153.82




For Chevy mid plate mounting installation information click Chevy Mid Plate Installation
Back To Top of Small Block Chevy Motor Mounts Page