Automatic Transmission Shield SFI Spec Trans Shields SFI Certified Transmission Shield Kits
A transmission shield provides safety for the driver, track workers and spectators. SFI spec Automatic transmission shields are required in many racing classes in order to pass technical inspection. All of our transmission shieldsare certified as meeting SFI specs and they meet or exceed the requirements of all major sanctioning bodies. We have a shields available to fit all popular automatic transmissions. All of our transmission shields are made from 6061-T6 aluminum. All of the trans shields that we sell have the most current possible date SFI certification approval specification decals on them when shipped.
Key Benefits of SFI Approved Transmission Shield
A properly installed transmission shield will provide greatly increased safety for driver, car and bystanders.
SFI spec approved, required by many sanctioning bodies, in numerous classes, in order to pass technical inspection before being allowed to compete.
They look great and allow the transmission to run much cooler than the transmission blanket type safety device, because our shields allow for air circulation around the entire transmission.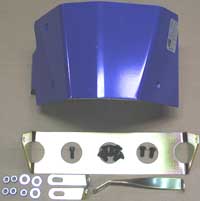 | Part # | Automatic Transmission Shield Models | Price |
| --- | --- | --- |
| ce500 | Power Glide Trans Shield | $105.60 $97.15 |
| ce501 | Powerglide, Polished Tranny Shield | $149.60 $137.63 |
| ce504 | TH350 Turbo 350 Transmission Shield | $128.48 $118.20 |
| ce505 | TH400 Turbo 400 Transmission Shield | $128.48 $118.20 |
| ce506 | Mercury and Ford C-4 Trans Shield | $128.48 $118.20 |
| ce507 | Mercury and Ford C-6 Transmission Shield | $128.48 $118.20 |
| ce508 | Mopar and AMC 727 Torqueflight Transmission Shield | $193.60 $178.11 |
| ce509 | Mopar and AMC 904 998 999 Torqueflight Transmission Shield | $193.60 $178.11 |
| ce510 | GM 200 4R Transmission Shield | $172.48 $158.68 |
| ce511 | GM 200 Metric 3 speed Trans Shield | $202.40 $186.21 |
| ce512 | GM 700R4 Transmission Shield | $172.48 $158.68 |
| ce513 | Ford AOD Transmission Shield | $182.48 $167.88 |
| ce514 | GM 4L80E Transmission Shield | $256.96 $236.40 |
| ce515 | Ford AODE - 4R70W (will not fit late model Mustang without transmission tunnel modification) | $0.00 |
Links to related info:
JW Performance Automatic Transmissions Parts High Performance and Racing Trans Parts