Transmission Shields and Scatter Shields
A transmission shield provides safety for the driver, track workers and spectators. SFI specification automatic transmission shields are required in many racing classes in order to pass technical inspection. These trans shields are also sometimes called transmission scatter shields which can be confusing. Blow proof bellhousings as used with manual transmissions were known as scatter shields for many years before protective shields for automatic transmissions arrived on the scene.
In an automatic transmission equipped competition vehicle, the transmission shield covers the main area of the transmission where the bands, clutches and gears are located. A flexplate shield is often also required. This covers the area of the flexplate and torque converter. Click this link > flexplate shields to see our complete list of available flexplate safety items.
All of our transmission shields are certified as meeting SFI 4.1 specs and they meet or exceed the requirements of all major competition sanctioning bodies. We have models available to fit all popular automatic transmissions. All of our transmission shields are made from 6061-T6 aluminum. Each and every SFI rated part we sell has the most current possible date decal on them when shipped.
SFI 4.1 Transmission Shield Benefits
A properly installed transmission shield will provide greatly increased safety for driver, car and bystanders.
SFI 4.1 spec approved, required by many sanctioning bodies, in numerous classes, in order to pass technical inspection before being allowed to compete.
They look great and allow the transmission to run much cooler than the transmission blanket type safety device, because our shields allow for air circulation around the entire transmission..
Powder coated for great appearance, resistance to corrosion and ease of cleaning.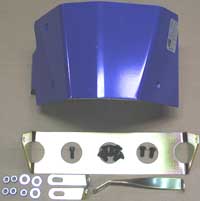 Part #

Transmission Shield Models

Price
ce500
Powerglide Trans Shield

$105.60 $97.15





ce501
Powerglide, Polished (This is the only model that is NOT powder coated. The natural aluminum is polished to a high gloss.)

$149.60 $137.63





ce504
Turbo 350 TH350

$128.48 $118.20





ce505
Turbo 400 TH400 Scatter Shield

$128.48 $118.20





ce506
Mercury and Ford C-4

$128.48 $118.20





ce507
Mercury and Ford C-6

$128.48 $118.20





ce508
Chrysler, Dodge, Plymouth, Mopar and AMC 727 Trans Shield

$193.60 $178.11





ce509
Chrysler, Dodge, Plymouth, Mopar and AMC 904 998 999 Torqueflight

$193.60 $178.11





ce510
GM 200 4R

$172.48 $158.68





ce511
GM 200 Metric 3 speed

$202.40 $186.21





ce512
GM 700R4

$185.00 $170.20





ce513
Ford AOD

$182.48 $167.88





ce514
GM 4L80E

$256.96 $236.40





ce515
Ford AODE - 4R70W (will not fit late model Mustang without transmission tunnel modification)

$0.00
Contact us for availability!
Frequently Asked Questions
Do you sell the CSR transmission shield?
No, we do not sell the 1 piece Kevlar CSR brand. We suggest you contact CSR directly if that is the type you want to use.
What is a scatter shield?
Some people use the term for what is more properly called a "blow proof bellhousing" on manual transmission equipped vehicles. It is also sometimes used to refer to the solid aluminum type of safety items as listed on this page which are made to wok on automatics.
Which is better a transmission blanket or shield?
We feel that a solid aluminum type shield is the better choice. It is far easier to clean, allows the trans to run cooler, and does not hold grease, oil and dirt the way that a blanket does.
Links to related info:
JW Performance Automatic Transmissions Parts High Performance and Racing Trans Parts