Chrysler 392 Hemi Pistons and Connecting Rods Gen 1
Even after all these years the mighty Chrysler 392 Hemi engine is still alive and well. While the early 392 Hemi was original only built for 2 years in 1957 and 1958, it has established itself as one of the most historically significant high performance engines in history. On this page you will find a broad selection of hypereutectic and forged high performance and racing pistons and H beam connecting rods for the classic early 392 hemi engine (1957 - 1958). We also provide custom 392 pistons so if you do not find a set with the specifications you need on this page, please contact us and we will be happy to help.
MODERN 5.7L 392 Stroker Hemi
If you are looking for pistons for the modern 5.7 based Hemi 392 Stroker engine, they are on our website here: Modern 392 Hemi Stroker Pistons
Classic Gen 1 392 Hemi Specs
For reference the original stock specifications were:
Engine block deck height 10.870 inches
Cylinder bore size was 4.000 inches
Crankshaft stock stroke was 3.900, main journal size 2.6875, rod journal size 2.375
Connecting rod length was 6.950 inches
Wrist pin diameter .984
Intake valve 2.000 inches, Exhaust valve 1.750 inches
Keith Black Hypereutectic 392 Hemi Piston Sets (1957 - 1958)

High performance KB hypereutectic 392 Hemi pistons offer a significant performance improvement for your engine, at a very affordable price. We have these piston sets in 30, 40 and 60 oversizes. If you are rebuilding a Chrysler 392 Hemi engine and are looking for improved performance, without the higher cost of forged pistons, KB performance pistons are an excellent alternative for many street, muscle car restoration, cruising and street / strip applications.

We do not recommend hypereutectic pistons for use with superchargers, turbochargers, nitrous systems or for serious racing engines. We recommend forged pistons for those applications and they are listed further down this page in the Ross Racing Pistons section.

Made from Hypereutectic 390 Alloy with 16% silicon
Fully machined head and valve reliefs
Accumulator groove to aid with compression ring seal
Diamond finished skirts
CNC machined pin bores to insure straight and accurately sized bores

KB Hypereutectic Chrysler 392 Hemi Pistons and Piston and Ring Sets

Ring grooves are 5/64 5/64 3/16
Crankshaft These pistons are for use with a stock stroke 392 crank
Connecting Rods These pistons are for use with stock length rods 6.950 inches long with a .984 wrist pin size
CH Compression Height This is the measurement from the centerline of the piston pin bore to the top flat part of the piston
Wt Piston weight in grams followed by wrist pin weight in grams
ccs displacement of dome, or dish, and valve reliefs, measured in ccs
CR Compression ratio estimates based on a .030 oversize, zero deck and .039 compressed head gasket
Bore Size Finished bore size, in inches, that piston is designed for
Piston set includes 8 pistons, 8 wrist pins and spiral locks
Piston and ring kit includes 1 Complete piston set and 1 Moly piston ring set

These pistons can be used with the stock Chrysler original equipment rods or with the more modern and much stronger Molnar Technologies H beam rods which are listed further down this page.

392 Hemi Flat Top Pistons

CH
Wt
ccs
CR with head chamber of:
Bore Size
Piston Set
Piston and Ring Kit
101cc
104cc
110cc
1.940
620 / 132
-4
8.2
8.0
7.7
4.030 + .030 over
KB289 30
KB289 KTM30
4.040 + .040 over
KB289 40
KB289 KTM40
4.060 + .060 over
KB289 60
KB289 KTM60

392 Hemi Dome Top Pistons

1.940
588 / 132
22
10.3
10.0
9.5
4.030 + .030 over
KB290 30
KB290 KTM30
4.040 + .040 over
KB290 40
KB290 KTM40
4.060 + .060 over
KB290 60
KB290 KTM60
---
Ross Chrysler 392 Hemi Forged Pistons (1957 - 1958)

Chrysler 392 Hemi pistons by ROSS Racing Pistons are used in high performance and racing engines by knowledgeable engine builders the world over. On this page you will find Ross Racing Pistons for use with the 392 Chrysler Hemi engine. They combine light weight, high strength, precision machining and premium materials to build a piston you can depend on for high horsepower, torque and reliability. We offer these superb pistons at very affordable prices.
392 Piston Features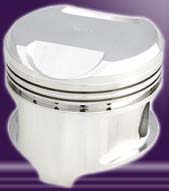 ROSS includes forced pin oilers and double spirolox on all of their stocking pistons. Pistons are balanced to plus or minus 2.5 grams throughout the set. You can buy replacement pistons one at a time as needed. The valve pockets are designed to handle most camshaft applications. The skirt design allows the pistons to work properly under intense heat and tremendous side loads without scuffing or splitting cylinder walls. Most normally aspirated pistons are designed to operate at .004 piston skirt to cylinder wall clearance. All ROSS stocking pistons include aircraft quality pins that are heat treated and end ground to work in full floated or press fit applications.
Chrysler 392 Hemi Piston Sets by Ross Racing Pistons
Ross dome top pistons for the 392 Chrysler Hemi feature special hollow dome forgings for maximum strength and minimum weight. Not recommended for nitrous systems over 250 HP or superchargers / turbochargers producing over five psi of boost. Compression ratio is 9.5-1 with a 107cc cylinder head chamber and 10.5-1 with a 97cc chamber. Ring grooves are 1/16, 1/16, 3/16. Aircraft quality .984" diameter wrist pins, weighing 147 grams are retained by double spiro lox, and are included with the pistons.
Ross Racing Pistons Forged Chrysler 392 Piston Sets

The piston sets listed below include 8 forged pistons, 8 wrist pins, and spiro locks. Piston rings are not included in the piston set part number, but are available separately.

These pistons will work with the original 392 Hemi rods, or the much stronger Molnar and K1 rods listed below.

Bore
Stroke
Rod
Length
Dome CC
Grams
CH
Forged 392 Piston Set
Plasma moly file fit 392 Hemi piston ring set
4.030 .030 over
3.906
6.952"
22.5
578
1.955
ross 99462
ross rs9771-35

$147.08 $132.37





4.040 .040 over
3.906
6.952"
22.5
582
1.955
ross 99463
ross rs9771-45

$147.08 $132.37




---
Molnar Technologies Billet Steel H Beam Early Chrysler 392 Hemi Rods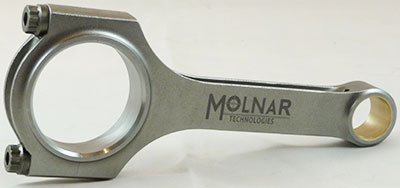 Molnar Chrysler 392 Hemi Connecting Rod Info and Specifications

Molnar Technologies H Beam rods are machined from billet 4340 steel, and then heat treated to provide improved strength. To make the rods even stronger, they are shot peened to which also increases fatigue life. All Molnar connecting rods are fitted with highly durable premium bronze bushings for use with floating pin type pistons. Each rod set includes ARP fasteners, moly lubricant and installation guidelines. These rods are for the early Chrysler 392 Hemi originally produced in 1957 and 1958.

All Molnar rods are finished in the United States at the Molnar Technologies shop in Michigan. Critical rod dimensions are are held to very precise tolerances of +/- .0001 of an inch, which is the tightest tolerance you will find in the performance and racing aftermarket.

Description and Length Engine model that rod is made to for and length of the rod, as measured center to center, in inches.
Weight Weight in grams, of one complete connecting rod assembly
Notes Additional information about specific applications
Bolt Size Bolt dimensions in inches, Rods come with ARP2000 fasteners installed
Rod Pin Size Crank rod journal diameter
Pin Size Piston pin diameter, in inches or millimeters
BE Width Width of the crankshaft end of one rod
PE Width Width of the piston end of one rod
Bearing Rod bearing part number, other equivalent specification bearings may be used based on your preference NOTE: These rods are designed to use the more modern big block Mopar wedge type rod bearing, which will save you a considerable amount of money and time compared to having to locate and purchase the original 392 type rod bearings.
Part Number Molnar Technologies Connect Rod set part number. Set includes 8 connecting rods

Description and Length
Weight
Notes
Bolt Size
Rod Pin Size
Pin Size
BE Width
PE Width
Bearing
Part Number
6.950 Chrysler 392 Hemi
826
7/16 X 1.600
2.375
0.984
0.994
1.158
CB-1512
DH6950YSB8
---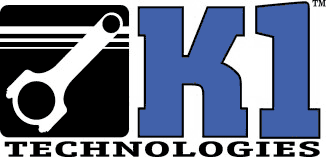 Connecting Rods 392 Hemi Connecting Rods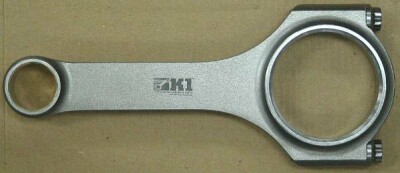 Another choice of rods for the 1957 - 1958 392 Hemi are these made by K1. K1 Technologies is producing an extremely strong, 4340 forged rod set at a reasonable price for the 392 Chrysler Hemi engines. These 392 rods are machined to very close tolerances and are far stronger than the original rods. These rod sets come complete with rod bolts, installation instructions and moly lubricant. These rods are designed to use the more modern big block Mopar wedge type rod bearing, which will save you a considerable amount of money over having to go with the original 392 type rod bearings.
Chrysler 392 Connecting Rods K1 Technologies 392 Hemi Rods

These rods use a 426 Hemi rod bearing which is easier to find and less expensive than the original 392 bearings. Use rod bearing Clevite CB1512 or another manufacturers equivalent part number.

Description
length
c-c
pin size
big end width
pin end width
housing bore
part #
392 Hemi rods with ARP2000 bolts
6.950"
.984"
stock
stock
stock
k1 dh6950aupb8-a
Back to Top 392 Hemi Pistons and Rods