Transmission Oil Pans and Aluminum Deep Transmission Pans
The transmission pan and pick up, are integral to the proper operation of your automatic transmission. The stock automatic trans pan holds an adequate amount of automatic transmission fluid for stock applications and normal everyday driving. On any high performance vehicle, towing vehicle, racing vehicle, etc., especially one with a hot rod type engine, high performance transmission and torque converter, a deep transmission pan is a good idea. A deep pan holds more transmission fluid than a stock pan, which helps the transmission to run cooler while ensuring that the pick up will always be covered by fluid, even during hard acceleration, braking or cornering. A cast aluminum transmission pan is an especially good addition to a performance transmission. The cast aluminum pan is far stronger than a stock stamped steel pan. The aluminum pan helps cool the fluid better than a steel pan due to aluminum's exceptional heat dissipating qualities, and our deep aluminum transmission oil pan kits make changing transmission fluid a much simpler, and less messy job, as they include a threaded drain plug, just like on your engines oil pan. We also have some steel transmission pans and chrome transmission pan kits for Mopar transmissions at the bottom of this page.
Aluminum Transmission Pans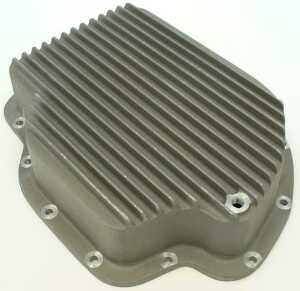 Most of our deep aluminum transmission pan kits hold an additional 2 quarts of automatic transmission fluid. They all have a drain plug included and they come with the extended fluid pick up. These are great for use on hot street cars, hot rods, street rods, street strip vehicles, tow vehicles, trucks, and all out race cars. Cast aluminum transmission pans are also much more resistant to damage from debris being kicked up and into the pan. We have deep trans pans for a wide range of transmissions including Dodge, Mopar 727, 904, A500 and A518, Ford C4, C6, GM Power Glide, TH350, TH400, and more.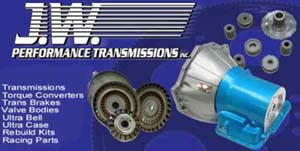 All of the JW Performance trans pans listed below come with hardware, extended sump transmission oil pick up assembly, and a trans pan gasket. The filter is not included since some people prefer a different filter for transmission with trans brakes. We also have filters available.
Deep Automatic Transmission Pan JW Performance Automatic Racing Transmission Pans

Part Number
Transmission Make & Model
Description and notes
jwp 50660
Mopar 727
cast aluminum 727 deep transmission pan
jwp 55660
Mopar 904
aluminum 904 deep trans pan
jwp 10660
Chevy GM Power Glide
aluminum deep transmission pan for powerglide transmission
jwp 10660sfi
Powerglide
SFI approved, aluminum, use with Ultracase to eliminate need for any external straps or shields for racing
jwp 20660
Chevy GM TH350
deep aluminum pan for GM Turbo 350 trans
jwp 30660
Chevy GM TH400
deep aluminum trans pan for GM Turbo 400 trans
jwp 40660
Ford C4
case fill, deep aluminum transmission oil pan for C4 transmission
jwp 60660
Ford C6
aluminum deep trans pan for C6 trans
More Transmission Pans and Related Items
If you do not see the transmission pan or related parts you need, please feel free to use this link Automatic Transmission Pans This gives you access to many more parts and hopefully you can find what you are looking for.
Mopar Performance Deep Transmission Pan and Chrome Transmission Pan
The pans listed below are Mopar Performance brand transmission oil pans. We have deep chrome transmission pan models and standard steel deep transmission pan kits that can be painted whatever color you prefer. These deep transmission oil pan kits come complete with the pan, extended fluid pick up, filter and pan gasket.
Mopar Automatic Transmission Deep Transmission Pan Sets

Part Number
Transmission Model
Description and notes
p3690730ab
A727 Torqueflite
deep steel trans pan
p4007886ab
A904 A998 A999
deep steel trans fluid pan
p4120161ab
727
deep chrome transmission pan
Automatic Transmission Adjustment, Tips and FAQ
JW Performance Transmissions Catalog Index Page Listing all Transmissions and Parts