727 Rebuild Kit High Performance Torqueflite 727 Transmission Rebuild Kits
When it is time for a Torqueflite 727 rebuild kit, whether for a muscle car restoration, high performance street vehicle, street rod, hot rod, or all out race TF 727, we have the transmission rebuild kit you need for the job.
We offer a variety of performance and racing 727 Chrysler, Plymouth, Mopar, Dodge transmission kits from a gasket and seal kit, to master overhaul 727 kit.We sell the top quality JW Performance Transmissions brand torqueflite 727 kit and master overhaul kits. Each 727 transmission kit includes the same quality components that JW uses in the high performance and racing Torqueflite transmissions that they build.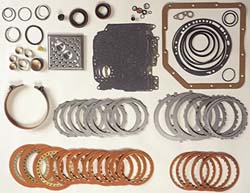 JW Performance HP and Racing Torqueflite 727 Rebuild Kits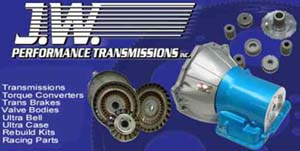 The time to perform a TF 727 transmission rebuild with one of these kits is before trouble strikes. Whether you are restoring a street car, or building an all out racing transmission, using a top quality 727 trans overhaul kit or master overhaul kit will insure maximum performance and durability.
Mopar 727 Torqueflite Torque Flight Transmission Rebuild Kits

For a further description of what is included in each kit please click here: Transmission Kit Contents

Part Number
Description
Price
jw 50010C
727 Sprag Assembly complete bolt in unit
$356.97 $339.12
jw 50090
short kit gaskets and seals 1962 - 1970
$77.93 $74.03
jw 50091
short kit gaskets and seals 1971 and newer
$77.93 $74.03
jw 50100
727 transmission overhaul rebuild kit 1962 - 70 models
jw 50101
727 trans overhaul rebuild kit 1971 and newer
jw 50110
master rebuild kit 1962 - 70, also includes bushings for front pump and tailshaft
$223.65 $212.47
jw 50111
727 transmission master kit 1971 and newer
$223.65 $212.47
jw 50006
727 high flow transmission filter
$26.51 $25.18
If you do not find the Chrysler Plymouth Mopar Dodge 727 rebuild kit you are looking for, please e-mail, use our online chat system, or call us and we will be happy to help you.
Automatic Transmission model nomenclature and related model name reference:
Chrysler Dodge Mopar Plymouth
Torqueflite 727, TF727, TF 727, Torque Flight 727, Torqueflight, 727A, 727B
If you are looking for a rebuild kit for a 904 you can find them on our site here: 904 Rebuild Kits
JW Performance Automatic Transmissions Catalog Index Page
Automatic Transmission Adjustment, Tips and FAQ