Kawasaki Ninja ZX14 Performance Parts CP Pistons Kawasaki ZX14 Pistons - Ninja Turbo, High Compression and ZX14 Big Bore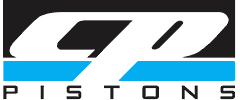 CP Pistons, forged Kawasaki Ninja ZX14 Pistons for those that demand the ultimate in engine performance!
We offer a variety of Kawasaki Ninja ZX14 piston kits, gaskets, replacement ZX-14 pistons, piston rings and ZX14 connecting rods. We have high compression, standard stock bore size, big bore and Ninja turbo high performance and racing piston kits made by CP Pistons. We have pistons to cover a wide variety of applications for the Kawasaki Ninja ZX14 motorcycle.
The Kawasaki Ninja is a fantastic performing motorcycle right off the showroom floor, but, there are always ways to gain even more power with aftermarket parts. We offer the complete CP Pistons Kawasaki Ninja ZX14 performance parts product line. These premium forged pistons will work with standard and oversize valves as well as stock and high lift camshafts as they include oversize valve reliefs. These pistons are made using a "X" style forging for superior strength, durability and improved performance. These pistons feature full radius dome designs, high strength piston pins, and high performance piston rings. These pistons offer the highest quality and are engineered for maximum power output. Buy the Best Ninja ZX14 pistons, buy CP forged pistons.
The following sizes of CP Pistons Kawasaki Ninja ZX14 big bore kits are available, 1418cc and 1450cc.
CP brand Kawasaki ZX 14 Ninja motorcycle racing pistons are used by top professional riders and teams.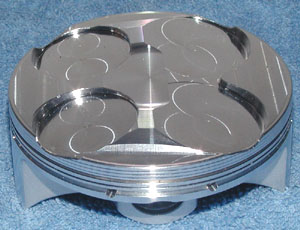 Standard Features included with each CP Kawasaki Ninja ZX14 Piston Kit:

Standard series pistons have a "M" in the part number

Double forced pin oilers
Fully CNC Machined
Accumulator groove
Pick lock removal grooves
Anti detonation grooves
X-style forging
Kawasaki ZX-14 CP Piston Kits and Ninja ZX14 Big Bore, Turbo and High Compression Piston Kit Specs

Piston/Gasket Kit Set includes: 4 Pistons, 4 Piston Pins, Piston Rings for 4 pistons, Pin Lock rings for 4 pistons, 1 Top End Gasket Kit
Piston Kit includes: 1 Piston, 1 Piston Pin, 1 set Piston Rings, Pin Lock rings for 1 cylinder. Use to order any quantity of pistons less than a full set of 4. Change quantity in shopping cart to get the number of pistons needed.
Gasket Kit Includes: Cometic high performance head gasket
Replacement Piston Rings include: Replacement piston rings for 1 piston / cylinder

2006 - 2011 Kawasaki ZX14R Forged Piston Kits, Replacement Pistons, Gasket Kits and Replacement Piston Rings

Stock Bore size is 84mm (3.307") Stock Stroke is 61mm (2.402")

Description
Installation Notes

Piston / Gasket Kit

Piston Kit

Head Gasket

Piston Rings

84mm standard bore 1352cc 9.5:1 comp Ninja TURBO Pistons
deglaze cylinder
CPK4035
M4035
C8460
CPN 3307

Rail 3307

84mm standard bore 1352cc 13.5:1 comp
deglaze cylinder

CPK4036
M4036
C8460
CPN 3307
86mm +2mm oversize 1418cc 13.25:1 comp
bore and replate cylinder

CPK4037
M4037
C8621
CPN 3386
87mm +3mm oversize 1450cc 14.0:1 comp
bore and replate cylinder

CPK4038
M4038
C8622
CPN 3425

2012 - 2015 ZX14R Ninja Piston Kits

Stock Bore size is 84mm (3.307") Stock Stroke is 65mm (2.560")

84mm standard bore 1441cc 9.5:1 comp TURBO Pistons
deglaze cylinder
CPK4048

$0.00
Contact us for availability!

M4048

C8460

CPN 3307

Rail 3307

84mm standard bore 1441cc 14.1:1 comp
deglaze cylinder
C8460

CPN 3307

Rail 3307

86mm +2mm oversize 1511cc 14.1:1 comp
bore and replate cylinde
C8621

CPN 3386
Carrillo Kawasaki Ninja ZX14 Rods Ninja ZX-14 Connecting Rods

Premium Carrillo Ninja ZX14 connecting rods provides superior strength for extreme high performance and racing Kawasaki Ninja ZX14 engines. Designed with legendary Carrillo quality to give you an extremely strong and dependable replacement connecting rod at a reasonable price. Can be used as a stock replacement connecting rod as well as for high performance and racing engines, including big bore engines.

2006 - 2011 Ninja ZX14 Connecting Rods

Set of 4 ZX-14 Rods :
KA-ZX14>-8M4429S 4

$1136.84 $1080.00





Single replacement ZX 14R rod :
KA-ZX12>-8M4323S

$342.40 $325.28




The pistons and gaskets listed on this page fit the following model year Kawasaki Ninja ZX-14 engines:
2006 2007 2008 2009 20010 2011 2012 2013 2014 Kawasaki Ninja ZX14R Pistons
Return to top of Ninja ZX14 Pistons page