Kawasaki Brute Force 750 Piston Kits Teryx 750 Pistons CP Pistons Standard Bore, Big Bore Pistons & 840cc Big Bore Kit, Gaskets and Connecting Rod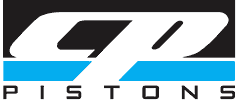 CP Pistons, for those that demand the ultimate in engine performance!
CP Pistons makes a superior forged Brute Force 750 piston for high performance and racing. These same pistons also fit the Kawasaki Teryx 750 engines.CP makes Kawasaki Brute Force 750 piston kits / Teryx 750 piston kits for all model years of these exciting vehicles. The Kawasaki Brute Force 750 side by side SUV and the Teryx 750 RUV both share the same basic engine so the pistons listed here will work in either of these off highway vehicles.
We sell the entire line of CP Pistons brand forged Teryx 750 / Brute Force 750 pistons. Available here are standard bore size piston kits and big bore Brute Force 750 / Teryx 750 pistons and also high compression 750 Teryx pistons / 750 Brute Force pistons. These forged pistons are designed to work with stock or oversize valves as well as stock or high lift camshafts as they include oversize valve reliefs. They incorporate a "X" style forging for greater strength, durability and reduced weight. Along with the full radius dome designs, high performance piston rings and piston pins, these pistons offer the highest quality and are engineered for maximum power output and durability. For those that really want the ultimate power we also have the Brute Force 840cc big bore kit available.
Get Ground Shredding Power with Teryx 750 Brute Force 750 Pistons and Big Bore Kits by CP Pistons!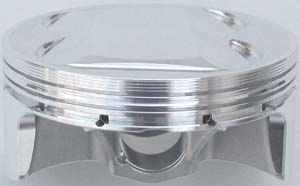 Standard Features included in CP Kawasaki 750 Prairie 750 Teryx 750 Brute Force Piston Kits:

Double forced pin oilers
Fully CNC Machined
Accumulator groove
Pick lock removal grooves
Anti detonation grooves
X-style forging
Light weight pins
Balanced to + or - 1 gram
CP Pistons 2008 - 2013 Kawasaki Brute Force 750 Teryx 750 Piston Kits

Piston/Gasket Kit Set includes: 2 Pistons, 2 Piston Pins, Piston Rings, Pin Lock rings and a Top End Gasket Kit
Piston Kit includes: 1 Piston, 1 Piston Pin, 1 set Piston Rings, Pin Lock rings for 1 cylinder
Gasket Kit Includes: Cometic high performance top end gaskets required to replace piston in 1 cylinder

Stock Standard Bore size is 85mm (3.346") Stock Stroke is 66mm (2.598") Liquid Cooled 4 stroke V-Twin, 4 Valves per cylinder

NOTE: The piston/gasket kit set includes 2 pistons and 2 gasket kits to do both cylinders. The piston kit and gasket kit part numbers listed below are for One (1) cylinders worth of parts. These parts are listed in single cylinder packaging so individual items can be ordered if necessary for repairs to just one cylinder.

Bore Size
Disp.
Comp
Installation
Notes

Piston/Gasket Kit

Piston Kit

Gasket Kit

85mm stock size standard bore
750cc
11-1
deglaze cylinder
cpk3027
cp m3027
cp c3284

$89.74 $80.77





85mm stock size standard bore
750cc
12-1
deglaze cylinder
cpk3028
cp m3028
cp c3284

$89.74 $80.77





85mm stock size standard bore
750cc
12.5-1
deglaze cylinder
cpk3029
cp m3029
cp c3284

$89.74 $80.77





90mm +5mm oversize big bore
840cc
11-1
install sleeves
cpk3060
cp m3060
cp c3251

$89.74 $80.77





840cc BIG BORE KIT Kawasaki Teryx 750 / Brute Force 750

This 840cc big bore kit builds your Teryx 750 or Brute Force 750 into an 840cc displacement engine for even more torque and power.

This two cylinder big bore kit Kit Includes:

(2) M3060 Piston kits
(2) C3251 top end gasket kits
(2) Carrillo KA-TEYRX>-8M4626S connecting rods
(2) 4709Z 90mm big bore cylinder sleeves

cpksr3060

Carrillo Connecting Rod Teryx 750 Connecting Rod / BruteForce 750 Connecting Rods

Premium Carrillo connecting rod provides superior strength for extreme performance 750 Teryx and 750 Brute Force engines. Designed with legendary Carrillo quality to give you an extremely strong and dependable replacement connecting rod at a reasonable price. Can be used as a stock replacement connecting rod as well as for high performance and racing engines, including big bore engines.

Part number and price for single replacement rod

CP KA-TERYX 8M4626S

$312.50 $290.63





Part number and price for one pair (2 each) conrods

CP KA-TERYX 8M4626S-02

$577.50 $537.08




Return to top of Teryx 750 Pistons
The pistons, rods and gaskets listed on this page fit the following model year Kawasaki Teryx 750 Prairie 750 and Brute Force 750 Quads:
2008 2009 2010 2011 2011 2012 2013 Teryx 750 - Prairie 750 - BruteForce 750