KTM 450 XC Piston Kits CP Pistons Standard Bore, Big Bore and High Compression 450 XC ATV Quad Pistons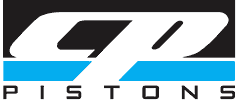 CP Pistons, for those that demand the ultimate in engine performance!
High performance and racing KTM ATV piston kits are available from CP Pistons for all model years of the KTM 450 XC four stroke ATV. Standard bore size and big bore KTM 450 XC CP Pistons brand piston kits are all available here as well as high compression pistons. These forged pistons will work with oversize valves as well as high lift camshafts as they include oversize valve reliefs. They incorporate a "X" style forging for greater strength, durability and reduced weight. Along with the full radius dome designs, high performance piston rings and lightweight piston pins, these pistons offer the highest quality and are engineered for maximum power output.
CP Pistons KTM racing pistons are used by top professional riders and teams including: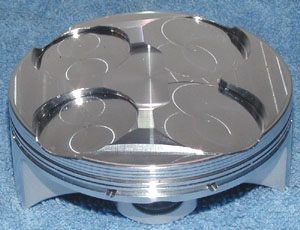 Standard Features included with each KTM 450 XC Quad Piston Kit:
Double forced pin oilers
Fully CNC Machined
Accumulator groove
Pick lock removal grooves
Anti detonation grooves
X-style forging
Light weight pins
Balanced to + or - 1 gram
Each of the below kits include:
Piston
Piston Pin
Piston Rings
Pin Locks
Cometic top end gasket sets are available separately, but are not included with the piston kit. The matching top end gasket kit for each application is listed in the table below, when available, along with the individual piston kit info.
Click on the part number in the table below for pricing or to order the piston and, or head gasket of your choice.
2008 - 2009 KTM 450 XC ATV CP Piston Kit

Stock Bore size is 89mm (3.504") Stock Stroke is 72mm (2.835")

Part #
Bore Size
Cubic
Centimeters
Compression
Top End Gasket Kit #
Installation
Notes
cp m9008
89mm std. bore
450 cc
12.0-1
deglaze cylinder
cp m9009
89mm std. bore
450 cc
13.0-1
deglaze cylinder

2008 - 2009 KTM 450 XC ATV CP Full Race Piston Kit

In addition to the standard features included with the piston kit listed above, this full race piston kit also includes skirt coating
to minimize friction, dual pin oiling, broached oilers, and lateral gas ports to improve piston ring seal.

cp m9010
89mm std. bore
450 cc
13.5-1
deglaze cylinder
The pistons and gaskets listed on this page fit the following model year KTM 450 XC :

2008 2009 KTM 450 XC ATV Piston Kit and Top End Gasket Kits