Campbell Enterprises Race Team Info, Pictures and Race Reports
We are fortunate to have a lot of great customers who compete in many different forms of motorsports and powersports activities. On this page you can find race reports from some of our sponsored racers as well pictures and other info.
AMA MXSports Womens Motocross Racers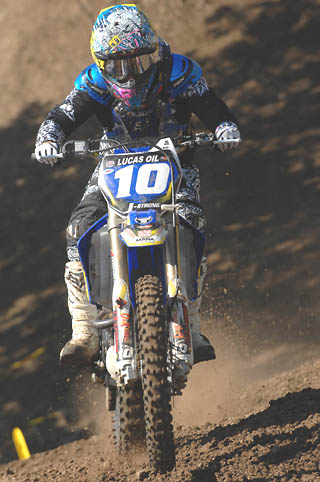 WMX Racer Jacqueline Strong Photo courtesty of Carl Stone
Click the links below for race reports from WMX Pros Lindsey Scheltema # 28 and Jacqueline Strong #10 from the 2010 and 2011 Women's Motocross Racing Seasons.
2011 WMX #10 Jacqueline Strong Race Reports
2010 WMX Jacqueline Strong #10
2010 WMX Lindsey Scheltema # 28
Here are pictures of some of our sponsored racers, friends and customers from around the globe. Click on the thumbnails to see the high resolution pictures.
If you would like pictures of your vehicle displayed here to share your project with the world and gain more exposure for your sponsors please contact us with a sample picture and a brief description of the picture's contents. We will review your submission and consider adding it to our site. This space is primarily reserved for our customers use, but we will consider all submissions.
Please feel free to share links to this page with your friends and sponsors. Thank you.
---

Whip Wilson's 1967 Z-28 Camaro Trail Boss

Fred Bilter driving 1970 Dodge Challenger R/T SE and Al Burkett in Camaro

Fred leaves the line!

Anna Bryant gets the signal from husband Collis to head to the starting line.

Anna leaves the starting line, notice the separation of the rear springs.

J.B. Donati leaves the line in Gary Nuckols Firebird.

Rocky Pintavalle launches his 440 powered Duster.

1970 R/T SE factory 4 speed car waits in the staging lanes.

70 R/T SE engine compartment.

A shot of Fred leaving the line from the driver side.

Chuck Emery's sharp '63 Savoy click here to see his web page with more info on this great car.
Tom Ferguson is first in line with his vintage 440 powered Mopar wagon.

Davey Boyd launches his beautiful vintage Mopar!

Luc Franza saved this beautiful Camaro from obscurity. To learn more about this great car and the story behind its restoration, click here to visit his website.

Our friend Helgi már Stefánsson, from Iceland, in his sharp altered. His car is powered by a 454 Chevy with an 8-71 blower and nitrous and puts out 1400 HP!

Another shot of Helgi, racing at the only drag strip in Iceland. He had run a best so far of 8.258 seconds but is already building a more powerful combination for the new season. Helgi also holds the Icelandic record for sand drags with a run of 3.359 seconds.
Here are two pictures of a great looking Ford Ranger racing truck driven by Emerson Duda from Curitiba, Paraná Brazil. These shots where taken at a race at Campo Grande, Mato Grosso do Sul.

Milan Obradovich with another wheels up launch in his great looking, hard charging 1969 Oldsmobile Cutlass 442. Illinois is home to this 470 cubic inch Oldsmobile powered muscle car.

Patrick Whitacre in his fantastic 1963 Ford Fairlane 351 Cleveland powered machine. This unique vehicle covers the 1/4 mile in the high nines , all on engine, no nitrous!
Bill Stevens Avenger is not only a beautiful race car, but Bill and his Avenger are many time race winners. The November 1997 issue of Popular Hot Rodding featured Bill's Avenger. Sponsors include Redline Synthetic Oil Corp and CCM Converters. Bill assembled the potent 572 wedge engine himself and best performance to date is a 7.88 and 180.24 mph.