Suzuki Hayabusa Pistons GSX1300R Hayabusa Performance Parts CP Pistons GSXR 1300 Big Bore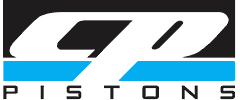 CP Pistons, GSX1300R Suzuki Hayabusa Pistons for those that demand the ultimate in engine performance!
We are a proud distributor of the entire line of CP Pistons premium forged pistons for the Suzuki Hayabusa 1300 motorcycle. Available here you will find Suzuki Hayabusa pistons for standard bore, big bore, high compression and stroker engines. We also have forged pistons for Hayabusa turbo engines.
These superior forged GSXR1300 Suzuki Hayabusa pistons will work with oversize valves as well as high lift camshafts as they include oversize valve reliefs. They incorporate a "X" style forging for greater strength, durability and reduced weight. Along with the full radius dome designs, high performance piston rings and lightweight piston pins, these Hayabusa pistons offer the highest quality and are engineered for maximum power output and durability. Buy the best GSX1300r Suzuki Hayabusa pistons, buy CP.
When it comes to Suzuki Hayabusa performance parts for your engine, forged engine pistons and Carrillo rods are excellent additions to your project and will help improve torque, horsepower and reliability.
The following sizes of CP Pistons Suzuki Hayabusa GSX1300R big bore kits are available: 1340cc, 1363, 1396, 1429, 1440 and 1475cc
CP Pistons Suzuki Hayabusa 1300 motorcycle racing pistons are used by top professional riders and teams.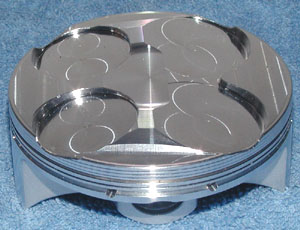 Standard Features included with each CP Suzuki GSXR 1300 Hayabusa Piston Kit:

Standard series pistons have a "M" in the part number

Double forced pin oilers
Fully CNC Machined
Accumulator groove
Pick lock removal grooves
Anti detonation grooves
X-style forging
Hayabusa High Performance and Racing Pistons
1999 - 2007 Suzuki Hayabusa GSX1300R CP Piston Kits and 1300 Hayabusa Big Bore Piston Kit Specs

Piston/Gasket Kit Set includes: 4 Pistons, 4 Piston Pins, Piston Rings for 4 pistons, Pin Lock rings for 4 pistons, 1 Top End Gasket Kit
Piston Kit includes: 1 Piston, 1 Piston Pin, 1 set Piston Rings, Pin Lock rings for 1 cylinder. Use to order any quantity of pistons less than a full set of 4. Change quantity in shopping cart to get the number of pistons needed.
Gasket Kit Includes: Cometic high performance head gasket
Replacement Piston Rings include: Replacement piston rings for 1 piston / cylinder

1999 - 2007 Suzuki Hayabusa GSXR 1300 Piston Kits

Stock Bore size is 81mm (3.189") Stock Stroke is 63mm (2.480")

Description
Installation Notes

Piston / Gasket Kit

Piston

Head Gasket

Piston Rings

81mm standard bore 1300cc TURBO Hayabusa 9.5:1 comp
deglaze cylinder
CPK4008
M4008
C8656
CPNG-2-3189

Rail 3189

81mm standard bore 1300cc 12.5:1 comp
deglaze cylinder
CPK4034
M4034
C8656
CPNG-2-3189
83mm big bore +2mm oversize 1363cc 12.5:1 comp
bore & replate cylinder
CPK4002
M4002
C8657
CPNG-2-3268
83mm big bore + 2mm oversize 1363cc

14:1 comp with gas ports

bore & replate cylinder
CPK4003
M4003
C8657
CPNG-2-3268
84mm big bore +3mm oversize 1396cc 12.5:1 comp
bore & replate cylinder
CPK4004B
M4004B
C8658
CPNG-2-3307
84mm big bore + 3mm oversize 1396cc 12.5:1 comp heavy duty
bore & replate cylinder
CPK4004A
M4004A
C8658
CPNG2-3307
84mm big bore +3mm oversize 1396cc

12.5:1 comp with gas ports

bore & replate cylinder
CPK4005
M4005
C8658
CPN 3307
85mm big bore +4mm oversize 1429cc 12.5:1 comp
bore & replate cylinder
CPK4006
M4006
C8659
CPN 3347
85mm big bore + 4mm oversize 1429cc

14:1 comp with gas ports

bore & replate cylinder
CPK4007
M4007
C8659
CPN 3347
2008 - 2014 Suzuki GSXR 1300 Hayabusa 1300 CP Piston Kits and Big Bore Piston Kit Specs

Piston/Gasket Kit Set includes: 4 Pistons, 4 Piston Pins, Piston Rings for 4 pistons, Pin Lock rings for 4 pistons, 1 Top End Gasket Kit
Piston Kit includes: 1 Piston, 1 Piston Pin, 1 set Piston Rings, Pin Lock rings for 1 cylinder. Use to order any quantity of pistons less than a full set of 4. Change quantity in shopping cart to get the number of pistons needed.
Gasket Kit Includes: Cometic high performance head gasket
Replacement Piston Rings include: Replacement piston rings for 1 piston / cylinder

2008 - 2014 Suzuki GSXR 1300 Hayabusa Pistons

Stock Bore size is 81mm (3.189") Stock Stroke is 65mm (2.559")

Description
Installation Notes

Piston / Gasket Kit

Piston

Head Gasket

Piston Rings

81mm standard bore 1340cc Hayabusa TURBO 9.5:1 comp
deglaze cylinder
CPK4030
M4030
C8656
CPNG-2-3189

Rail 3189

81mm standard bore 1340cc 13.5:1 comp
deglaze cylinder
CPK4031
M4031
C8656
CPNG-2-3189
84mm big bore +3mm oversize 1440cc 13.25:1 comp
bore & replate cylinder
CPK4032
M4032
C8657
CPN2-3307
84mm big bore + 3mm oversize 1440cc

13:25:1 comp heavy duty

bore & replate cylinder
CPK4032A
M4032A
C8657
CPNG-2-3307
84mm big bore + 3mm oversize 1440cc

14.0:1 comp with gas ports

bore & replate cylinder
CPK4039

M4039
C8657
CPN 3307
85mm big bore +4mm oversize 1475cc

13.25:1 comp

bore & replate cylinder
CPK4040
M4040
C8659
CPN 3347
85mm big bore + 4mm oversize 1475cc

14.0:1 comp with gas ports

bore & replate cylinder
CPK4033
M4033
C8659
CPN 3347
Hayabusa High Performance and Racing Connecting Rods
Carrillo Suzuki Hayabusa GSXR 1300R Rod GSXR 1300R Connecting Rods

Premium Carrillo GSX1300R Hayabusa connecting rods provide superior strength for extreme high performance and racing Suzuki GSXR 1300 engines. Designed with legendary Carrillo quality to give you an extremely strong and dependable replacement connecting rod at a reasonable price. Can be used as a stock replacement connecting rod as well as for high performance and racing engines, including big bore engines. These rods are equipped with superior CARR bolts and are a great complement to the Suzuki GSXR 1300R pistons listed above.

1997 - 2007 GSX1300R Hayabusa Connecting Rods

Set of 4 Rods :
SU-GS13>-8M4705S 4

$1136.84 $1080.00





Single replacement rod :
SU-GS13>-8M4705S

$342.40 $325.28





2008 - 2014 Hayabusa GSXR 1300 Connecting Rods

Set of 4 Rods :
SU-1308>-8M4705S 4

$1136.84 $1080.00





Single replacement rod :
SU-1308>-8M4705S

$342.40 $325.28




The pistons and gaskets listed on this page fit the following model year Suzuki GSX1300R engines:
1997 1998 1999 2000 2001 2002 2003 2004 2005 2006 2007 2008 2009 2010 2011 2012 2013 2014 Suzuki GSX1300R Hayabusa Pistons and rods
Return to top of GSX1300R Pistons page
Hayabusa GSXR 13000R Specs and Info