M200 Ultra bell TH200 UltraBell GM Metric 200 Transmission Racing Bellhousing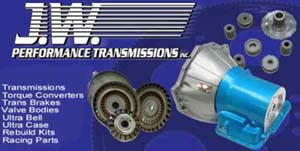 The Metric 200 transmission is popular for use in circle track racing, drag racing, hot rods, street rods and even demolition derby cars. One area of the M200 that really needs improvement when used in performance or racing applications is the bellhousing. The stock bellhousing section of the TH200 metric transmission is not up to the demands of high performance and racing. You can upgrade the internal components of the metric 200 transmission for greater torque capacity but if you do not eliminate the weak bellhousing area you will still have a trouble prone transmission. The stock bellhousing can flex, causing many problems long before it actually breaks.
Racing TH200 Ultra Bell for Metric 200 Transmission
We have the solution to the weak TH200 transmission bellhousing. Available here is a SFI approved high performance / racing M200 bellhousing manufactured for us by JW Performance Transmissions. Our M200 Ultra bell is a complete replacement bellhousing that is also a SFI certified flexplate shield. The stock TH200 metric transmission bellhousing was never intended to be used in the many high performance applications it is now being used in. The JW Ultra bell is built to SFI specifications and is required by many racing sanctioning bodies. The Ultrabell meets the SFI flywheel shield requirements so you do not have to run a separate flexplate shield.
TH200 Metric 200 Transmission Ultra Bell Offers Simple Bolt On Installation
The JW Metric 200 ultra-bells one piece aluminum casting withstands the demands of performance and racing applications and fits under stock floor pans. The high strength construction allows the 200 metric bellhousing to survive in high performance street applications as well as competition vehicles. Installation is easily done by cutting off the stock bellhousing and bolting the Ultra Bell to the transmission with the front pump using the included high grade long bolts and hardware.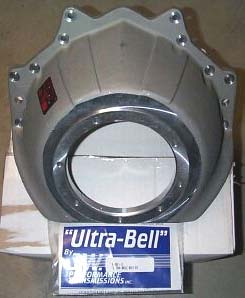 M200 Ultrabell THM200 Transmission Adapter
The THM200 Metric transmission ultra bell can also be used as a transmission adapter. We currently have the Metric 200 ultra bell for use with GM and small block Mopar engines. If you are using the ultrabell as an adapter to the M200 transmission you will also need the matching crankshaft adapter. We recommend that you also use a JW Performance "The Wheel" high performance SFI certified flexplate. Information on these high strength flexplates is available here: The Wheel SFI Flexplates
GM TH200 Metric 200 Transmission Ultra bell Specs

Specifications and ordering info for GM Metric 200 Ultra Bell SFI approved bolt on bellhousing for the TH200 Metric 200 transmission. The M200 bellhousing is currently available for use with GM engines and small block Mopar engines.

Description
Part Number
GM engine to M200 Transmission Ultrabell SFI approved bellhousing

CE M200GM

$394.35 $354.92





Small Block Mopar to Metric 200 Transmission Ultra bell SFI certified THM200 bellhousing

CE M200SBM

$469.95 $422.96




TH200 Metric M200 SFI Certification Reminder
A SFI approved flexplate shield is required for many competition vehicles and is a good idea for any high performance installation. SFI certification is valid for 5 years. With a stock automatic transmission bellhousing you must run a separate flexplate shield. Another benefit of the M200 Ultrabell is that it is certified as the SFI required flexplate shield, so you do NOT have to run a separate flexplate shield when your 200M transmission is equipped with an ultra bell. This simplifies installation and minimizes weight and complexity.
The JW Performance manufactured Metric 200 ultra bell models that we sell have the most current available SFI certification decal available at the time of sale. This saves you money by insuring the longest possible time before your bellhousing has to be re-certified for competition use.
This 200 Metric Ultra Bell bellhousing is made for use with the following:
TH200 Transmission
Metric 200 Transmission
200 Metric Trans
200M Transmission
M200 Transmission
THM200
TH200C
THM200C
Turbo Hydra-Matic 200
Back to Top GM Metric 200 Transmission Bellhousing