Timing Chain Sets Double Roller Timing Chain Replacement Sets Timing Belts and Gear Drives
Timing chains, belts and gear drives all play a critical part in the proper performance of your engine. In most internal combustion engines, the camshafts are connected to the crankshaft by a timing chain, timing belt, or gear drive set. They also perform the critical function of keeping the valve train in time with the crankshaft. This is critical for maximum performance and to prevent engine damage. As a timing set wears, the cam timing can lag behind the piston location which results in decreased performance.
High performance engines require stronger timing chain and gear sets due to the increased valve spring pressures and higher rpms that performance and racing engines operate at. The stock single row chains and gears are often replaced with "double roller" timing chain sets. A double roller set consists of gears with two rows of teeth and the matching double roller chain. Engines that use a belt drive, benefit from the use of high quality belts to handle the increased stress of performance use. Gear drives provide the strongest set up, but are also the most expensive and complex. Some production engines now use scaled down gear drives. High performance and race engines, and especially dirt track and boat engines, can benefit from a gear drive, due to the frequent and sudden loading and un-loading of the drive train that these applications encounter.
A wide variety of timing kit options are available from are affiliate partner stores. Links to the full catalogs and searchable listings are included below.
Timing Chain and Gear Sets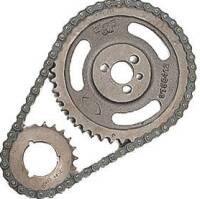 To find the timing chain set for your engine and application please click here Timing Chain Sets This will take you to the APW page where you can search for the timing set you need by vehicle make, model year and engine size. You can also search by the timing set manufacturers model lines.
Timing chain replacement sets are available from the following manufacturers:
Beck Arnley
Cloyes
Granatelli
Mahle
OEQ
Omix
Scan-Tech
TSU
---
Timing Gear Drive Assemblies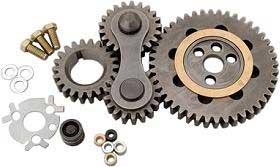 Many people choose a gear drive for the ultimate in performance and many people just like the unique sound a gear drive provides. Cloyes and Comp Cams make gear drives to fit a variety of engines. In addition to the cam, crank, and idler gear assembly, these gear drive kits include a locking plate, offset camshaft bushings, roller camshaft bearing and bronze thrust bearing; A heavy-duty and professional tool for engine builders; These kits offer high-precision timing and eliminates chain stretch. Fits under stock timing covers; Easy installation, free shipping and a low price guarantee. Cloyes and Comp Cams gear drive application information, pricing and ordering information are available here: Cloyes and Comp Cams Timing Gear Drive Kits
---
Automotive Timing Belt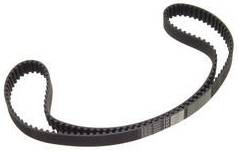 Many cars use a timing belt instead of a chain these days. A belt runs quieter and is lighter along with a few other benefits. The problem with a belt though, is that if it is kept in service too long, it can break. Stress, age, heat and cold all age and weaken a belt. You should follow your vehicle manufacturers recommendation regarding how often the timing belt should be changed. Replacing your timing belt is far less expensive than the damage that is usually caused when a belt breaks. A broken timing belt usually leads to piston, valve and cylinder head damage, if not more. When a belt breaks, the valvetrain is no longer kept in time with the crank piston and rod assembly, so usually the pistons hit 1 or more valves, resulting in lots of damage. Replacing your belt periodically, with a high quality belt will help prevent damage caused by a broken timing belt. A large variety of quality timing belts are available here. Automotive timing belt application listing
Timing belts are available from the following manufacturers.
Beck Arnley
Cloyes
ContiTech
CRP
Dayco
Gates
Goodyear
MBL
OES Genuine