YZ450F Piston CP Pistons YZ 450 High Compression, Standard Bore and Yamaha YZ450F Big Bore Piston Kits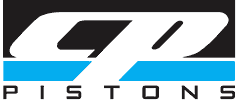 CP Pistons, for those that demand the ultimate in engine performance!
High performance and racing Yamaha YZ 450 piston kits are available from CP Pistons for all model years of the YZ450F four stroke dirt bikes. Standard bore and big bore YZ450F piston kits are all available here. These forged pistons will work with oversize valves as well as high lift camshafts as they include oversize valve reliefs. They incorporate a "X" style forging for greater strength, durability and reduced weight. Along with the full radius dome designs, high performance piston rings and lightweight piston pins, these pistons offer the highest quality and are engineered for maximum power output.
CP Pistons YZ450F dirt bike racing pistons are used by top professional riders and teams.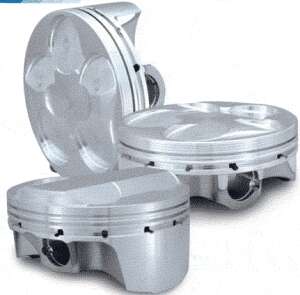 Standard Features included with each Yamaha YZ450F CP Piston Kit:

Standard series pistons have a "M" in the part number

Double forced pin oilers
Fully CNC Machined
Accumulator groove
Pick lock removal grooves
Anti detonation grooves
X-style forging
Light weight pins
Balanced to + or - 1 gram

Additional Features for "Project X" Series YZ 450F Pistons

Project X Series pistons are the result of the latest in ultra high performance technology improvements from CP. Pistons listed below with "mx" preceding the part number are part of the new "Project X" piston line up.

Project X series pistons have a "MX" in the part number

Leading edge racing piston technology
Fully boxed style forging for ultimate strength, durability and power
Coated Piston Skirts
Internal windows allow additional oil to flow to pin
New piston skirt designs maximize power and reduce piston rocking
Wrist pins treated with proprietary coating to eliminate pin galling
Get HOLESHOT WINNING POWER with CP Pistons!
CP Yamaha YZ450F Piston Kits and YZ 450F Big Bore Pistons

Piston/Gasket Kit Set includes: 1 Piston, 1 Piston Pin, Piston Rings, Pin Lock rings, 1 Top End Gasket Kit
Piston Kit includes: 1 Piston, 1 Piston Pin, 1 set Piston Rings, Pin Lock rings for 1 cylinder
Gasket Kit Includes: Cometic high performance top end gaskets required to replace piston in 1 cylinder

2003 - 2005 YZ 450F Piston Kits and Big Bore Kits

Stock Bore: 3.740 (95mm) Stock Stroke: 2.496 (63.4mm) OEM Stock CR = 12.5:1

Bore Size
Disp.
Comp
Installation
Notes

Piston/Gasket Kit

Piston Kit

Gasket Kit

95mm std.
450 cc
13.0-1
deglaze cylinder
cpk1010
cp m1010
c7947
95mm std.
450 cc
13.5-1
deglaze cylinder
cpk1111
cp m1011
97mm +2mm oversize big bore
468cc
13.0-1
bore and replate cylinder
cpk1030
cp m1030
c3064
97mm +2mm oversize big bore
468cc
13.5-1
bore and replate cylinder
cpk1031
cp m1031
98mm +3mm oversize big bore
478cc
13.5-1
bore and replate cylinder
cpk1051
cp m1051
c7787

2003 - 2005 YZ 450F Full Race Piston

Full race series pistons are custom forged pistons but available off the shelf. These are single ring, high compression, lightweight pistons which feature a highly efficient dome design that maximizes squish without compromising performance. Lateral gas ports are added to maximize ring seal while a skirt coating is included to improve power and provide additional lubrication, minimizing friction in extreme competition conditions.

Piston/Gasket Kit Set includes: 1 Piston, 1 Piston Pin, Piston Rings, Pin Lock rings, 1 Top End Gasket Kit
Piston Kit includes: 1 Piston, 1 Piston Pin, 1 set Piston Rings, Pin Lock rings for 1 cylinder
Gasket Kit Includes: Cometic high performance top end gaskets required to replace piston in 1 cylinder

Bore Size
Disp.
Comp
Installation
Notes

Piston/Gasket Kit

Piston Kit

Gasket Kit

95mm std.
450 cc
13.75-1
deglaze cylinder
CPKX1143
MX1043
c7947

2003 - 2005 YZ450F Project X Platinum Racing Piston and Rod Kits

Project X Platinum Kits feature the same top of the line products that serious professional mechanics and racers rely on. The redesigned piston and rod combo gives your engine a lightweight assembly that is engineered to give you more power and durability. Revolutionary to the industry, these types of assemblies were once only available as custom pieces at custom prices. Now, off the shelf and available, these kits are just the thing you need to transform your bike into a racing machine without breaking the bank.

Platinum Kit includes: Full Race Platinum Piston, Piston Pin, Piston Rings, Pin Lock rings, Carrillo Platinum Series Connecting Rod and Gasket Kit
Piston Kit includes: Full Race Platinum Series Piston, Piston Pin, Piston Rings, Pin Lock rings for 1 cylinder
Gasket Kit Includes: Cometic high performance top end gaskets required to replace piston and rod in 1 cylinder

Bore Size
Disp.
Comp
Installation
Notes

Piston,Rod
Gasket Kit

Piston Kit

Gasket Kit

95mm std.
450 cc
13.5-1
deglaze cylinder, standard wrist pin diameter with 2.5mm longer rod, Lightweight
CPKX1P43
MX1P43
C7947EST

2006 - 2009 YZ450F Piston Kits

Stock Bore: 3.740 (95mm) Stock Stroke: 2.496 (63.4mm) OEM Stock Compression Ratio = 12.5:1

Piston/Gasket Kit Set includes: 1 Piston, 1 Piston Pin, Piston Rings, Pin Lock rings, 1 Top End Gasket Kit
Piston Kit includes: 1 Piston, 1 Piston Pin, 1 set Piston Rings, Pin Lock rings for 1 cylinder
Gasket Kit Includes: Cometic high performance top end gaskets required to replace piston in 1 cylinder

Bore Size
Disp.
Comp
Installation
Notes

Piston/Gasket Kit

Piston Kit

Gasket Kit

95mm std.
450 cc
13.0-1
deglaze cylinder
CPK1110
cp m1010
c7908
95mm std.
450 cc
13.5-1
deglaze cylinder
CPK1011
cp m1011
97mm +2mm oversize big bore
468cc
13.0-1
bore and replate cylinder
CPK1130
cp m1030
c3178
97mm +2mm oversize big bore
468cc
13.5-1
bore and replate cylinder
CPK1131
cp m1031
98mm +3mm oversize big bore
478cc
13.5-1
bore and replate cylinder
CPK1151
cp m1051

2006 - 2009 YZ450F Full Race Piston

Full race series pistons are custom forged pistons but available off the shelf. These are single ring, high compression, lightweight pistons which feature a highly efficient dome design that maximizes squish without compromising performance. Lateral gas ports are added to maximize ring seal while a skirt coating is included to improve power and provide additional lubrication, minimizing friction in extreme competition conditions.

Piston/Gasket Kit Set includes: 1 Piston, 1 Piston Pin, Piston Rings, Pin Lock rings, 1 Top End Gasket Kit
Piston Kit includes: 1 Piston, 1 Piston Pin, 1 set Piston Rings, Pin Lock rings for 1 cylinder
Gasket Kit Includes: Cometic high performance top end gaskets required to replace piston in 1 cylinder

Bore Size
Disp.
Comp
Installation
Notes

Piston/Gasket Kit

Piston Kit

Gasket Kit

95mm std.
450 cc
13.75-1
deglaze cylinder
CPKX1043
MX1043
c7908

2006 - 2009 YZ450F Project X Platinum Racing Piston and Rod Kits

Project X Platinum Kits feature the same top of the line products that serious professional mechanics and racers rely on. The redesigned piston and rod combo gives your engine a lightweight assembly that is engineered to give you more power and durability. Revolutionary to the industry, these types of assemblies were once only available as custom pieces at custom prices. Now, off the shelf and available, these kits are just the thing you need to transform your bike into a racing machine without breaking the bank.

Platinum Kit includes: Full Race Platinum Piston, Piston Pin, Piston Rings, Pin Lock rings, Carrillo Platinum Series Connecting Rod and Gasket Kit
Piston Kit includes: Full Race Platinum Series Piston, Piston Pin, Piston Rings, Pin Lock rings for 1 cylinder
Gasket Kit Includes: Cometic high performance top end gaskets required to replace piston and rod in 1 cylinder

Bore Size
Disp.
Comp
Installation
Notes

Piston,Rod
Gasket Kit

Piston Kit

Gasket Kit

95mm std.
450 cc
13.5-1
deglaze cylinder, standard wrist pin diameter with 2.5mm Longer Rod, Lightweight
CPKX1P44
MX1P43
C7908-EST

2010 - 2014 YZ450F

Stock Bore: 3.819 (97mm) Stock Stroke: 2.394 (60.8mm) OEM Stock CR = 12.5:1

Bore Size
Disp.
Comp
Installation
Notes

Piston/Gasket Kit

Piston Kit

Gasket Kit

97mm std bore
450cc
13-1
deglaze cylinder
CPKX1068
MX1068
C3395
97mm std bore
450cc
13.5-1
deglaze cylinder
CPKX1070
MX1070

2010 - 2014 YZ450F Full Race Piston

Full race series pistons are custom forged pistons but available off the shelf. These are single ring, high compression, lightweight pistons which feature a highly efficient dome design that maximizes squish without compromising performance. Lateral gas ports are added to maximize ring seal while a skirt coating is included to improve power and provide additional lubrication, minimizing friction in extreme competition conditions.

Piston/Gasket Kit Set includes: 1 Piston, 1 Piston Pin, Piston Rings, Pin Lock rings, 1 Top End Gasket Kit
Piston Kit includes: 1 Piston, 1 Piston Pin, 1 set Piston Rings, Pin Lock rings for 1 cylinder
Gasket Kit Includes: Cometic high performance top end gaskets required to replace piston in 1 cylinder

Bore Size
Disp.
Comp
Installation
Notes

Piston/Gasket Kit

Piston Kit

Gasket Kit

97mm std bore
450cc
13.75-1
deglaze cylinder
CPKX1069
MX1069
C3395

2010 - 2014 YZ450F Platinum Project X Racing Piston and Rod Kits

Project X Platinum Kits feature the same top of the line products that serious professional mechanics and racers rely on. The redesigned piston and rod combo gives your engine a lightweight assembly that is engineered to give you more power and durability. Revolutionary to the industry, these types of assemblies were once only available as custom pieces at custom prices. Now, off the shelf and available, these kits are just the thing you need to transform your bike into a racing machine without breaking the bank.

Platinum Kit includes: Full Race Platinum Piston, Piston Pin, Piston Rings, Pin Lock rings, Carrillo Platinum Series Connecting Rod and Gasket Kit
Piston Kit includes: Full Race Platinum Series Piston, Piston Pin, Piston Rings, Pin Lock rings for 1 cylinder
Gasket Kit Includes: Cometic high performance top end gaskets required to replace piston and rod in 1 cylinder

Bore Size
Disp.
Comp
Installation
Notes

Piston,Rod
Gasket Kit

Piston Kit

Gasket Kit

97mm std bore
450cc
13.5-1
deglaze cylinder, standard diameter wrist pin with 2.5mm longer rod, Lightweight
CPKX1P70
MX1P70
C3395
Carrillo Yamaha YZ 450F Connecting Rod

Premium Carrillo YZ 450F connecting rod provides superior strength for extreme high performance and racing YZ450F engines. Designed with legendary Carrillo quality to give you an extremely strong and dependable replacement connecting rod at a reasonable price. Can be used as a stock replacement connecting rod as well as for high performance and racing engines, including big bore engines.

2003 - 2009 YZ 450F Connecting Rod

YA-45CA-2<-04075N

2010 - 2014 YZ 450F Connecting Rod

YA-4510CA-2<-04055N

Replacement Special Carrillo YZ450F Rod for use with Platinum Series Piston

The YZ 450F connecting rods listed in this row are for use ONLY with the matching CP Platinum series pistons. This rod is 2.5mm longer than the stock rod which is why it must be used with the matching Platinum series CP Piston.

2003 - 2009 YZ450 F Platinum Kit Rod

YA-4518CA<-04173N

2010 - 2014 YZ450F Platinum Kit Rod

YA-4510CA-2<-04153N
The pistons and gaskets listed on this page fit the following model year YZ450F Dirt bike engines:
2003 2004 2005 2006 2007 2008 2009 2010 2011 2012 2013 2014 YZ450 F