Raptor 250 Piston Kits CP Pistons Yamaha 250 Raptor Standard Bore, Raptor 250 Big Bore 270 and High Compression Raptor 250 Piston Kits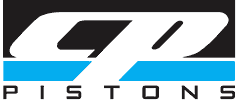 CP Pistons, for those that demand the ultimate in engine performance!
We offer the entire line of CP Pistons brand forged high performance and racing Yamaha Raptor 250 piston kits. CP pistons manufactures premium quality Raptor 250 pistons for all model years of the 250 Raptor four stroke quads. On this page you will find listings for Raptor 250 pistons in standard bore size and also Raptor 250 big bore piston kits which build the engine into a 270cc displacement size. Raptor 250 pistons are available in 74mm and 77mm bore sizes. We also have several compression ratios available including high compression Raptor 250 piston kits.
Get Holeshot Winning Power with Raptor 250 Pistons by CP Pistons!
These forged 250 Raptor pistons will work with stock size and oversize intake and exhaust valves. They will also work fine with stock or high lift camshafts as they include oversize valve reliefs. They incorporate a "X" style forging for more strength, endurance and lighter weight. These Yamaha Raptor 250 pistons feature full radius dome designs, high performance piston rings and lightweight piston pins. CP Pistons Yamaha Raptor 250 piston kits and Cometic Raptor 250 gasket kits offer superior quality and are designed to provide maximum horsepower and outstanding durability.
CP Pistons forged high performance racing pistons are used by top professional riders and teams.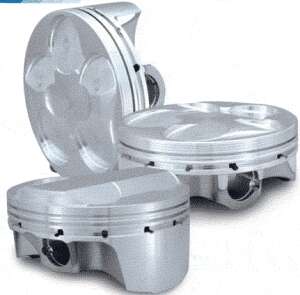 Standard Features included with each Yamaha Yamaha Raptor 250 CP Piston Kit:
Double forced pin oilers
Fully CNC Machined
Accumulator groove
Pick lock removal grooves
Anti detonation grooves
X-style forging
Light weight pins
Balanced to + or - 1 gram
Each of the below kits include:
Piston
Piston Pin
Piston Rings
Pin Locks
Raptor 250 top end gasket sets made by Cometic are available separately, but are not included with the piston kit. The matching top end gasket kit for each application is listed in the table below, along with the individual piston kit info.
If you need bore and hone work done, a sleeve installed, or a new cylinder, we can help you with that also. Please contact us for assistance.
2008 - 2013 Raptor 250 Pistons
Stock Bore Size is 74mm (2.913")
Stock Stroke is 58mm (2.283")

Bore Size
Cubic
Centimeters
Compression
Installation Notes
Piston Kit Part #
Top End Gasket
Kit #
74mm standard
249cc
11-1
deglaze cylinder
cp m1060
contact us
74mm standard
249cc
12-1
deglaze cylinder
cp m1061
contact us
74mm standard
249cc
13-1
deglaze cylinder
cp m1062
contact us
+3mm oversize 77mm big bore
270cc
11-1
bore and re-plate cylinder
cp m1063

$0.00
Contact us for availability!

contact us
+3mm oversize 77mm big bore
270cc
12.5-1
bore and re-plate cylinder
cp m1065

$0.00
Contact us for availability!

contact us
These piston kits fit the following model year 250 Raptor engines: 2008 2009 2010 2011 2012 2013