Chrysler 354 Hemi Connecting Rods High Performance 354 Hemi Parts

354 Chrysler Hemi Forged H-Beam Connecting Rods
It is not easy to find high performance 354 Hemi parts these days which is just one reason we are pleased to announce that we now have available top quality 354 Hemi connecting rods from K1 Technologies. K1 Tech is producing an extremely strong, Billet 4340 354 Hemi rod set at an affordable price. These 354 rods are precision machined and are far stronger than the OEM Hemi rods. These rod sets come complete with ARP rod bolts, installation instructions and moly lubricant. These rods are designed to use the more modern Clevite CB-758 ( or equivalent ) rod bearing, which will save you cash over having to purchase original 354 rod bearings.
K1 Technologies 354 Hemi connecting rods are forgings for superior strength and durability. K1 H beam Chrysler 354 Hemi rods are 4340 grade billet steel and include ARP2000 bolts. All K1 354 Hemi connecting rods are bushed for use with full floating piston pins. These rods are ideal for any rebuild project, hot rod, nostalgia dragster, supercharged 354 Hemi engines, custom street car, drag race 354 hemi, etc. If you are building a hard running 354 Chrysler Hemi, why risk using lesser quality rods in your project?
K1 Technologies Chrysler 354 Hemi Connecting Rods Mopar 354 Hemi Rods

These rods use a modern rod bearing which is easier to find and less expensive than the original 354 rod bearings. Use rod bearing Clevite CB758 or another manufacturers equivalent part number.

Description
length
c-c
housing bore size
crank pin size
wrist pin size
weight
Part #
354 Hemi rods with 7/16 ARP2000 bolts
6.625
stock 2.375
stock 2.250
stock .984
757g

K1 DH6625ARPB8-A

Out of stock, discontinued by K1.

Replaced by Molnar Technologies rod set DH6625WSB8-A
K1 Technologies is dedicated to providing world class "energy transfer technology" at an affordable price. K1 uses its wealth of knowledge, and real world experience, to produce top quality connecting rods and crankshafts at affordable prices.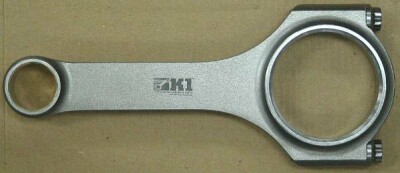 K1 Technologies manufactures connecting rods and 4340 forged crankshafts for a large variety of applications. You may view the full line of K1 Technologies products by clicking on this link: K1 Technologies High Performance Cranks and Connecting Rods
We also offer 354 Hemi pistons in several different types, including forged, supercharged 354 pistons, etc. as well as piston rings, bearings, and more.
If you can not find the 354 Chrysler Hemi parts you need, or if you have questions, please contact us and we will be happy to get back to you ASAP with more info.
Back to Top of 354 Hemi Connecting Rods Page
354 Hemi Engine Info and Specifications