K1 Technologies Performance K1 Rods K1 Crankshaft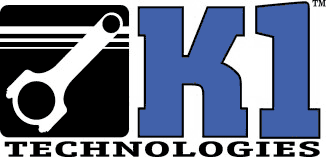 Forged I-Beam K1 Connecting Rods, Billet H-Beam K1 Rods, Forged & Billet K1 Crankshafts
K1 Technologies produces high quality high performance and auto racing engine parts. K1 Technologies sole focus is performance crankshafts and connecting rods. All K1 products are designed for superior performance, strength and durability. H beam K1 rods are all forged from 4340 grade steel and include ARP 8740 or ARP2000 bolts. All H beam connecting rods are bushed for use with full floating piston pins unless noted otherwise. K1 Technologies also offers several I beam connecting rod sets which are made from 4340 grade steel. The I beam K1 connecting rods are available in both press fit pin models and bronze bushed models for use with full floating piston pins. Click here to go directly to the K1 Technologies online catalog index.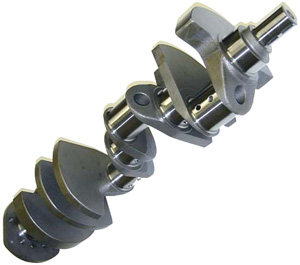 Buy the Best connecting rods and crankshafts. K1 Technologies offers a very extensive line of stock stroke crankshafts, stroker crankshafts, H beam connecting rods, I beam connecting rods, and special application connecting rods with unique lengths, journal sizes and pin bore sizes and all at surprisingly affordable prices.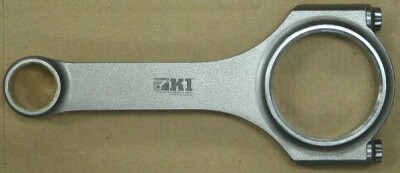 K1 Technologies is dedicated to providing world class "energy transfer technology" at an affordable price. K1 uses its wealth of knowledge, and real world experience, to produce top quality connecting rods and crankshafts at an affordable price.
---
Campbell Enterprises K1 Technologies Online Website Connecting Rod and Crankshaft Catalog Index
Table of Contents
Click on a chapter subsection to view those performance parts.
AMC
BMW
Connecting Rods for BMW M52B28 (S52B32) / M54B30 (S52B30)
Buick
Chevy 4 Cylinder
Chevy 6 Cylinder
Chevy LS1 LS2 LS6 LS7 LQ9 LSX V8
Chevy Small Block V8 SBC 283 302 305 327 350 383 400
SBC Connecting Rods:
SBC Crankshafts:
Chevy Big Block V8 396 402 427 454 502
BBC Rods
BBC Cranks
Chrysler Dodge Mopar 4 Cylinder
Chrysler Dodge Plymouth Mopar 6 Cylinder
Chrysler Dodge Mopar Plymouth Small Block 273 318 340 360 5.2 5.9 Magnum V8
Chrysler Dodge Mopar Small Block Hemi 5.7 and 6.1 Hemi V8
Chrysler Dodge Plymouth Mopar Big Block Wedge 361 383 400 413 426W 440 V8
Chrysler 354 Hemi
Chrysler 392 Hemi
Chrysler Dodge Mopar 426 Hemi V8
Dodge Viper V10 488
Ford 4 Cylinder 2000 2300
Ford 6 Cylinder
Ford 4.6L and 5.4L MOD Modular V8
Ford Small Block V8
Ford Big Block V8
Harley Davidson Motorcycle
Honda Car Engine Rods
Hyundai
Mazda
Mitsubishi
Nissan
Peugeot
Subaru
Suzuki
Toyota
Vauxhall
Volkswagen
K1 Rods Installation Info and Bolt Stretch Specifications
Wiseco Performance Products Pistons
Back to top K1 Rods and Cranks