Chrysler 392 Hemi Connecting Rods K1 Technologies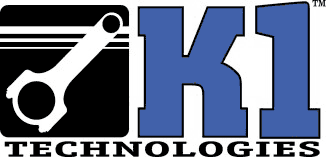 Connecting Rods 392 Chrysler Hemi Forged 4340 H-Beam
We are happy to offer top quality 392 Hemi H-beam connecting rods from K1 Technologies. K1 Technologies is producing an extremely strong, 4340 forged rod set at a reasonable price for the 392 Chrysler Hemi engines. These 392 rods are machined to very close tolerances and are far stronger than the original rods. These rod sets come complete with rod bolts, installation instructions and moly lubricant. These rods are designed to use the more modern big block Mopar wedge type rod bearing, which will save you a considerable amount of money over having to go with the original 392 type rod bearings.
K1 Technologies 392 Hemi connecting rods are forgings for superior strength and durability. K1 H beam Chrysler 392 Hemi rods are all forged from 4340 grade steel and include ARP2000 bolts. All 392 H beam connecting rods are bushed for use with full floating piston pins. These rods are ideal for any rebuild project, hot rod, nostalgia dragster, supercharged 392 Hemi engines, custom street car, drag race 392 hemi, etc. If you are building a hard running 392 Chrysler Hemi, why risk using lesser quality rods in your project?
Chrysler 392 Hemi Connecting Rods K1 Technologies Mopar Hemi 392 Rods

These rods use a 426 Hemi rod bearing which is easier to find and less expensive than the original 392 bearings. Use rod bearing Clevite CB1512 or another manufacturers equivalent part number.

Description
length
c-c
pin size
big end width
pin end width
housing bore
part #
392 Hemi rods with ARP2000 bolts
6.950"
.984"
stock
stock
stock
k1 dh6950aupb8-a
K1 Technologies is dedicated to providing world class "energy transfer technology" at an affordable price. K1 uses its wealth of knowledge, and real world experience, to produce top quality connecting rods and crankshafts at an affordable price.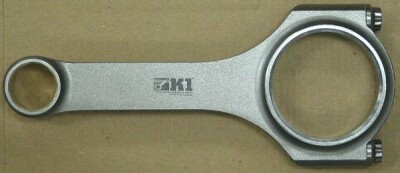 K1 Technologies manufactures H beam connecting rods and I beam connecting rods, in many rod lengths, and 4340 forged crankshafts and stroker cranks in a variety of strokes. You may view the full line of K1 Technologies products by clicking on this link: K1 Technologies Performance Engine Parts
We also offer 392 Hemi pistons in several different types, including forged 392 Chrysler Hemi pistons, supercharged 392 pistons, etc. as well as piston rings, bearings, etc.
Ross Chrysler 392 Hemi Pistons
Chrysler 392 Hemi pistons by ROSS Racing Pistons are used in high performance and racing engines by knowledgeable engine builders the world over. On this page you will find Ross Racing Pistons for use with the 392 Chrysler Hemi engine. They combine light weight, high strength, precision machining and premium materials to build a piston you can depend on for high horsepower, torque and reliability. We offer these superb pistons at very affordable prices.
Ross Racing Pistons offers pistons in both stocking and custom sets. In most cases you can find a stocking set to fit your needs. If you do not see the exact piston specs you want in a stocking piston, we will be happy to help you with a custom piston design. Custom pistons can be made for just about any type of engine. Please contact us and we will be happy to assist you with a custom piston order. We offer discounted pricing, even on custom pistons so please contact us for assistance with your custom piston needs and we will be happy to help you and give you a great price quote.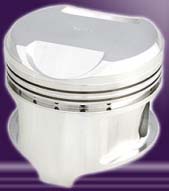 ROSS includes forced pin oilers and double spirolox on all of their stocking pistons. Pistons are balanced to plus or minus 2.5 grams throughout the set. You can buy replacement pistons one at a time as needed. The valve pockets are designed to handle most camshaft applications. The skirt design allows the pistons to work properly under intense heat and tremendous side loads without scuffing or splitting cylinder walls. Most normally aspirated pistons are designed to operate at .004 piston skirt to cylinder wall clearance. All ROSS stocking pistons include aircraft quality pins that are heat treated and end ground to work in full floated or press fit applications.
Please feel free to use our compression ratio calculator to help you decide on the piston specifications you want. Click here to go direct to our Compression Ratio Calculator or visit our Race Math Page.
Chrysler 392 Hemi Piston Sets by Ross Racing Pistons
Ross dome top pistons for the 392 Chrysler Hemi feature special hollow dome forgings for maximum strength and minimum weight. Not recommended for nitrous systems over 250 HP or superchargers / turbochargers producing over five psi of boost. Compression ratio is 9.5-1 with a 107cc cylinder head chamber and 10.5-1 with a 97cc chamber. Ring grooves are 1/16, 1/16, 3/16. Aircraft quality .984" diameter pins, weighing 147 grams are retained by double spiro lox, and are included with the pistons.
Ross Forged Chrysler 392 Hemi Pistons

Bore
Stroke
Rod
Length
Dome CC
Grams
CH
392 Hemi Piston Set Part Number
392 Hemi plasma moly file fit piston ring set
4.030
3.906
6.952"
22.5
578
1.955
ross 99462
ross rs9771-35
4.040
3.906
6.952"
22.5
582
1.955
ross 99463
ross rs9771-45
If you can not find the 392 Chrysler Hemi engine parts you need, or if you have questions, please contact us and we will be happy to get back to you ASAP.