CP KA24DE Pistons and KA24E Pistons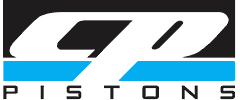 Do you want more horsepower and torque from your engine? We have the solution with these CP Pistons high performance KA24E and KA24DE forged pistons which are compatible with stock and oversized valves as well as stock and high lift camshafts. These superior piston sets are available for use with turbochargers, superchargers, nitrous and normally aspirated engines.
CP Carrillo products represent the highest quality and are engineered for maximum power. Pistons can be ordered with gas ports, skirt coating, ceramic top coating, and stronger wrist pins if desired. To order a set with any of these options, please include a message in the note section of the order form during our check out process, or you may contact us in advance for more info on these options.
KA24E and KA24DE CP Pistons Standard features include:

Deep valve reliefs accommodate high lift camshafts
Larger valve reliefs for +1mm valve sizes
Custom skirt cam and barrel design
Accumulator grooves
High strength aluminum forgings
High performance rings included

Fully CNC machined and balanced to +/- 1 gram
Wrist pins included at no additional cost
Double pin oilers force fed from oil ring groove
Pick lock grooves for easy lock removal
Pin fitting included
CP Pistons Nissan KA24DE and KA24E Forged Pistons and Ring Set Specs

Bore Size Cylinder bore size piston is designed to work in, listed in inches and millimeters
Relative Size Denotes whether this bore size is stock standard size, or an oversize listed in millimeters
CR Compression Ratio
Crankshaft Stroke Crank stroke the pistons are designed to work with.
Connecting Rod Length Designed to work with stock rod length of 165mm
Wrist Pin Diameter 21mm
Compression Height This is the distance from the centerline of the wrist pin bore to the top flat surface of the piston.
Ring Widths Ring grooves are machined to work with 1.0mm, 1.2mm, 2.8mm rings
WHAT'S INCLUDED 4 forged pistons, 4 Wrist Pins, pin retention locks and premium piston ring set

Bore
Inches
Bore
MM
Size
MM
Stroke
MM
Rod
Length
MM
C.H.
Compression
Piston Set
3.504
89.00
STD
96.0
165
1.339
8.0(E)/9.0(DE)
SC7299
3.524
89.50
+0.5mm
96.0
165
1.339
8.0(E)/9.0(DE)
SC7300

More general and technical information about CP Carrillo and our complete listing of all available CP products is here CP Carrillo Forged High Performance Engine Pistons
Custom Nissan KA24 Pistons
If you do not see a shelf stocking part number set here with the specifications that you need, we can provide you with a set of custom pistons built to your exact requirements. Please contact us for assistance with custom pistons and we will be happy to work with you to insure you get exactly the forged KA24 pistons that you require for your engine.