Eagle Rods Eagle Cranks Eagle Specialty Performance Products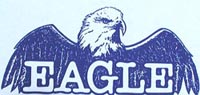 Eagle Specialty Products line of ESP 4340 forged steel H beam Eagle rods, SIR I beam Eagle connecting rods, Eagle 3-D stroker connecting rods, Eagle rotating assemblies, Eagle crankshafts,and Eagle stroker kits are all available here at discount prices. Eagle rotating assemblies are offered in three models. There are street strip rotating assemblies, pro street rotating assemblies and full competition rotating assemblies. The available crankshafts include Eagle 4340 forged steel crankshafts, 4130 steel forged crankshafts, and ESP cast steel crankshafts. In addition to these products the EAGLE line of rod, piston and ring kits are available. Eagle now offers titanium connecting rods for several engines.
Eagle is well known for their high quality connecting rods. H beam Eagle rods and SIR I beam Eagle connecting rods, crankshafts stroker cranks, stroker kits, and rotating assemblies have proven to be dependable perforce products. Eagle connecting rods, both H beam and I beam styles, rotating assemblies and crankshafts are found in everything from serious street cars, to hot street strip cars, to all out drag, oval and road racing engines. Eagle Specialty products offer strength, durability, greater torque and horsepower, and lighter weight in many installations. They have earned a reputation for providing great products at reasonable prices.
We offer the entire line of EAGLE Specialty Performance Products here at Campbell Enterprises. We are working hard to get all of the EAGLE products we have available loaded into the database of our new automated website and shopping cart system. If you can not find the EAGLE part you need, please contact us and we will be happy to help you. We offer discounted pricing on the entire Eagle product line.
Eagle Specialty Products Catalog Index
Click the links below to view more info on specific Eagle Specialty Performance Products
Eagle Connecting Rods
BMW
Cadillac
Chevy - Chevrolet
Chrysler, Dodge, Plymouth Mopar
Small block I beam and H beam
Big Block I Beam and H Beam
Ford and Mercury
Honda Automotive
Mitsubishi
Mazda
Nissan
Oldsmobile
Pontiac
Subaru
Toyota
VW Audi
Eagle Crankshafts
Mopar Small Block Eagle Cranks
Eagle Rotating Assemblies
Mopar 340 360 & 5.9L Magnum Rotating Assemblies
Eagle Stroker Kits
Chevy Stroker Kit
Ford Stroker Kit
Mopar Stroker Kits
Pontiac
Oldsmobile
Eagle Specialty Products are available for a wide range of engine makes, models and sizes. These include Mopar, Dodge, Plymouth, Chrysler, Neon, Chevy, Chevrolet, Oldsmobile, Pontiac, Ford, Mercury, Windsor, Cleveland, Honda, Acura, VTEC, Jeep, Mitsubishi, Nissan, Subaru, Toyota and more. They are also constantly expanding their product line.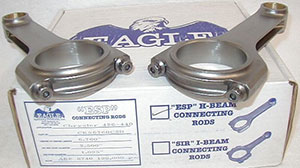 Eagle rods are manufactured from a TWO-PIECE FORGING. The forging process forces the grain into the shape of a connecting rod, resulting in a superior fatigue life. The rod cap is forged separately so that the grain runs perpendicular to the load forces, which strengthens the rod. Many aftermarket rods are manufactured from 4340 steel. 4340 specs allow a range of different materials to achieve the desired results. Although it is a more expensive process, all ESP Eagle 3-D connecting rods also include a higher content of nickel and chrome, which increases the strength and fatigue life without making the rod brittle.
Eagle rods H beam connecting rods feature:
Standard and Longer than stock length rods for many applications
3-D design offers the advantages of reduced weight without sacrificing strength.
2 piece forging for increased strength
Installation instructions, torque specs and bolt lubricant included
ARP 8740 Capscrews Standard, ARP 2000 and ARP L-19 bolts optional on many models
Silicon bronze bushings for floating piston pins
Multi-stage heat treated
Packaged in weight matched sets
Certified 4340 steel, vacuum degassed to remove impurities.
Each forging is X-rayed, sonic tested and magnafluxed to insure quality.
Shot peened to stress relieve the metal
Precision Alignment Sleeves positively locate the rod cap, maintaining big end bore size and eliminating cap walk.
Eagle SIR I beam connecting rods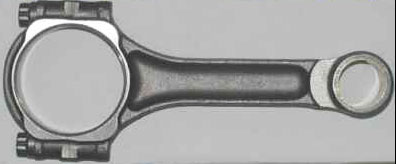 Eagle Specialty Products SIR connecting rods are an economically priced alternative to the time and expense involved in reworking a set of stock OEM rods. SIR connecting rods are forged from 5140 steel and most are available for both pressed fit pin use, or bushed to work with full floating piston pins. ESP I beam SIR rods utilize ARP 3/8" Wave Lok bolts and nuts. Why pay as much or more to recondition a set of stock rods, install new HP rod bolts, and still have an old OEM rod, made of weaker material? SIR rods are economically priced and are often less expensive than having your old stock rods reconditioned.
Eagle 4340, 4130 and cast steel crankshafts
Eagle offers a wide variety of stock replacement crankshafts, and high performance and racing crankshafts. The cast steel cranks offer an economical replacement for a stock OEM type crank. They are available for several popular American V8 engine types. 4130 forged steel crankshafts are designed for high performance, high torque and horsepower street and race vehicles. 4340 forged cranks are the top of the line racing cranks which can also be used on the street if you want the highest strength forged crankshaft type that Eagle offers. The 4130 and 4340 cranks are available for a wide assortment of engines. stroker crankshafts, in a variety of different stroke lengths, are also available.
Rotating assemblies and rod, piston and ring kits
Also available are rotating assemblies which include crankshafts, rods, pistons, rings and bearings, and rod piston and ring kits, if you do not need to replace your crankshaft. These kits are available for many engines, and with several options such as different overbore sizes, piston type, crankshaft type, stock stroke or stroker crankshafts, and more.
High Performance Engine Building
Links to related parts pages:
Manley Performance Connecting Rods
Speed Pro Performance Parts
Back to top Eagle Specialty Products Page