Eagle Oldsmobile 455 Stroker Kit 461 468 488 495 Olds 455 Rotating Assembly 455 Oldsmobile Performance Parts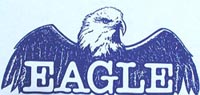 455 Oldsmobile performance engines make great torque and good horsepower even in stock configuration. The engine package is also fairly light making these engines one of the most overlooked high performance engines available.
If you are looking to improve the performance of your Olds 455 engine we have a selection of stock stroke rotating assemblies and Eagle Oldsmobile 455 stroker kit choices.
An Eagle 455 Oldsmobile stroker engine kit will provide even better performance. If you want to keep your 455 Olds closer to stock, but want to upgrade the bottom end, we have stock stroke 455 rotating assemblies available in .030 and .060 oversize. The 455 Oldsmobile stroker kits are also available in .030 and .060 oversizes. The available choices will allow you to build your 455 Olds into a 461, 468, 488 or 495 cubic inch torque monster.
We also offer 455 custom piston options on these basic stroker kits. If you would like a different compression ratio or bore size we will be happy to try and fulfill your request. Custom pistons will raise the price of the kit but provides one more alternative if you want or need to get something than what is available in the shelf stocking kits. If you would like to substitute different parts in a 455 kit please contact us for assistance.
We sell the Eagle Oldsmobile 455 stroker kit and stock stroke 455 kits in un-balanced kits, which require that you have a local machine shop balance for you, and also as pre- balanced kits.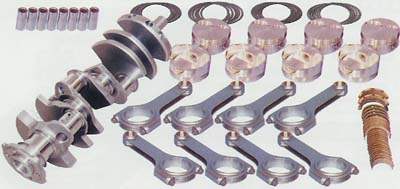 Eagle Oldsmobile Rotating Assembly and 455 Oldsmobile Stroker Kit Contents
Our Eagle Oldsmobile stroker engine kits offer a great balance of strength, performance, dependability and affordability. Each of these kits includes a Eagle steel crankshaft, ESP 4340 H beam connecting rods, forged flat top pistons with valve reliefs, plasma moly file fit piston rings and Clevite 77 main and rod bearings. The Oldsmobile 455 stroker kit comes with a crankshaft that is designed to be used as external balance. The stock stroke 455 Oldsmobile kit is also intended to be used as an external balance assembly.
Oldsmobile 455 Stroker Kits and Olds 455 Rotating Assemblies
Eagle Street / Strip Oldsmobile 455 461 468 488 495 Stroker Kits and Rotating Assemblies

Eagle 455 Oldsmobile Street and Strip Rotating Assemblies

Description of specs and parts included in Street & Strip 455 Oldsmobile rotating assembly kits

Stock Oldsmobile 455 Specs: standard bore is 4.125, stock stroke is 4.250, stock rod length is 6.735, stock wrist pin size is .9805
CID: Cubic inch displacement of engine
Bore: Finished cylinder bore size, in inches that pistons are designed to work in
Crankshaft: Eagle cast steel crank, stroke in inches as listed in table
Connecting Rods: Eagle 4340 H beam, length in inches as listed in table
Pistons: Mahle forged flat top -6cc in the stock stroke kits and -22cc inverted dome in the 4.500 stroker kits
Compression: Compression ratio with different head chamber cc sizes
Notes: Eagle rates these kits for 700hp and less, designed for external balance

Part numbers with a "B" preceding the part number indicate that the price for that kit includes balancing before shipping to you. Part numbers without the B in the part number must be balanced before installation into your engine.

Compression
CID
Bore Size
Stroke
Rod
77cc
84cc
Kit #
461
4.155 .030 over

4.250 stock stroke

6.735
11.0
10.3

eagle 42100 30

Discontinued, No longer available

468
4.185 .060 over

4.250 stock stroke

6.735
11.1
10.4

eagle 42100 60

Discontinued, No longer available

488
4.155 .030 over
4.500 stroker
7.100
10.0
9.5
eagle 42105 30

$2500.00 $2375.00





eagle B42105 30

$2469.00 $2345.55





495
4.185 .060 over
4.500 stroker
7.100
10.1
9.6
eagle 42105 60

$2500.00 $2375.00





eagle B42105 60

$2469.00 $2345.55




Additional 455 Oldsmobile Performance Parts
We offer many other 455 Oldsmobile performance parts to go along with the Oldsmobile stroker kits and rotating assemblies listed here. We do sell the cranks, rods, pistons, rings and bearings separately also if you do not need a complete kit. We have far more available than what is on our website so if you need an Oldsmobile engine or transmission part that you do not see on our site, please contact us and we will be happy to assist you.
Eagle Stroker Kits Main Index Page
Back to Top Eagle Olds 455 Kits