Ecotec Rods K1 Technologies Chevy Ecotec Performance Parts 2.0 LSJ Ecotec Connecting Rods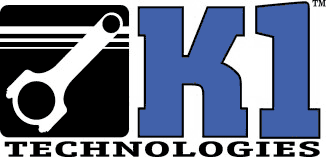 Do you want even more power from your 2.0 Ecotec LSJ supercharged engine? Are you running increased boost pressure? High performance and racing LSJ 2.0 ecotec engines will benefit from a switch to a premium 4340 billet steel H beam connecting rod set to maintain durability at higher power levels. Serious Ecotec tuners understand the importance of using upgraded K1 Ecotec rods in their engines. We sell what we feel are the best 2.0 Ecotec rods on the market. These LSJ 2.0 connecting rods fit the Chevy 2.0 LSJ Ecotec engine as found in the Saturn Ion Red Line and Chevy Cobolt SS Supercharged Coupe. These K1 Ecotec connecting rods are a direct replacement for the original Ecotec rods. K1 Technologies manufactures an extremely strong, 4340 Billet H beam 2.0 LSJ Ecotec rod set at an affordable price for the Chevy Ecotec engines.
The K1 Technologies Chevy LSJ 2.0 Ecotec rods available here are machined to very exacting tolerances and are far stronger than the factory stock Suzuki rods. These M18 rod sets come complete with ARP rod bolts, rod installation instructions and moly lubricant.
K1 Technologies 2.0 Ecotec connecting rods are billet type rods designed for superior performance and endurance. K1 H beam Ecotec connecting rods come complete with ARP2000 bolts. They are fitted with bronze bushings for use with full floating wrist pins. These 2.0 Ecotec connecting rods are ideal for use in high performance and racing normally aspirated LSJ Ecotec engines as well as supercharged or turbocharged engines. They are also an ideal choice for the high cylinder pressures generated by NOS ( nitrous ). Street, strip or track, K1 Ecotec rods are an important part of your performance engine rotating assembly upgrade.
2.0 Ecotec Rods LSJ Supercharged Engine Connecting Rods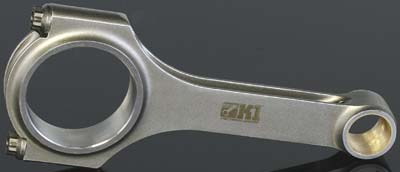 K1 Technologies 4340 H beam steel billet Chevy LSJ 2.0 Ecotec connecting rods are the best Ecotec rod choice for many high performance and racing LSJ engines. K1 Tech con rods are machined to some of the most precise tolerances in the automotive performance aftermarket. K1 Ecotec rods are weight matched to plus/minus 1 gram per end from the factory. The center to center length tolerance is held to +/- .001" and the housing and pin bores are machined to +/- .0001". Compare these specs to other aftermarket Chevy 2.0 Ecotec performance parts manufacturers LSJ rods and then make your decision, buy the best Ecotec connecting rods, buy K1.
K1 High Performance Chevy LSJ 2.0 Ecotec Rods and Racing Ecotec Connecting Rod Specs

Ecotec LSJ 2.0L Engine
1998cc Stock Bore 86mm ( 3.386 inches ) Stock Stroke 86mm ( 3.386 inches )

These rod sets come complete with 3/8" ARP 2000 rod bolts, installation instructions and ARP moly lube
C-C = Length of rod, center to center, in inches
Bore = Rod big end housing bore diameter in inches
WPS = Wrist pin size that rod is designed to work with
Wt = Weight of 1 connecting rod with bolts, in grams

Description
C-C
Bore
WPS
Wt
Part Number
2004 - 2007 Chevy supercharged 2.0 Ecotec LSJ engine rods
5.728
2.052
23mm
550

K1 CH5728AFJB4-A
Additional information about K1 Technologies and the catalog index is available here: K1 Technologies High Performance Crankshafts and Connecting Rods
When choosing Chevy LSJ 2.0 Ecotec performance parts we hope you consider including superior quality K1 Technologies Ecotec con rods in your project. At our discount prices, you get a high quality, serious performance connecting rod set at a great price.
In addition to these rods we also sell Ecotec pistons as well as piston rings, bearings, etc. If you can not find the performance parts you need please feel free to contact us for assistance.
These rods fit the following Ecotec engines and vehicles:
2004 2005 2006 and 2007 2.0 Ecotec LSJ Engine
2004 - 2007 Saturn Ion Red Line with Supercharged LSJ 2.0 Ecotec Engine
2005 - 2007 Chevy Cobalt SS Supercharged Coupe with 2.0 Ecotec LSJ Engine
Back to Top Chevy 2.0 Ecotec Rods