Engine Rebuild Kits Performance Engine Kit Engine Overhaul Kits Master Engine Kits
Engine rebuild kits are a time and money saver when doing an engine rebuild We offer engine rebuild kits, for many different engine types, with many choices of piston sizes, bearing sizes, and other part choices.All of our engine kits include top quality name brand parts. We offer everything from complete engine overhaul kits, to just re-ring kits.  We are happy to offer many custom options to get you the best possible kit, for your exact engine combination.
Premium Engine Kits Rebuild Kits Re-Ring Kits and Overhaul Kits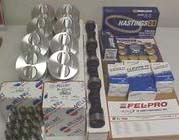 Our engine rebuild kits are made up from top quality parts including Speed Pro and Sealed Power pistons and piston rings, Federal Mogul, Speed Pro and Clevite main, rod and cam bearings, FM and Fel Pro gasket sets, Speed Pro and Melling oil pumps and more.  We also offer the complete line of Federal Mogul, Sealed Power engine kits. Unlike some companies, we do allow you to add, or delete, certain parts from our engine kits. You may also substitute certain components, such as pistons, or add items like high performance connecting rods. We have available to you complete master engine rebuild kits with pistons, master engine kits without pistons, re-ring kits, re-ring engine kits with main bearings, and other combinations.
In addition to rebuild kits we will be constantly adding many of the more popular stroker engine kits, and rotating assemblies, to our website. If you are interested in a stroker kit, please visit our webpage devoted to them here: CE Stroker Kit Info.
Unfortunately it is taking us far longer to get engine kits, rebuild kits and overhaul kits added to our site due to the huge variety of parts, sizes and options we have available for you. If you would like a quote, please contact usl and we will be glad to give you a price quote.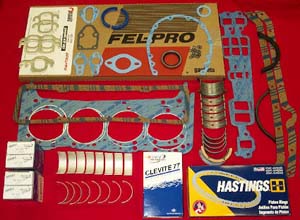 Engine Kit Overhaul Kit Engine Rebuild Kit Listings by Engine Make

Chevy Engine Kits
Ford Engine Kits
Mopar Engine Kits
Pontiac Engine Kit
Honda
Small Block Chevy
305 327 350
Small Block Ford
302 351
Small Block Mopar
Pontiac V8
400 455
 
Big Block Chevy
454
Big Block Ford
460
Big Block Mopar
 
 
LS1 Small Block Chevy
347
 
 
 
 
Additional Sources for Car, Truck and Boat Engine Rebuilding Parts
Until we get our kit listings uploaded to this site, please contact us for assistance. You may also use the below listed resources to find the engine kit you need.