Flexplate JW Performance The Wheel Flex Plate SFI Approved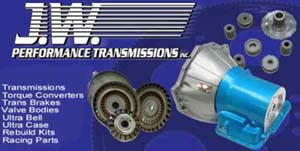 High Performance and racing SFI Flexplate technology had not kept pace with increases in engine power advances, that is, until JW Performance decided to produce the best possible automatic transmission flywheel. The resulting product line is labeled, "THE WHEEL". This is the ultimate flywheel, SFI flexplate for use in high performance street, strip and all out race cars.
THE WHEEL has become the best known, most dependable, highest contingency money earning flex plate flywheel on the market today. JW Performance continues to refine and offer additional models to help tailor your vehicles performance even further. JW has taken the flexplate, and turned it into a safety and performance enhancing part, instead of just a piece of metal to hook your torque converter to your crank with. All models of THE WHEEL are fully SFI certified and have a replaceable ring gear. Most models are now available in both light and heavy versions. The heavy models smooth out engine idle with big cams, and offer harder launches and more rpms during the gear shifts. The light weight flywheel models allow for faster turbo spool up and improved engine acceleration, and deceleration for street, circle track and road race applications. The light weight models are generally 2 pounds lighter than the same part number heavy version.
Racing SFI Flexplate Features
These JW Performance Automatic Transmissions flywheel flexplates feature a double welded, high quality ring gear and the highest quality steel centers. These SFI approved automatic transmission flexplates are designed to take the punishment of today's high horsepower, big torque engines in everything including street, strip, street rods, hot rods, drag race, oval track, road race, off road and pulling competition cars and trucks.
In addition to all of these great features, JW Performance also pays contingency money for the use of THE WHEEL flywheel flex plate in many sanctioned racing events. Why mess around with a flexplate using 30 year old technology. Step up to THE WHEEL today, and have a safer, quicker and potentially contingency money earning SFI flywheel in your high performance car or truck. These are all current production and have the most up to date SFI decals possible.
NOTE: A SFI certified flywheel flex plate is required on drag racing vehicles running 11.99 and quicker in the 1/4 mile and 7.49 and quicker in the 1/8 mile, or any vehicle exceeding 135mph.
JW Performance Flex Plate The Wheel SFI Flexplate Applications

Engine
Flexplate Tooth Count
Part Number for
Heavy Ext Balance
Part Number for
Light Ext Balance
Part Number for
Heavy Int Balance
Part number for
Light Int Balance

CHEVY flywheel flexplate New Style Crank, one piece rear seal, 2" OD pilot on back of crank
168t
93000-x
.
93000
93000-L
153t
93000-1x
.
93000-1
.

CHEVY flywheel flex plate Old Style Crank, two piece rear seal, 2.487" OD pilot on back of crank
Very High Compression Race Engines Special 139
tooth, extra heavy duty, fits standard 168 tooth size
bellhousing, requires special starter # jwp93043
93005-139
.
265, 283, 327 153t
All internal balance V8 168t
not listed separately below
93005
93005-L
400 sb 168t flex plate
93013
93005
93005-L
454 Gen IV 168t flexplate
93004
93004-L
93005
93005-L
454-502 Gen V 168t
All new crate motors w/forged crank
93017
93005
93005-L
454-502 Gen VI 168t
All new crate motors w/cast crank
93019
93005
93005-L

BUICK flywheel flexplate
V6 160t
93007-x
93007-xL
93007
93007-L
350 160t
93016
93016-L
455 166t
93008-x
93008-xL
93008
93008-L

OLDSMOBILE flywheel flexplate
455 166t flex plate
93012-O

PONTIAC flywheel flexplate
400-455 166t flex plate
93012

FORD and MERCURY flywheel flexplate x=28oz ext balance weight xx=50oz ext balance weight
Big Block 429 460 164t 11.375" bolt pattern
n93001-x 24oz
n93001-xL 24oz
n93001
n93001-L
Small Block 351W 351C 351M 164t
11.375" bolt pattern
n93002-x
n93002-xx
n93002-xL
n93002-xxL
n93002
n93002-L
Small Block 289-302 157t 10.5" bolt pattern
n93003-x
n93003-xx
n93003-xL
n93003-xxL
n93003
n93003-L
4.6L MOD 164t
n93002-466
n93002-468

Dodge Plymouth Chrysler Mopar Engine to GM Transmission
These Mopar Flexplates are neutral balance. If you are using a crankshaft requiring
external balance, such as one of the cast crank engines, the external weights will
need to be installed on the torque converter as they are not available on these flexplates.

We STRONGLY recommend that the Ultra Bell be used in these set ups instead of
an adapter plate.
All 6 bolt crank flange with Ultra Bell 130 tooth
93009-c
93009-cL
All 6 bolt crank flange with adapter plate 130 tooth
93009
93009-L
All 8 bolt crank flange with Ultra Bell 130 tooth
93010-c
93010-cL
All 8 bolt crank flange with adapter plate 130 tooth
93010
All 8 bolt crank flange with adapter plate 168 tooth
93010-168
Modern 5.7 and 6.1 Hemi
93010-ch

Dodge Plymouth Chrysler Mopar Engine to Mopar 727 or 904 Transmission

This flexplate is a SFI approved, solid, extremely strong flexplate for use with any 6 bolt Mopar V8 crankshaft and a Mopar 727 or 904 Automatic transmission and torque converter. This plate is for 11", 10", 9" and 8" High Performance and racing and uses 7/16" bolt attaching holes for both the crankshaft and torque converter. If you have ever held a stock type Mopar flexplate, you know how weak they are. Do not risk damage to your expensive HP engine and transmission by using a weak stock type or other similar flexplate, step up to the JW Performance Solid SFI certified flexplate and know you have a much safer plate transferring your engine power to the transmission. This is a neutral balance flexplate.

All Mopar V8 with 6 bolt crank flange

93015
Links to related Catalog Pages: