TH400 Ultra Case 2 SFI Racing Turbo 400 Transmission Case JW Performance 32310
The Ultra Case 2 is the best TH400 transmission case JW Performance makes and is SFI approved. No longer do you have to be limited to using a powerglide transmission to get a high performance transmission case. The Ultra Case 2 now gives you the option of using the 3 speed TH400 and having a superior performance SFI approved aftermarket case as the foundation of your transmission.
The JW Turbo 400 Ultra case 2 is a SFI certified transmission case that replaces the stock case on high performance and racing TH400 transmissions. Many competition sanctioning bodies require a transmission shield or blanket in higher horsepower vehicles. The TH400 Ultra Case meets the SFI requirements while also providing a stronger case to handle the demands of high performance.
SFI Certified High Performance TH400 Ultra Case
The original stock Turbo 400 case was never intended to handle the horsepower and torque levels of modern high performance and racing engines. Current racing Turbo 400 transmissions often use far higher oil pressures than the OEM GM case was designed for. The stock transmission case can deflect, distort and break in modern performance and racing automatic transmissions. If the transmission case is not stable under extreme loads, you will experience inconsistent transmission performance which will hamper your ability to win in your chosen form of motorsports competition.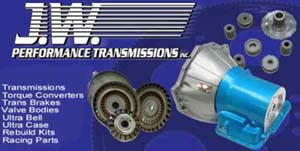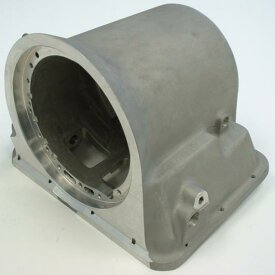 The new Turbo-Hydro 400 Ultra Case made by J.W. Performance Transmissions is scheduled to be available for sale September of 2011.
JW Ultra Case 2 High Performance - Racing TH400 Transmission Case

Description
Part #
Ultra Case TH400 replacement SFI certified transmission case.
jw 32310

$0.00
Contact us for availability!
Turbo 400 Ultra Case and Ultra System Components
The JW TH400 Ultra Case 2 is an extremely strong and rigid foundation to base your Turbo 400 transmission build up around. Designed to be used with the JW Ultra Bell bellhousing and "The Wheel" flexplate, the TH400 ultra case is loaded with additional benefits such as improved oil passages, adjustable transbrake release, increased material thickness in critical areas, which results in the near elimination of case breakage. It also fits under your vehicles stock floor pans making it easier to install than a separate external SFI trans shield. The JW TH400 Ultra Case 2 is SFI certified for competition use in many different motorsports.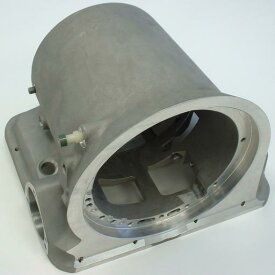 The TH400 Ultracase is a one-piece aluminum casting that replaces the stock Turbo 400 transmission case. The ultra case 2, when used in conjunction with the JW Performance Transmissions line of Ultra Bell bellhousing, allows the TH400 transmission, to be used with a wide range of engine makes. You are no longer limited to using the Turbo Hydramatic 400 only behind GM engines. With the use of the appropriate JW Ultra Bell bellhousing, your powerglide automatic transmission can be used with GM, Mopar, Ford and other engine types.
Links to related parts pages on our site:
Back To Top JW TH400 Ultra Case