Probe Industries Forged Pistons and High Performance Engine Parts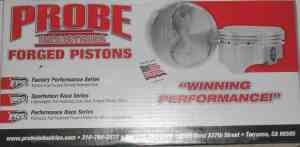 Probe Industries manufactures high quality forged pistons, wrist pins, piston rings, roller rocker arms, connecting rods and many more high performance and racing motor parts. Probe uses the most modern up to date machining equipment and techniques to insure strong dependable performance parts. Probe performance is also on the cutting edge of modern racing engine technology and are constantly expanding their product line.
Probe forged pistons are available in the FPS, SRS, and PRS lines to fit just about any engine need, from muscle car restoration, to street/strip, to all out professional level racing. Advances in CNC machine capability and the utilization of a clean sheet of paper method of manufacturing design has allowed Probe to create a piston line that is arguably a work of art. Probe's method of machining wrist pin bores provides the most accurate pin bore imaginable. At nominal clearance a wrist pin can be dropped through the piston with virtually no resistance, the result of eliminating the honing operation. Probe Forged Pistons also feature the latest design innovations in ring land technology. The top ring land features radial anti detonation grooves. These grooves knock the peaks off shock waves within the cylinder, reducing the propensity to detonate. The second ring land features our pressure equalization channel, which is a shaped channel that works by equalizing the pressure seen between the top and second ring with the pressure in the combustion chamber. This feature enhances ring seal, improving power, engine life and fuel economy.
In the past all pistons featured cam ground piston skirts to achieve the shape required to work in an engine. As with most things computer technology has provided us with the ability to improve upon this technique. Probe Racing Components is the recipient the newest CNC technology available to achieve the most accurate piston skirt designs and finishes in the industry. Further a complete "rethink" of the tooling and fixtures have allowed us to eliminate the variations caused by multiple setups. Probe Forged Pistons provide you with quality and features normally found only in pistons costing substantially more.
We are pleased to offer the entire line of high performance pistons and engine parts produced by Probe Industries to our customers.
Click on the below links for more info about specific Probe Performance Parts
Small Block Mopar 360 408 Stroker Probe Forged Pistons
Big Block Mopar 440 493 Stroker Probe Forged Pistons
Hot Rod Engine Building, Performance and Racing Engine