Probe 360 Forged Pistons Plymouth Chrysler Mopar Dodge 5.9 360 408 410 Stroker Pistons
Probe forged pistons for small block Mopar 360 A and 360 5.9 Magnum series standard and stroker engines are a modern high performance design. Advances in CNC machine capability and the utilization of a "clean sheet of paper" method of manufacturing design has allowed Probe to create a 360 forged piston line that is arguably a work of art. Probe's method of machining wrist pin bores provides the most accurate pin bore imaginable.
NOTICE: Probe Industries, the maker of Probe Pistons is no longer in business. We do not have any more of their pistons left in stock. The information on this page is for those that may already own a set of these pistons, or that find them for sale elsewhere and need the specifications.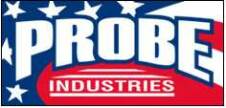 Probe Forged Mopar 360 Pistons also feature the latest design innovations in ring land technology. The top ring land features radial anti-detonation grooves. These grooves knock the peaks off shock waves within the cylinder, reducing the propensity to detonate. The second ring land features a pressure equalization channel, which is a shaped channel that works by equalizing the pressure between the top and second ring with the pressure in the combustion chamber. This feature enhances ring seal, improving power, engine life and fuel economy. The Mopar 360 5.9 Magnum stock stroke and 408 410 stroker pistons listed below all incorporate the advanced design of current Probe pistons technology. More tech info available here Probe Pistons design and construction .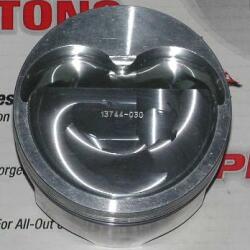 Probe Industries Sportsman Race Series (SRS) Pistons
Probe SRS Forged Pistons are designed for performance and race applications where a strong, lightweight forged piston is an advantage. These full-featured pistons are extremely popular for use in street, street strip, muscle cars, hot rods, street rods and many racing combinations.
Forged of 2618 t-61 Aluminum alloy for the ultimate strength and fatigue resistance.

Light weight forging designs for quick revs and power.

Tight piston to wall clearance design for better ring seal and less noise.

Fully CNC machined domes and valve reliefs for perfect fit.

Radial Anti Detonation Grooves reduce detonation by clipping pressure spikes.

Pressure Equalization Channel enhances ring seal, improving power and fuel economy.

Full floated lightweight wrist pins and double spiro locks for durability.

Narrow piston rings for the ultimate in power.

These pistons will work with standard 360 and Magnum 5.9L 360 engines
These pistons fit both the older style Mopar Chrysler Dodge 360 A engines, ( also known as LA series ) built from 1971 - 1992 and the newer 360 5.9 Magnum series produced starting in 1993.
Mopar 360 and 5.9 L Magnum Flat Top Pistons Stock Stroke

Compression Ratio computed with .010 deck and .038 head gasket. Pistons use 1/16", 1/16", 3/16" Ring Grooves, 3.58" is the stock 360 stroke length
Compression ratio with head chamber of: (weights and compression ratios are approximate)
Part Number
Bore Size
Crank Stroke
Rod Length
Comp
Height
cc's
55cc
60cc
65cc
70cc
Gram
wt.
Pin Dia.
12346-030
4.030
3.580
6.123
1.664
-5.5
11.29
10.62
10.04
9.52
476
.984
12346-040
4.040
3.580
6.123
1.664
-5.5
11.33
10.66
10.08
9.56
482
.984

5.9 360 408 410 Stroker Flat Top Stroker Pistons

13746-030
4.030
4.000
6.123
1.476
-5.5
12.51
11.76
11.11
10.53
460
.984
13746-040
4.040
4.000
6.123
1.476
-5.5
12.55
11.81
11.15
10.57
466
.984

Mopar 5.9L Magnum and 360 Dish Top Pistons Stock Stroke

12351-030
4.030
3.580
6.123
1.664
-14.5
10.03
9.51
9.04
8.63
476
.984
12351-040
4.040
3.580
6.123
1.664
-14.5
10.07
9.55
9.08
8.66
482
.984

360 5.9 408 410 Stroker Dish Top Stroker Pistons

13744-030
4.030
4.000
6.123
1.476
-17.5
10.72
10.18
9.69
9.25
476
.984
13744-040
4.040
4.000
6.123
1.476
-17.5
10.77
10.22
9.73
9.29
482
.984
We also have 360 forged stock stroke and stroker pistons made by Ross Racing Pistons. The Ross 5.9 Magnum, 360 piston listing is available here: Ross 360 Mopar Forged Pistons
In the past all pistons featured cam ground piston skirts to achieve the shape required to work in an engine. As with most things computer technology has provided us with the ability to improve upon this technique. Probe Industries Racing is the recipient the newest CNC technology available to achieve the most accurate piston skirt designs and finishes in the industry. Further a complete "rethink" of the tooling and fixtures have allowed Probe to eliminate the variations caused by multiple setups. This all adds up to a better performing, stronger piston at a reasonable price.
Links to other related pages:
Small Block Mopar H Beam Connecting Rods K1
Ross Forged Pistons