Stainless Steel Valves Engine Valves Titanium Valves Exhaust & Intake Valves
Valves are critical to maximum engine performance and durability. Aftermarket one piece valves offer many advantages over stock OEM valves. Choosing the right intake valves and exhaust valves for your application is important, whether your are doing a stock rebuild, or a racing engine where you need the lightest, strongest, best flowing racing valves available. Valve technology has steadily improved and there are significant airflow and power gains available by using high quality performance valves in your engine. Durability is also vastly improved by the use of stainless steel, chrome stems, swirl polishing and hardened tips. For the ultimate in light weight and rpms, titanium valves offer significant weight savings.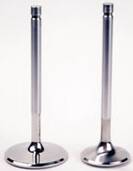 You may view our online list of intake valves and exhaust engine valves for your model engine by going to our home page and using the "Browse our catalog" expanding menu in the left border. Just select your vehicle make, then move your mouse pointer over to basic engine size you are working with, and then to "valves".
Large Selection of Stainless Steel and Titanium Engine Valves
We offer a broad selection of engine intake valves and exhaust valves from all the best names in the business like Manley, Ferrea and more. We have available stock automotive engine replacement valves, high performance and racing valves, stainless steel valves, titanium valves and we can also provide custom stainless steel and custom titanium valves, for a wide range of engine types and applications. Whether you need muscle car restoration valves, stock rebuild parts, high performance, street and strip use, pulling events, or all out racing valves, we can supply the correct valves for your project.
We have valves available for most popular engines and applications including sport compact, circle track, drag racing, muscle cars, road racing, pulling engines and more. These one piece HP and race valves all are built to withstand heat, stress, and to provide improved air flow and power. Engine valves are available for use with several different types and styles of retainers and locks, including, 7 degree, Super 7, 10 degree, and bead lock. We also offer a full range of matching steel and titanium retainers, valve springs, and valve locks.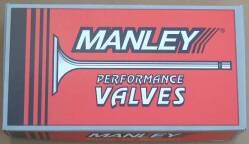 We feature Manley Valves as well as many others.
We offer stainless steel valves, and titanium valves, from several manufactures including Manley Valve, Ferrea Valve, Milodon, Speed Pro, Sealed Power, Ferrea, REV valves and more.
We are adding new web pages dedicated to high performance automotive engine valves and racing valves for each engine make and size, to give you another way of viewing different valve specs and making comparisons. You may view these pages as they are added by clicking on the appropriate link in the table below. If you can not find the valves you need, or have questions, please contact us and let us know what engine type and cylinder heads you are using, and what you are looking for and we will be happy to get back to you ASAP with more info for your exact application. We do offer custom stainless steel valves and custom titanium valves also.
Please click on the link in the below table for the engine make you are working with to see more detailed info on available stock, high performance, and racing valves for your engine. If you can not find valves with the specifications that you want, we will be happy to provide a set of custom valves, built to your exact requirements. The info pages listed below include information on both stainless steel intake and exhaust valves, as well as titanium valves where available.
Stock, High Performance & Racing Intake Valve & Exhaust Valve Information & Specifications Pages

Engine Valve Manufacturers Info Pages

Dodge Plymouth Chrysler
Mopar Valves

Chevrolet & GM Valves


Ford
Mercury Valves


AMC Jeep Valves

Ferrea Valves
 
 
 
 
Manley Valves
 
 
Milodon Valves
 
 
 
 
 
 
 
 
Speed Pro High Performance & Racing Valves
 
 
 
 
REV Performance & Racing Valves
 
 
 
 
Links to related pages on our site:
Diamond Pistons
Manley Performance Products