Diamond Pistons High Performance Forged Diamond Racing Pistons

Diamond Pistons are high quality racing engine parts which have been in production since 1968. In the early 1970s the manufacture of forged racing pistons, became the mainstay of the Diamond racing product line. The Diamond product line includes a wide variety of products which are the preferred choice for many of the most prominent engine builders around the world. They are used in many different brands of high performance and racing engines covering many different types of competition. Diamond Racing Pistons are produced on state of the art machining equipment run by skilled machinist to insure the ultimate in performance and reliability.
Diamond piston sets are available for a wide range of engines, in both shelf stocking and custom made sets. Diamond manufacturers top quality high performance and racing forged pistons, as well as 8620 piston pins, 4130 chrome moly pins, H-13 steel high impact pins and 9310 alloy endurance racing wrist pins.
Diamond pistons are great for high performance street cars, drag racing, circle track racing, road racing, endurance racing, off road racing engines, marine engines and more. Sets are available for normally aspirated, turbo charged, supercharged and nitrous boosted engines. If you do not see the application you need listed in our online catalog, please contact us for assistance.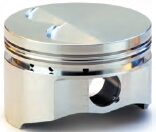 We are pleased to offer the entire line of Diamond forged pistons and Diamond Piston Rings to our customers. Diamond Racing Pistons are available for use in many different engine models and applications. You may click on the below links for more specific information on the pistons for your exact engine.
Diamond Pistons Catalog
BUICK
Buick V6 - 231 Forced Induction Dish Top
Buick V6 3800 Series Forced Induction Dish Top
CHEVY - CHEVROLET
Chevy LS1
Street/Strip Flat Top
Ls7 Street/Strip Flat Top
Inboard Forging Race Flat Top
L92 Street/Strip Flat Top
L92 Street/Strip Dish
Ls7 Street/Strip Dish
Street/Strip Dish
Inboard Forging Race Dish
High Compression Dome
Nitrous Dome
Chevy Small Block
Ultralite Flat Top
Prolite Flat Top
Street/Strip Flat Top
Sbc 305 Flat Top
Sbc 17°/18° Flat Top
Sbc 17°/18° Dome
D-Shaped Dish
Turbo/Blower Dish
Street/Strip - 23° Dome
Race Dome
Brodix-12 Dome
Brodix 11x/Rhs Dome
Nitrous Dome
Sprint Car Dome
Sbc All Pro 13° Dome
Chevy Big Block
Street/Strip Flat Top
Forced Induction Dish
Street Series Dome
Nitrous Dome
Big Chief/Big Duke 18° Dome
Pro-Filer "Hitman" 12° Dome
Pro 3d Dome - 24°/26° Dome
Gm Performance Dome
Edelbrock Victor Dome
Chevy Big Block Marine Engine Pistons
502 Marine Dome
454 Marine Dome
81 Liter Marine Flat Top
GM
GM Ecotec Saturn Ecotec 2.2 Liter Ecotec
FORD - MERCURY
Ford 2300 4 Cylinder
Ford MOD Motor
Ford Small Block
Street/Strip Flat Top
Twisted Wedge-Race Flat Top
Prolite NMRA Flat Top
Boss 302/351 C Flat Top
Forced Induction Dish
Twisted Wedge Dish
351 C Stroker Dish
Street/Strip Dome
Twisted Wedge Dome
Boss 302/351 C Street/Strip Dome
Ford FE Series Big Block
Ford Big Block 385 Series 429 - 460
429 - 460 Flat Top
429 - 460 Flat Top with Kaase Heads
429 - 460 Flat Top with Ford Motorsport Heads
429 460 Race Series C-460
429 - 460 Blue Thunder THOR
429 - 460 Dish Top
429 - 460 Dish Top with Kaase Heads
429 - 460 Dome Top Race Series Motorsport A & B Heads
Ford Big Block Boss 429
Restoration/Race Flat Top Or Dome
MOPAR CHRYSLER DODGE PLYMOUTH Diamond Racing Pistons
SBM
SBM Modern Hemi 5.7 L and 6.1 L
5.7 Hemi and 6.1 Hemi Stroker Pistons
BBM
Street/Strip Flat Top
Street/Strip Dish
High Compression Dome
High Compression Edelbrock Dome
Mopar 426 Hemi
We look forward to assisting your order or with any questions you may have about Diamond Pistons products.
Manufacturers Website Diamond