5.7 6.1 6.4 Hemi Stroker Crankshaft for Gen 3 Hemi

Molnar Technologies is taking the lead in producing several superior quality Gen 3 Hemi crankshafts. These premium 4340 forged steel cranks are for use in the modern EFI Chrysler and Dodge 5.7, 6.1 and 6.4 Hemi engines. They even make a NHRA legal replacement crank for the Drag Pack engines.
We are proud to be a distributor for the entire Molnar Technologies product line which includes premium cranks and rods for the Gen3 Hemi engines. These gen 3 Hemi cranks are machined from extremely strong 4340 forged steel forgings and held to very tight machining tolerances. They are a great combination of strength and performance at a reasonable price.
Molnar Gen3 Hemi Stroker Kits
If you are looking for all the parts for a complete 5.7L Hemi stroker kit instead of just a crankshaft, you can find all of those parts on our website here: Molnar Technologies 5.7 Hemi Stroker Kits
Forged Chrysler Dodge Gen3 Hemi Stroker Cranks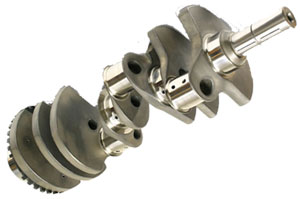 Molnar Technologies 4340 Steel Forged EFI Gen 3 Hemi Crank Specs
These crankshafts will fit in the modern, Gen 3 EFI Hemi engines which include engines with stock displacements of 5.7 liter, 6.1 liter and 6.4L. The factory cylinder bore size is the main difference in the factory displacement of the 5.7 and 6.1 while the 6.4 has a unique bore and stroke.
OEM Gen3 Hemi Stock bore and stoke dimensions:
5.7 Bore 3.917 inches Stroke 3.578 inches
6.1 Bore 4.055 inches Stroke 3.578 inches
6.4 Bore 4.090 inches Stroke 3.720 inches
Buy the best Gen3 Hemi cranks available from Molnar Technologies here and get dedicated customer service, technical assistance if you need help, unbeatable prices and fast shipping of all in stock items.
Gen 3 Dodge 5.7, 6.1 and 6.4 Hemi Stroker Cranks by Molnar Technologies

All of the Molnar Tech Gen 3 Hemi crank part numbers listed below have the following common features and dimensions:

4340 forged steel
Core hardened
Nitrided
Mag-Particle Inspected
Straight oil holes for best rod journal lubrication
Stock 5.7L 6.1L 6.4L Hemi main journal size of 2.559 in.
6 bolt Chrysler rear flange
One of the 4.080 stroker cranks with a standard bore 5.7 Hemi block = 392 cubic inches
One of the 4.080 stroker cranks with a .020 over 5.7 Hemi block = 398 cubic inches
Use one of the 4.080 cranks with a .025 over 6.1 Hemi block = 426 cubic inches
Use one of the 4.080 cranks with a .025 over 6.4 Hemi block = 434 cubic inches
Wt = Approximate weight of crankshaft in pounds
We recommend using the matching Molnar Gen3 Hemi rods with these cranks
CP Pistons 5.7 and 6.1 pistons for use with these cranks are listed here: CP Gen3 Hemi Pistons and Wiseco brand are here Wiseco 5.7 Hemi Stroker Pistons and Wiseco 6.1 Hemi Stroker Pistons
These cranks use the 4 bolt reluctor attachment pattern which is the stock 6.1 pattern. The 4 bolt reluctor will work with these Molnar stroker cranks and the 5.7, 6.1 or 6.4 engine. No reluctor gear is included with the crankshaft. The reluctor gear is sold separately here Gen 3 Hemi Reluctor Gears

Description
Stroke
Rod Pin
Mains
Minimum Rod Length
Bob Weight
Wt
Part #

Chrysler Dodge Drag Pack EFI Hemi Crank 3.593 inch stroke with 2.100 inch diameter rod pins

3.593
2.100
Stock 2.559
6.000
1850
54
Molnar 345-3593JB6F

$961.54 $872.02





Chrysler Dodge EFI Hemi stroker crankshaft 3.795 Stroke 2.100 inch rod journal
3.795
2.100
Stock 2.559
6.000
1850
55
Molnar 345-3795JB6F

$961.54 $872.02





Chrysler Dodge Gen 3 Hemi Crank 3.893 inch stroke with 2.100 inch diameter rod pins

3.893
2.100
Stock 2.559
6.000
55
Molnar 345-3893JB6F

$837.34 $759.38





Chrysler Dodge EFI Hemi stroker crank 4.050 stroke with 2.000 inch rod pins
4.050
2.000
Stock 2.559
6.125
1800
56
Molnar 345-4050JA6F

$961.54 $872.02





Chrysler Dodge EFI Hemi stroker crank 4.080 stroke with 2.000 inch rod pins
4.080
2.000
Stock 2.559
6.125
1800
56

Molnar 345-4080JA6F

$961.54 $872.02




Molnar Technologies Dodge 5.7 Hemi 6.1 Hemi crankshaft assemblies are 4340 forged cranks for superior strength and durability. These Gen 3 Hemi crankshafts are an excellent choice for any small block hemi performance muscle car rebuild, high performance street car, normally aspirated, nitrous and turbo and supercharged engines and all out racing engines.
Molnar Reluctor Gears for Chrysler and Dodge Gen 3 Hemi Engines
Description
Part #

This reluctor gear is the correct one to use with Molnar Technologies Gen 3 Hemi stroker cranks in engines requiring a 32 tooth reluctor. It uses a 4 bolt attachment which is the same as the OEM Chrysler 6.1 crankshaft. The 2003 - 2008 5.7 and 6.1 used the 32 tooth wheel.

This reluctor can also be used as a replacement for the original stock reluctor gear on 2008 and earlier Chrysler and Dodge 6.1 Hemi engines with stock crankshafts.

MRR-32

$85.00 $77.09





If you have a 2009 or newer Gen3 Hemi with a 58 tooth reluctor, this is the correct gear for you. (NOTE: Some people count the teeth on the 2009 and later as 60, but difference is only in how people count the large teeth, so even though some people say 58 and some 60, they are both the same reluctor)
MRR-60

$85.00 $77.09





2013 and Newer:

Chrysler / Dodge changed the OEM reluctor and engine management system in 2013. If you are working with a 2013 or newer vehicle then this is the proper 58 tooth reluctor to use.

MRR-6013

$85.00 $77.09




Mopar Chrysler Dodge 5.7 6.1 Hemi Engine Performance Book

High-Performance New Hemi Builder's Guide: 2003-Present

The new Hemi engine has rekindled performance enthusiasts' love affair with Mopar's legendary hemispherical-headed V-8. Introduced in 2003, the new, high-tech Hemi has taken the fight to Ford and Chevy, sparking a new era of high-stakes competition among domestic V-8, rear-drive cars and trucks. Chrysler's hot-selling Hemi-powered vehicles include the 300C, Challenger, Charger, and Magnum, Ram trucks, as well as the Durango, Grand Cherokee and other SUVs. Special high-performance SRT models have added another level of performance to Chrysler's Hemi lineup.