Ford 2.3 Pistons Ross Racing Pistons Ford 2.0 Pistons

Ford 2000 cc 2300 cc 2.0 L 2.3 L Forged Flat Top Pistons
Ross Racing Pistons offers a variety of Ford and Mercury 2.0 pistons and 2.3 pistons. The 2.0 engine originally powered the Ford Pinto. In 1974 the 2.0 was replaced by the 2.3 which remained in production until 1997. These engines are very popular for 4 cylinder oval track and road racing as well as drag racing and high performance street cars.
Ross Racing Pistons produces both stocking and custom Ford 2000 and Ford 2300 piston sets. If you do not see the exact piston specs you want in a stocking piston, we will be happy to help you with a custom piston set. Ford 2.0 and 2.3 custom pistons can be made for just about any type of engine. Please visit our custom piston page for more info. We offer discounted pricing, even on custom pistons.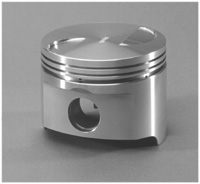 Ross Ford 2.0 L Pistons and 2.3 L Pistons and Piston Sets
Ross Ford 2.0 pistons and 2.3 pistons include forced pin oilers and double spirolox on all of their stocking pistons. Pistons are weight matched before packaging. You can buy stocking part number replacement pistons one at a time as needed. The valve pockets are designed to handle most camshaft applications. The skirt design allows the pistons to work properly under intense heat and tremendous side loads without scuffing or splitting cylinder walls.All ROSS stocking pistons include high quality pins that can be used in full floating or press fit rod applications.
ROSS Racing Pistons are used in Ford and Mercury high performance and racing engines by knowledgeable engine builders the world over. They combine light weight, high strength, precision machining and premium materials to build a piston you can depend on for high horsepower, torque and reliability. Buy the best Ross Racing Pistons Ford 2.0 pistons and 2.3 pistons here. We offer great customer service, technical support and reasonable prices.
Ross Shelf Stocking Ford 2.0 and 2.3 Piston Set List and Specifications
Ross Racing Pistons Ford 2000 cc ( 122 cid ) and 2300 cc ( 144 cid ) Forged Piston Set Notes
For use in naturally aspirated applications
Flat top with 2 valve reliefs
Can be used with small nitrous systems
Set includes 4 pistons, 4 straight wall 5115 series piston pins, and pin retention lock rings
Part numbers 80177, 80175, and 81175 also include oil ring support rails
Sets 80005 and 80177 use 1/16, 1/16, 1/8 ring grooves, all others use 1/16, 1/16,3/16
CH=Compression Height
Wt-Weight of piston in grams
Stock Ford Pinto 2.0 2000cc cylinder bore size is 3.578
Stock Ford 2.3 2300cc Cylinder bore size is 3.780
Ross Ford 122 ci 2.0 and 140 ci 2.3 Forged Piston Sets

Make
Bore
Stroke
Rod
Length
CH
Pin
Dia
Wt.
Part #
2000
3.605
3.030
4.990
1.653
.944
382

ross 80005

2000
3.605
3.030
5.700
.943
.927
276

ross 80177

2000
3.625
3.030
4.990
1.653
.944
387

ross 82005

2300
3.799
3.130
5.201
1.585
.912
419

ross 82125

2300
3.811
3.130
5.201
1.585
.912
432

ross 80125

2300
3.811
3.130
5.700
1.086
.927
352

ross 80175

2300
3.821
3.130
5.201
1.585
.912
427

ross 81125

2300
3.821
3.130
5.700
1.086
.927
342

ross 81175
Connecting Rods for 2000 and 2300 Engines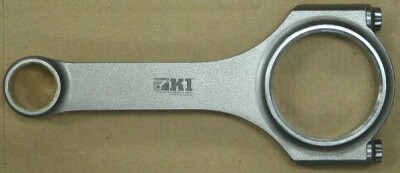 We sell K1 Technologies, Manley and Eagle connecting rods for these engines. Click here for Ford 2000 - 2300 connecting rods. If you do not see the rods you want, please contact us and we will be happy to help. We have far more available than what is listed on our website.
We also sell piston rings, bearings, valves and valvetrain parts, gaskets and more to fit the 2.0 and 2.3. We do not have them listed on our website yet though so please contact us for assistance with any of these items.
Click to view the complete catalog of Ross Forged Pistons