Custom Pistons | Custom Forged Pistons
We offer custom pistons to our customers who need a forged custom piston set with specifications to meet the unique requirements of their engines. Custom made pistons provide an ideal alternative for engines that do not have shelf stocking piston sets available. We work with several custom piston manufacturers to insure the best possible product to match your requirements.
Piston manufacturers generally offer the most popular pistons in shelf stocking sets. These include sets they can sell in higher volume due to the high demand for certain pistons and specifications. Older engines, including antique, vintage, classic and many other designs often do not have many choices, if any available in off the shelf piston sets. Even if there is an off the shelf set available for your engine, often times they are limited to standard oversizes and compression ratios. If you need pistons for your engine, and you can not find a set with the specs you need, then custom pistons may be the solution.
Custom forged pistons are available to cover a wide range of four stroke engine types including diesel automotive, marine, truck, motorcycle, dirt bike, street bike, ATV, go kart, jet ski and other powersport engines. Racing applications often require a custom forged pistons due to unique engine combinations. Many muscle car engines, no longer have any high performance pistons available, or they are only offered in limited bore sizes or compression ratios. With a custom piston set, you are not limited to standard over bore sizes, so you can get more life out of rare engine blocks.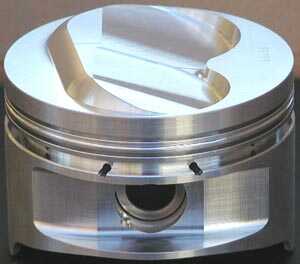 We work with the following Custom Piston Manufacturers:
CP Pistons
Diamond Pistons
Ross Racing Pistons
Wiseco Pistons
Flat Top Dome Top Dish Top Custom Gas and Diesel Pistons
Our custom piston sets are available in flat top, dome top, reverse dome top, hollow dome top and other unique designs. We do now have custom diesel pistons available. With a custom piston set you can decide the bore size, compression ratio, ring groove widths, piston pin size, valve pocket depth, and pin location to work with a wide range of crankshaft stroke and connecting rod lengths. Many other dimensions of the custom pistons can be altered if required. They are available for normally aspirated engines, turbo charged engines, super charged engines, nitrous engines, and many other specialty applications.
If you are interested in a custom piston set for your engine, please contact us for assistance, information and pricing. We will be happy to work with you to insure you get the custom piston set that provides the exact specifications you need for your project.
Piston Manufacturers Page Links
Back to Top Custom Pistons page