Ross Pistons Forged Ross Racing Pistons Catalog

ROSS Racing Pistons are used in high performance and racing engines by knowledgeable engine builders the world over. One of the most important factors in achieving maximum engine efficiency and power, is the critical seal between the piston, rings and cylinder walls. Precise machining of the piston and especially the ring lands leads to improved sealing.
High output engines also put huge loads on the piston, both physical and thermal. Using a forged piston is standard in most all high performance and racing engines these days. Forgings are preferred in order to have the strength and durability required to survive in high output applications.
The compression ratio is another critical factor and one that must be chosen based on many factors such as the intended use, type of fuel and octane to be used. In some cases such as certain restricted racing classes there are limits as to what compression ratios can be used.
Forged Ross Pistons combine light weight, high strength, precision machining and premium materials to build a part you can depend on for high horsepower, torque and reliability. We offer these superb products at discount prices with quick shipping, and knowledgeable technical assistance if you need help. We are a dealer for the entire product line that Ross produces. This includes their shelf stocking part numbers, premium high performance piston rings, as well as custom items.
Online Ross Pistons Catalog Index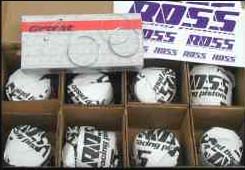 Please click on the below links to view the products available for your specific engine.
Chevy Chevrolet GM
Ford Mercury
302 351 Windsor Forced Induction Turbocharged Supercharged Pistons
Chrysler Dodge Plymouth Mopar
Honda Ross Racing Pistons
Hyundai
Mitsubishi
Mitsubishi Pistons Page includes pistons for the following engines:
4G63 Gen 1
4G63 Gen 2
EVO
EVOX 4B11
6G72 4V
6G74 Sigma
Nissan
Ross Nissan Pistons Page Includes the following engine pistons:
KA24
RB26DETT
RB30DE
SR20DE
SR20DET
VG30DE
VG30DETT
VQ35
Subaru
Toyota
Ross Toyota Pistons page includes performance pistons for the following engines:
VW Volkswagen
Ross Racing Pistons offers pistons in both stocking and custom sets. In most cases you can find a stocking set to fit your needs. If you do not see the exact piston specs you want in our listing of shelf stocking piston sets, we will be happy to help you with a custom design. Custom pistons can be made for just about any type of engine. Please use our online chat, contact form, or call us and we will be happy to assist you. We offer discounted pricing, even on custom orders!
All ROSS stocking piston sets include wrist pins, forced pin oilers, pin fitting, lock removal indents and pin lock rings. Sets are balanced to plus or minus 2.5 grams. You can buy replacement parts one at a time as needed. The valve pockets are designed to handle most camshaft applications. The skirt design allows for proper operation under intense heat and tremendous side loads without scuffing or splitting cylinder walls. Most normally aspirated sets are designed to operate at .004 skirt to cylinder wall clearance. The sets also include aircraft quality wrist pins that are heat treated and end ground to work in full floated or press fit applications.
Please feel free to use our Ross pistons compression ratio calculator to help you decide on the specifications you need for your exact application. Click Compression Ratio Calculator to go directly to our calculator or to visit our racing math page.
Back to Top Ross Pistons Catalog Index Page