Icon Pistons

United Engine and Machine, the parent company for KB Pistons decided to separate out their forged piston line from the rest of the KB Hypereutectic piston line. That decision, led to the new line of forged KB Icon Pistons. These premium quality forged pistons are available at a very reasonable price. The design, finish, fit, attention to detail and tightly held machining tolerances are exceptional. These pistons are equal to, or better than some brands selling for much higher prices.
Click Icon Catalog Index to skip ahead to the catalog table of contents.
Icon pistons for sale here are available as pistons sets which include the pistons, wrist pins and locks, or piston and ring sets which include all of the piston set components, plus premium icon piston rings. You can also get an individual Icon piston to replace a damaged one if the need arises.
Icon Forged Pistons for Street, High Performance & Racing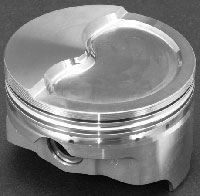 Icon pistons are an excellent choice for many different high performance and racing engine applications. They may be overkill for a stock rebuild, but considering the minimal cost to upgrade to a premium piston set they are a viable alternative. There are many Icon piston applications which cover many of the popular muscle car engines from the 1960s and early 1970s. They produce several parts numbers which are specifically designed to for muscle car restoration engines.
High performance street engines, drag race and many other competition engines are also ideal projects for these pistons. They are available in standard bore, many oversizes, different compression ratios, and for stock stroke and stroker engines. They are also available to work with different connecting rod lengths in many popular applications.
Why choose an Icon Piston Set?
As a full line distributor for many different brands of pistons we are often asked if icon forged pistons any good. The answer is a resounding yes, absolutely they are. KB ICON pistons from UEM incorporate a variety of superior design features, technical improvements and unique manufacturing procedures to produce an exceptional piston. Some of the reasons that ICON should be your clear choice when it comes to buying performance pistons:
Piston tops are polished and the quench area finished to promote maximum combustion efficiency for more complete fuel burn, providing maximum power
Piston to valve clearances designed with input from performance engine builders to provide maximum compression and performance
Pistons are pin fitted from the factory
Precision wrist pin hole diameter and finish to provide superior pin lubrication at higher RPM's
Unique skirt designs provide reduced friction while maintaining piston stability in the cylinder
Icon Premium series pistons are made from ultra heavy duty 2618 alloy. Some models are available in the Icon FHR Pistons ( Forged Head Relief ) series which are made from 4032 alloy. This is a more economical alternative forged piston for engines not requiring the ultimate strength of 2618 alloy.
Each set includes full installation instructions including piston ring gap & clearance recommendations.
ICON's manufacturing facility enables the complete development and production of pistons ensuring proper balance, finish and tight specification tolerances. When you buy Icon Pistons, you are purchasing a top quality product, designed and produced by the largest engine piston manufacturer in North America. Since beginning work in 1922, United Engine and Machine has been at the forefront of internal combustion engine piston design, engineering and manufacturing. UEM's goal is to build the very best pistons for your unique engine project. Check around the internet and you will find many very positive icon piston reviews.
Icon Piston Head Types
Icon forged pistons are made with several different piston head designs. The type of piston head greatly influences not only compression, but combustion efficiency, and ultimately torque and horsepower.
The below information provides a more in depth description of the different piston top designs available. The images shown may not be exact for the specific piston part number you are reviewing, but they will be very similar and give you a good idea of layout.
D-Cup
D-Cup – Maintains quench design and keeps the piston rim level all the way around.
Step Dish
Step-dish maintains the full quench while lowering the rest of piston rim below deck. This design allows for a big volume dish on long strokes while still maintaining the quench.
Flat Top
The flat top design is very efficient and is preferred in many applications where the flat top design will produce the required compression ratio. The flat top is also less costly to machine so flat top pistons are generally less expensive than dome or dish style pistons.
Circular Dish
Circular Dish Design - Has no quench and the dish is just lowered below the rim of the piston.
Step Head Elevated Quench
Step-Head features an elevated quench & is mainly used on heads that have a recessed quench such as some Chrysler applications. It allows builders to maximize what quench they have.
Dome Top
Dome Design - Has raised area above the quench portion of the piston. This is the traditional type dome used to produce high compression pistons.
Icon Piston Catalog Index
Pistons are available for the following engine makes. Please click on the OEM make of your engine to view the catalog page showing all of the Icon pistons keith black available for your selected engine. Where applicable, the 4032 alloy FHR pistons are also included.
AMC
Chevrolet
Chrysler
Ford
Oldsmobile
Pontiac
Subaru
Toyota
Icon Pistons Warranty Information
ICON Performance Piston products (part of United Engine and Machine) are sold without warranty or guarantee of any kind. ICON Performance Pistons shall not under any circumstances be liable for special, incidental or consequential damages of any kind from the purchase, installation, or use of these products. ICON Performance Pistons makes no guarantee or warranty on emissions.
Visit the Manufacturers Website UEM