KB Pistons High Performance Keith Black Hypereutectic Pistons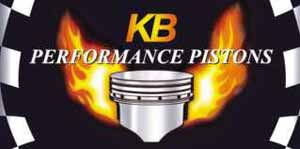 United Engine & Machine Company's line of KB Performance Pistons are hypereutectic type pistons which are an ideal choice of piston for many engine rebuilt project. KB Pistons offer an extensive list of part numbers for many different engine combinations, including popular stroker engine packages. These include many of the older muscle car engines, as well as current models. The KB hypereutectic pistons offer a great compromise of high performance with reasonable prices. In addition to KB Hypereutectic pistons, UEM now offers a line of forged pistons also which are marketed under the brand name of Icon. Originally, there were some forged piston part numbers in the KB line, but all forged pistons have been moved to the new Icon line up. We are an authorized dealer for the entire UEM product line which includes KB Pistons, Icon Pistons, and Silvolite pistons.
These piston sets are excellent choices for upgrading your stock engine, building a high performance engine, or for most any application where you want install a better than stock piston, without the higher cost of forged models. These parts are available as sets with,or without piston rings and all include wrist pins, pin fitting, locks and installation instructions.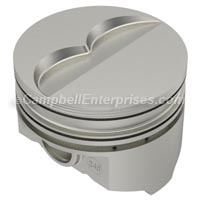 Click on the links below to go directly to the section of the KB listing that you are interested in. We are constantly adding additional information to our site. If you do not see the part you want listed, please e-mail us using the link in the top right border of this page, and we will be happy to provide info and pricing on any KB piston set you are interested in.
Please feel free to use our compression ratio calculator to help you decide on the piston specifications you want. Click here to go direct to our Compression Ration Calculator or visit our Race Math Page.
KB Claimer Pistons Catalog Index
Chevrolet
KB Pistons Catalog Index
AMC AMERICAN MOTORS CORPORATION
BUICK
455
CADILLAC
CHEVROLET
Chevy Small Block
283
305
327
334
350
377
383
400
Chevy Big Block
396 and 402
427
434
454
489
502
540
---
This link is to an older Mopar spec page on our site that we are replacing with new pages as time allows. If you do not find a link to the Mopar pistons you need in the main catalog index below, please check this link. MOPAR, DODGE, PLYMOUTH, CHRYSLER
---
CHRYSLER DODGE MOPAR PLYMOUTH
4 Cylinder Mopar
Small Block Mopar
Big Block Mopar
Chrysler Hemi Engines
FORD MERCURY
4 Cylinder Ford
Small Block Ford
289
302
331
347
351 Cleveland
351 Windsor
351 Clevor ( 351 WC built using Windsor block and Cleveland heads)
372 W
393 W
408 W
416 W
Big Block Ford FE
Big Block Ford 385 Series
OLDSMOBILE
PONTIAC
4 Cylinder Pontiac
V8 Pontiac
SUZUKI
TOYOTA