Mopar 273 318 340 360 5.2 5.9 Magnum Connecting Rods & Small Block Mopar Stroker Rods by K1 Technologies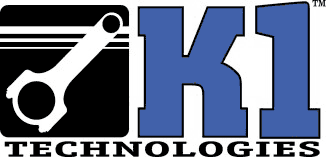 We have the best quality small block Mopar, Dodge, Plymouth, Chrysler H-beam billet connecting rods from K1 Technologies. K1 Tech is producing an extremely strong, 4340 billet rod set at a reasonable price for the small block Chrysler wedge A, LA and Magnum series engines. These 273, 318, 340, 360, 5.2L Magnum, 5.9L Magnum, and 390, 408 and 416 stroker rods are machined to very close tolerances and are far stronger than the original equipment rods. These rod sets come complete with rod bolts, installation instructions and moly lubricant.
Small Block Chrysler Connecting Rods Billet 4340 H-Beam Rods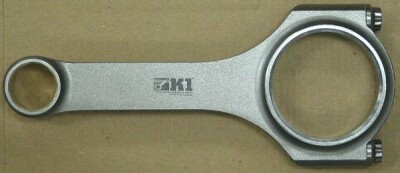 Small Block Mopar Connecting Rods K1 Technologies Mopar 273 318 340 360 5.2L 5.9L Rods and Stroker Rods

The .984" piston pin size is the stock size used in the Mopar small block engines. The .927" pin is standard small block Chevy size which is used by some aftermarket racing pistons.

part #
Description
length
c-c
pin size
rod journal
housing bore
Price
k1 dh6123anpb8-a
stock length rods with ARP2000 bolts, stock pin size
stock 6.123"
.984"
stock 2.125"
stock 2.250"
k1 dh6123anlb8-a
stock length rods with ARP2000 bolts, .927 pin size
stock 6.123"
.927"
stock 2.125"
stock 2.250"
K1 Technologies manufactures H beam and I beam connecting rods, in many rod lengths, and 4340 forged crankshafts and stroker cranks in many difference specifications. More information about K1 Technologies is available here: K1 Technologies Crankshafts and Connecting Rods
K1 Technologies Mopar small block connecting rods are billet type rods for superior strength and durability. K1 H beam Mopar A engine, and 5.2L and 5.9L Magnum series small block rods are all 4340 grade steel billet rods and include ARP8740 or ARP2000 bolts. All of these small block and stroker small block Mopar H beam connecting rods are bronze bushed for use with full floating piston pins. These Mopar small block rods are ideal for any muscle car rebuild project, hot rod, nostalgia dragster, supercharged engines, custom street car, drag race, etc. If you are building a hard running small block Mopar wedge engine, why risk using lesser quality connecting rods in your project? At our discounted prices, you get a top quality, high performance con rod, for not much more than lesser quality aftermarket rods, or rebuilt stock con rods.
We have K1 Technologies available 273 rods, 318 connecting rods, 340 rods, 360 connecting rods, 5.2L Magnum connecting rods, 5.9L Magnum rods and small block Mopar stroker rods.
We also offer small block Mopar pistons in several different types, including forged pistons, supercharged pistons, stroker pistons, etc. as well as crankshafts, piston rings, bearings, etc. If you can not find the Mopar small block engine parts you need, or if you have questions, please contact and let us know what you need, and we will be happy to get back to you ASAP with more info and pricing.
Links to related parts on our site: