SBC Pistons CP Bullet SBC Forged Pistons Flat Top Small Block Chevy Piston and Ring Sets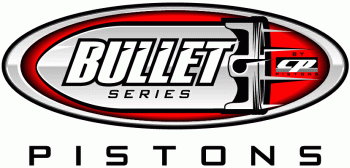 Bullet Series Flat Top Small Block Chevy Pistons
Bullet Pistons sbc pistons and ring sets are premium CP quality piston sets available at an affordable price. The Bullet Piston series incorporates everything that has made CP the industry leader in sbc forged pistons. The Bullet Series SBC forged pistons were conceived as a high quality sbc piston set available at a reasonable price. Exhaustive R&D, specifically designed forgings and centralized manufacturing allows CP to succeed at reaching their lofty goal of high quality at affordable prices.
We also have SBC Dish Top and Dome Top Pistons
Are Bullet Series SBC Pistons Sets Right for My Engine?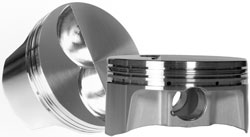 At the top levels of professional motorsports CP Pistons brand sbc forged pistons are relied on by many teams to provide race winning power and durability.CP Pistons continues to be an innovator in the high performance piston market. CP is home to one of the most advanced, state of the art piston manufacturing facilities in the world. Their facility and machining capabilities are second to none. The Bullet Series sbc forged pistons benefit enormously from being designed and produced in this advanced manufacturing environment. Bullet series sbc forged pistons are built using the same machines and tooling as the Professional series CP racing pistons. What this means to you is superior quality at an affordable price. Bullet series pistons are an excellent choice whether you have a hot street car, restored muscle car competition race car and just about anything in between. Since the pistons are forged 2618 alloy they can be used in normally aspirated, nitrous, supercharged and turbocharged applications when properly selected to match your application.
How do CP Bullet Series SBC Pistons benefit you?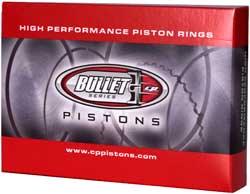 You benefit by saving money without having to compromise when choosing your sbc forged pistons due to a tight budget. CP Bullet Series flat top SBC pistons sets provide you with premium sbc forged pistons made to provide you maximum performance and endurance without breaking the bank. Invest wisely in your performance and racing sbc pistons. Choose CP with confidence knowing they are a wise choice for your high performance or racing engine.
CP Bullet SBC Piston Set Features
Set of sbc pistons balanced within 1 gram
2618 alloy for strength and durability
Dual forced pin oilers
Contact reduction grooves
Accumulator groove
Forged side relief
FEA designed forging
Tight tolerances
Same manufacturing process as CP Pistons
Rigorous quality control
ISO 9000 certified
Each Bullet Set of SBC Pistons includes:
8 sbc forged pistons 2618 Alloy
8 high quality chrome moly piston pins
1 set of piston pin retention wire lock rings
1 piston ring set with gas nitrited steel top rings, Napier back cut 2nd rings and soft nitrited oil rings
CP Bullet Flat Top SBC Pistons Specification Info:

Stock SBC Engine Specs for reference:

327 4.000 bore, 3.250 stroke, 5.7 rod
350 4.000 bore, 3.480 stroke, 5.7 rod
400 4.125 bore, 3.750 stroke, 5.565 rod ( NOTE: most everyone goes to a 5.7 or 6 inch long rod when replacing pistons in the 400 sbc which is why you will not see any pistons listed for the 5.565 long rod, it is really to short in relation to the stroke to give best performance)

Engine Block All of the pistons listed below are designed to work in a standard deck height block of 9.025"
Bore = Finished bore size piston set is designed to work in
Stroke = Crankshaft stroke
Rod = Rod length piston is designed to work with
Disp = Displacement of the valve reliefs in ccs
CD = Compression Distance
Comp = Compression as calculated with a 64cc head chamber volume, .010" deck height and 9.2cc displacement head gaskets
Piston pins are .927 inch diameter and 2.500 inches long
VR = Valve Relief Depths are .310
Piston ring grooves are 1.5mm 1.5mm 3.0mm

Bore
Stroke
Rod
CD
Head Type
Disp
Comp
Part Number
4.000
3.500
6.000
1.250
All 23
-6.83
9.8
BC 1020-STD
4.020
3.500
6.000
1.250
All 23
-6.83
9.8
BC 1020-020
4.030
3.500
6.000
1.250
All 23
-6.83
9.8

BC 1020-030

4.040
3.500
6.000
1.250
All 23
-6.83
9.9
BC 1020-040
4.060
3.500
6.000
1.250
All 23
-6.83
10.0
BC 1020-060
4.000
3.480
5.700
1.560
All 23
-6.83
9.7
BC 1021-STD
4.020
3.480
5.700
1.560
All 23
-6.83
9.7
BC 1021-020
4.030
3.480
5.700
1.560
All 23
-6.83
9.8
BC 1021-030
4.040
3.480
5.700
1.560
All 23
-6.83
9.8
BC 1021-040
4.060
3.480
5.700
1.560
All 23
-6.83
9.9
BC 1021-060
4.030
3.625
6.000
1.187
All 23
-6.83
10.2
BC 1022-030
4.060
3.625
6.000
1.187
All 23
-6.83
10.3
BC 1022-060
4.030
3.750
6.000
1.125
All 23
-6.83
10.5
BC 1025-030
4.040
3.750
6.000
1.125
All 23
-6.83
10.5
BC 1025-040
4.030
3.750
5.700
1.425
All 23
-6.83
10.5
BC 1026-030
4.045
3.750
5.700
1.425
All 23
-6.83
10.5
BC 1026-045
4.030
3.500
5.700
1.550
All 23
-6.83
9.8
BC 1050-030
4.060
3.500
5.700
1.550
All 23
-6.83
9.9
BC 1050-060
4.125
3.750
6.000
1.125
All 23
-6.9
11
BC 1100-STD
4.155
3.750
6.000
1.125
All 23
-6.9
11.1
BC 1100-030
4.125
3.875
6.000
1.062
All 23
-6.9
11.4
BC 1111-STD
4.155
3.875
6.000
1.062
All 23
-6.9
11.5
BC 1111-030
4.125
4.000
6.000
1.000
All 23
-6.92
11.7
BC 1110-STD
4.155
4.000
6.000
1.000
All 23
-6.92
11.8
BC 1110-030
Return to Top of Flat Top SBC Forged Pistons Page
Related CP Piston Links: