Bullet Pistons by CP Pistons High Performance Forged Bullet Piston Sets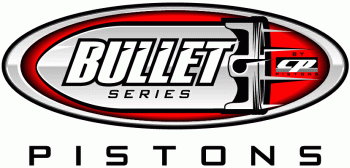 CP Bullet Series Pistons - Setting a New Standard
Bullet Pistons forged piston and ring sets are now available here at Campbell Enterprises. We are pleased to announce the availability of the new Bullet Pistons from CP. The introduction of this great new product line proves that affordable piston set prices no longer requires sacrificing quality.
Bullet Pistons are the newest product division of CP Pistons. In the quest to provide a high quality, affordable piston set CP developed the new Bullet Pistons line of piston sets. The Bullet Piston series incorporates everything that has made CP the industry leader. Inspired by top forms of motorsports, the Bullet Piston was conceived as a high quality forged piston with a reasonable price. Extensive research, development and newly designed forgings along with centralized manufacturing cells have enabled CP to accomplish the lofty goal of high quality at affordable prices.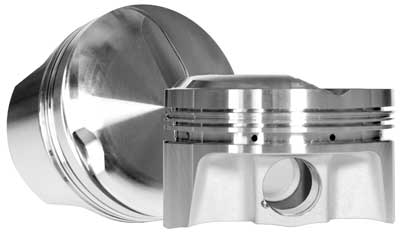 Why Choose CP Bullet Series Piston Sets for Your Engine?
In the high pressure world of motorsports some of the top teams rely on CP Pistons to meet their requirements. Many people know that CP Pistons continues to be the leader in the high performance piston market. What people may not know is that CP Pistons is home to one of the most advanced, state of the art piston manufacturing facilities in the world. Their facility and capabilities are second to none in this respect and this new division of CP Pistons is a perfect fit into an already advanced system. So what makes this possible?
Centralized manufacturing cells
Application specific forgings and hardware
Larger production runs
Available off the shelf
Same machines and tooling as CP
How do Bullet Pistons benefit you?
This means added savings for you without having to compromise on your choice of engine components due to a tight budget. CP has built a strong name for itself in every form of motorsports and with the introduction of this new division, CP can now offer you some of the highest quality pistons at a very competitive price.
CP Bullet Piston Set Features
Piston balance 1 gram
Available of the shelf
2618 alloy for strength and durability
Dual forced pin oilers
Contact reduction grooves
Accumulator groove
Contemporary high performance ring sets
Forged side relief
Chrome moly wrist pins with wire locks
FEA designed forging
Tight tolerances
Same manufacturing process as CP Pistons
Rigorous quality control
ISO 9000 certified
Campbell Enterprises CP Bullet Pistons Online Catalog
Forged Pistons and Ring Sets Table of Contents
Click on a manufacturers subsection to go directly to the Bullet Piston specification pages you are interested in.
Chevrolet
Chevy Small Block
Chevy GM LS Series
Chevy Big Block
Chrysler Mopar Dodge Plymouth
Ford Mercury
Ford / Mercury Small Block
Ford / Mercury Big Block FE and 385 Series
Holden
Oldsmobile
Full CP Pistons Catalog Product List