Slant Six Pistons Wiseco Pro Tru Forged 225 Slant 6 Piston Sets
Are you looking to buy the best quality high performance forged 225 Slant 6 pistons available for your engine? We have what you need as we are proud to sell Wiseco Pro Tru Forged piston sets for the Mopar, Chrysler, Plymouth, Dodge 225 slant 6 engines. These high compression forged piston sets offer high strength, light weight, better power and durability at a reasonable price. We have slant six pistons available in several oversizes. The Mopar, Plymouth, Dodge, Chrysler Slant 6 engine uses very thick cylinder walls which allows very large big bore pistons to be used.

Dodge Plymouth Mopar Chrysler 225 Slant Six Pistons
Wiseco Slant 6 Pistons Chrysler Forged Flat Top 225 Slant Six Piston and Ring Sets

Wiseco 225 Slant 6 Piston Kits Include and Feature:

Includes 6 forged slant 6 pistons
Chromium alloy steel piston pins
spiro lock pin retention rings
plasma moly piston ring set
oversize symmetrical radiused valve pockets allow use of high lift cams and big valves
pressure fed pin oiling
precision finished pin hole
cnc machined
designed for use with stock stroke 4.125 inch crank
stock .901 pin size
Compression ratio calculated with a chamber size of: 54cc
7.005 inch rod length ( we recommend K1 Technologies H Beam Slant 6 Rods for high performance and racing Slant Six engines. )

Bore Size
Cubic
Inches
Comp. Ht.
Volume
Comp.
Part #
3.425 in..025 oversize
228 cid
1.625
-6cc
10.25-1

Wiseco pt112h25

3.445 in..045 oversize
231 cid
1.625
-6cc
10.3-1

Wiseco pt112h45

3.484 in..084 oversize
236 cid
1.625
-6cc
10.5-1

Wiseco pt112h84

$0.00
Contact us for availability!

3.504 in..104 oversize
239 cid
1.625
-6cc
10.6-1

Wiseco pt112h104

$0.00
Contact us for availability!
If you are building a high performance or racing Mopar 225 engine, why risk using anything less than premium Wiseco forged slant 6 pistons? At our discounted prices, you get a top quality, high performance forged racing piston set, for not much more than lesser quality stock replacement type slant six pistons.
Wiseco Performance Products forged Chrysler 225 Slant Six pistons on this page fit the following engines:
Chrysler 225 Slant 6
Plymouth 225 Slant Six
Dodge 225 Slant Six
Mopar 225 Slant 6
Wiseco Performance Products has been a leader in the piston and performance parts industry for over 60 years. Wiseco manufacturers high quality aftermarket forged pistons for the automotive, truck, boat, motorcycle, motorsports and powersports markets. Wiseco takes quality and performance seriously, so every Wiseco product is engineered and rigorously tested at their facility and in the field to insure that it will meet and exceed the expectations of our valued customers.
More general Wiseco piston info available here: Wiseco Performance Pistons
We also offer custom slant six 6 pistons for supercharged, turbocharged, nitrous engines, or other special slant 6 engines that require different specs than those offered by these Wiseco pistons.
Chrysler Slant Six High Performance Racing Rods
Buy the best slant six Mopar, Dodge, Plymouth, Chrysler H-beam billet connecting rods by K1 Technologies here. K1 Tech builds a top quality 4340 billet rod set at a reasonable price for the Chrysler slant 6 engines. K1 rods are machined to very close tolerances and are far stronger than the stock rods. These slant 6 rod sets come complete with ARP2000 bolts, instructions and moly lube. More K1 Technologies product info here: K1 Technologies Crankshafts and K1 Rods
K1 Mopar Slant 6 Connecting Rods 4340 H-Beam Billet Rods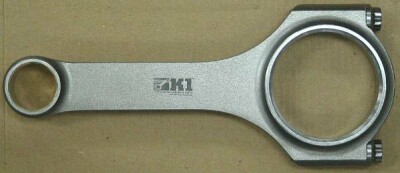 K1 Technologies Mopar slant six 6 connecting rods are H beam billet type rods for superior strength and durability and are bronze bushed for use with full floating piston pins. These slant six 6 rods are ideal for any muscle car rebuild, street car, hot rod, nostalgia dragster, supercharged, turbocharged or nitrous engines, racing engines, marine, tractor pull, mud bog engines and more.
K1 Technologies Slant Six 6 Connecting Rod Sets

Description
length
c-c
pin size
rod journal
housing bore
Part #

For use with forged crankshaft. Will not work with cast crank.

Stock length for 198, use in 225 with matching Wiseco pistons, ARP2000 bolts, stock pin size, 644 grams

7.005
.901"
stock 2.187"
stock 2.312"

k1 dh7005behb6-a
With K1, you get top quality H beam style, 4340 BILLET rods, that are weight matched to plus/minus 1 gram per end from the factory. The center to center length tolerance is held to +/- .001" and the bores are machined to +/- .0001".
If you can not find the slant six engine parts you need, or if you have questions, please contact us and let us know what you need, and we will be happy to help.
Molnar Technologies 4340 Steel Billet H Beam Chrysler Slant 6 Rods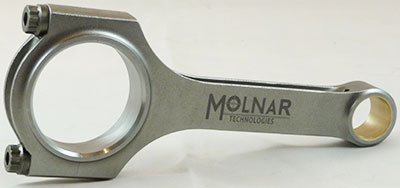 Molnar Technologies Mopar Slant 6 Connecting Rod Info and Specifications

Molnar Technologies H Beam rods are machined from billet 4340 steel, and then heat treated to provide improved strength. To make the rods even stronger, they are shot peened to which also increases fatigue life. All Molnar connecting rods are fitted with highly durable premium bronze bushings for use with floating pin type pistons. Each rod set includes ARP fasteners, moly lubricant and installation guidelines. Molnar Technologies Slant 6 4340 H beam connecting rods are the best connecting rod value on the market.

All Molnar rods are finished in the United States at the Molnar Technologies shop in Michigan. Critical rod dimensions are are held to very precise tolerances of +/- .0001 of an inch, which is the tightest tolerance you will find in the performance and racing aftermarket.

Length Length of the connecting rod, as measured center to center, in inches.
Weight Weight in grams, of one complete connecting rod assembly
Notes Additional information about specific applications
Bolt Size Bolt diameter in inches, Rods come with ARP2000 fasteners installed
Rod Pin Size Crank rod journal diameter
Pin Size Piston pin diameter, in inches or millimeters
BE Width Width of the crankshaft end of one rod
PE Width Width of the piston end of one rod
Part Number Molnar Technologies Connect Rod set part number
Price The price shown is for a complete set of rods for the engine.

Rod Length
Weight
Description
Bolt Size
Rod Pin Size
Pin Size
BE Width
PE Width
Part Number
7.005
650
For use with forged crank
7/16
2.187
.901
1.210
.980
DH7005UHB6-A
7.005
603
For use with cast crank
7/16
2.187
.901
.940
.980
DH7005UHB-C6-A


Contact us for availability!