Wiseco Pistons Professional Series Pistons

Wiseco Pistons are known the world over for their high quality premium performance and racing pistons. In business for over six decades, Wiseco continues to be on the cutting edge of performance and racing part design and manufacturing. Wiseco manufacturers superior quality forged pistons for use in high performance and racing engine applications. Wiseco takes great pride in producing top quality performance and racing parts. To insure the best product to the customer, each Wiseco part is designed and run through exhaustive testing procedures, both in the lab and out in real world conditions. This is done to provide high performance parts that will provide great value and exceed the expectations of the consumer.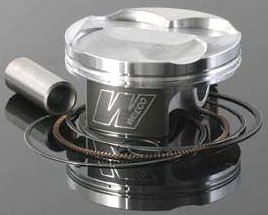 Forged High Performance and Racing Wiseco Pistons Features
Wiseco Pistons are recognized globally for their research and development of race winning pistons. Wiseco takes advantage of their experience from being involved with highly refined racing engines used in premier professional racing series. These include many diverse engine types, everything from single cylinder dirt bikes in AMA MX and SX, multiple cylinder street bike engines in Moto GP and Superbike, NHRA Pro Stock V8 engines, to ultra sophisticated Formula 1 engines. Lessons learned from involvement at the top levels of motorsports and powersports competition helps Wiseco design and produce some of the most cutting edge, high technology pistons currently available.
Valve relief areas are specifically shaped to allow maximum airflow. The valve pocket areas are machined to dimensions that work with stock valves and also allow the use of larger than stock valve diameters and high lift and duration camshaft profiles.
Piston tops are shaped so as to provide the greatest possible intake airflow by taking advantage of the scavenging effect provided during the period of intake valve and exhaust valve overlap. This helps draw more air and fuel into the cylinder for greater torque and horsepower!
The top surface of the pistons are designed and machined to provide superior quench effect. This aids in the prevention of detonation as well as the negative effects of pre ignition. This allows for greater compression and the potential for more power than a piston that does not used optimized quench areas.
Ring grooves are precisely machined to provide the best possible ring seal to increase efficiency and power while also reducing blow by and oil migration past the ring package. An accumulator groove is also used to further improve ring seal and performance.
Wiseco pistons are machined from raw forgings that are produced in a ISO Certified world class forging facility that that takes advantage of the most current technologies. Wiseco forgings feature complex shapes, advanced materials, and use aligned grain flow tech to provide an extremely strong base forging to machine the pistons from.
The piston skirts are designed and machined to precise dimensions and profiles which aid in stabilizing the piston in the cylinder bore to further improve piston ring seal. In addition the skirts are designed to minimize friction, further enhancing the performance of the engine by reducing internal frictional losses.
Professional Series Wiseco Pistons Catalog Index
Click on the links below to view pistons for your engine. Most listings include pistons for use in normally aspirated engines ( NA ), nitrous engines ( Nos ), supercharged engines and turbo engines.
Chevy Pistons and GM
LS Series
5.3 Stock Stroke and Stroker
LS7 using OEM Titanium Rod and Wrist Pin Diameter
LS Series Stock Stroke Pistons
LS Series 4.000" Stroker Pistons
LS Series 4.100 and 4.125" Stroker Pistons
LSX 4.250 Stroker Pistons
LSX 4.375 Stroker Pistons
LSX 4.500 Stroker Pistons
LSX 4.600 Stroker
SBC 350 Based Engines
350 XLS 2bbl Flat Top Xtra Light Weight Pistons
350 XLS 4bbl Flat Top Xtra Light Pro Series Gas Ported with 1.2mm GFX Rings
350 XLS 4bbl Flat Top Xtra Light Pro Series Gas Ported with .043 Ring Grooves
350 Max 23 Series Flat Top Strutted High Strength Gas Ported with GFX Rings
350 Hollow Dome Sprint Car High Strength
SBC Chevy 410 Thunderbolt Series
410 Thunderbolt Series Dome Top for15 Degree Brodix -12 Heads
410 Thunderbolt Series Dome Top for 13 Degree Brodix GB2000 Heads
Small Block Chevy 400 Based Engines
400 Dome Top for 18 Degree Heads
400 Dome Top for 23 Degree Heads
Big Block Chevy
BBC 454 496 Dome Top Light Weight Drag Race Pistons
BBC 502 and Stroker Dome Top Light Weight Drag Race
BBC 540 and Stroker Dome Top Pro Series
BBC Quick 16 Pro Series Hollow Dome Top Gen 2 Gas Ported High Compression with .043 .043 3mm Ring Grooves
BBC Quick 16 Pro Series Hollow Dome Gas Ported with .043 1/16 3/16 Ring Grooves
BBC Quick 16 Pro Series Hollow Dome Gas Ported with .043 .043 3mm Ring Grooves
BBC Quick 8 Pro Series 12 - 14 Degree Solid Dome Gas Ported
BBC Quick 8 Pro Series 18 Degree Solid Dome Gas Ported
Chrysler Dodge Mopar Plymouth
340 and 360 Stroker Pistons
Ford and Mercury
4 Cylinder 2000 and 2300
4.6 Modular
5.4 Modular
5.0 DOHC 4V Coyote
Wiseco K1 Technologies Crankshafts and Connecting Rods