360 Piston Sets Chrysler Plymouth Dodge Mopar 5.9 Magnum and 360 Pistons by Ross Racing Pistons
ROSS Racing forged 360 piston sets are used in muscle car restorations, high performance and racing engines by experienced engine builders worldwide. The pistons listed on this page fit Chrysler Plymouth Mopar Dodge 360 and 5.9 Magnum engines, and are manufactured by Ross Racing Pistons. The small block Mopar 360 is a very versatile engine, at home in car, truck, marine, and racing applications. On the street, drag strip, oval track, road racing and off road it has a winning tradition. 360 Ross forged racing pistons are a great choice for cruising or high rpm racing applications.

Ross Racing 360 pistons combine light weight, high strength, precision machining and premium materials. You can depend on Ross forged 360 piston sets for high horsepower, torque and reliability. We offer these superb stock stroke 360 forged pistons and 360 408 stroker pistons at very affordable prices. We have flat top, dome top and dish top 360 piston sets. Buy the best Ross pistons here. We offer great discount pricing, knowledgeable tech assistance and fast shipping.
Ross Racing Pistons offers 360 pistons in both stocking and custom sets. If you do not see the exact piston specs you want in a stocking piston, we will be happy to help you with a custom 360 piston design. Custom 360 pistons can be made for just about any application. Please contact us and we will be happy to assist you. We offer discounted pricing, even on custom pistons.
Ross Mopar Chrysler Plymouth Dodge 360 5.9 Magnum Forged Piston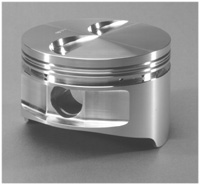 ROSS 360 piston sets are balanced to plus or minus 2.5 grams throughout the set. The valve pockets are designed to handle most aggressive camshaft applications up to .650 lift. The performance skirt design allows the pistons to work properly under intense heat and tremendous side loads without scuffing or splitting cylinder walls. Most normally aspirated pistons are designed to operate at just .004 piston skirt to cylinder wall clearance.
Ross Racing Pistons A engine Small Block Mopar 360 5.9 Flat Top Dome Top and Dish Top Piston Sets
Ross Chrysler Plymouth Dodge 360 Pistons and 360 408 Stroker Pistons

Pistons listed here fit the 1971 and newer A engine 360 as well as the 5.9 Magnum engines

Ross 360 piston sets include:

8 forged high performance / racing pistons
8 Piston pins .984 diameter, 2.500 long, .150 wall, 125 gram weight. Pins can be used with press fit type rods, but suggested installation is with a full floating pin in a bushed connecting rod. We recommend the K1 Technologies H Beam 360 Rods
Set of pin retention locks
Piston rings are sold separately. Piston ring sets listed here are Ross Plasma Moly file fit with standard tension oil ring

Additional features, specifications and application notes:

Nitrous, can be used with systems rated up to 250 hp
Compression ratio based on 64 cc heads, a .042" thick head gasket and piston .017" down from the deck at TDC
Ring grooves 1/16, 1/16, 3/16
Can be used with Mopar open and closed chamber cylinder heads, Edelbrock and Indy heads EXCEPT for part # 99628 which is only for use with Mopar OEM chamber heads
Stock standard bore size is 4.000 these Ross 360 pistons are all .030 oversize
Stock 360 Crankshaft Stroke is 3.580
Stock 360 connecting rod length is 6.123
Stock 360 Piston pin size is 0.984 inches
Disp = Displacement of the dome, or dish top, including the valve reliefs as measured in ccs
C.R. = Compression Ratio
Wt. = Weight in grams
C.H. = Compression Height

Bore
Stroke
Rod Length
Disp
C.R.
Wt.
C.H.
Pin Dia.
Piston Ring Set
Piston Set
4.030 + .030
stock 3.580
6.123
-5.5
10.4-1 flat top
484
1.669
0.984
RS-9771-35

$147.08 $132.37





ross 99627

4.030 + .030
stock 3.580
6.123
10.5
12.5-1 dome top
510
1.669
0.984

ross 99628

Use only with Mopar OEM chamber type cylinder heads

Ross Racing Pistons Mopar 5.9 Magnum 360 408 Stroker Pistons

Using the below listed pistons with a 4 inch stroker crank builds an engine with a finished size of 408 cubic inches. We strongly recommend the use of the K1 Tech 4340 forged 360 stroker cranks listed here

4.030 + .030
4.000 stroker
6.123
-21
9.5-1 dish top
470
1.459
0.984
RS-9771-35

$147.08 $132.37





ross 99787

4.030 + .030
4.000 stroker
6.123
3.0
11.5-1 dome top
479
1.459
0.984

ross 99789

4.070 + .070
4.000 stroker
6.123
-21
9.5 dish top
495
1.459
0.984
RS-9771-75

$147.08 $132.37





ross 99786

4.070 + .070
4.000 stroker
6.123
4.2

13.1

dome top

497
1.459
0.984

ross 99788

IMPORTANT NOTE: In order to build a .070 oversize 360 you must have an engine block with thick cylinder walls. For stock 360 blocks, the majority of the 1971 blocks can be used. They were cast using the 340 molds so the cylinder walls are considerably thicker than the later model 360 blocks. You can also use any of the aftermarket high performance and racing type blocks. If there is any doubt at all about the ability of your engine block to be safely bored .070 oversize, you should have a high performance machine shop sonic check the block to check the wall thickness for you.
Please feel free to use our compression ratio calculator to help you decide on the piston specifications you want. Click here to use our Ross pistons compression ratio calculator
Additional Resources:
Ross Chrysler 392 Forged Piston Sets
Eagle Small Block Mopar Crankshafts