Diamond Mopar 426 Hemi Pistons and 426 Hemi Stroker Piston Sets
Hemi pistons from Diamond Racing Pistons are available in several bore sizes, and strokes. Diamond Racing Mopar Hemi pistons are all high strength forged pistons. They offer high strength, but at the same time modern technology allows these pistons to be light weight improving engine performance further. These Hemi pistons are far superior to any cast or hypereutectic type piston. 426 Hemi Mopar Diamond piston sets offer reduced friction, better ring sealing, greater durability, faster acceleration, more horsepower and torque in your high performance street, strip or race car engine. Diamond forged pistons are great for Hemi muscle car restoration engines also. We are pleased to offer the entire line of Diamond Pistons to our customers at great discount pricing.

The table below includes the crankshaft stroke that each Diamond piston set is designed to work with. The stock stroke for the Mopar 426 Hemi is 3.750". We also have the Diamond Hemi pistons for 4.150" stroker crank Hemi engines. In addition, we have Hemi big bore pistons for use in Hemi blocks with a 4.500 bore size, in both stock stroke and stroker. If you need a Hemi piston set with different specs, please feel free to e-mail us and we will be happy to provide a quote for custom Hemi pistons, built to your exact requirements.
If you are using a stock stroke crankshaft in your engine project, you will need to select pistons to work with the stock stroke. If you are building a stroker engine using a 4.150" stroke crankshaft, then you will want to choose the matching 4.150" stroker pistons. We also have the 4.150" stroker cranks available as well as rotating assemblies or stroker kits.
Diamond 426 Hemi Mopar Piston Set Features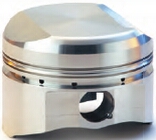 All Diamond Racing pistons for Dodge, Plymouth, Mopar 426 Hemi piston sets feature the following:
Available in Street Hemi and Race Hemi type compression ratios
May be used with small nitrous kits
Compression ratios figured for .020" deck height at 10.720"
Piston sets use Standard 1/16 - 1/16 - 3/16 ring package (not included)
Premium 8620 wrist pins and pin locks included
Forged and fully machined
Pin size is 1.031" x 2.930"
Big Block Mopar Hemi 426 and Stroker Hemi Piston Sets
The ring set part numbers listed below are Diamond Plasma Moly file fit sets. If you want a different ring set please contact us and we will be happy to go over other options with you.
If you do not need all the strength and performance of a forged piston set, or you want performance pistons but are on a tighter budget, we also have a large range of KB Hypereutectic pistons available, in standard bore and 6 different oversizes. You can view those pistons on our website here: KB 426 Hemi Pistons
Diamond 426 Hemi Forged Pistons and Rings

Chrysler 426 Hemi Specs

Stock 426 Hemi bore size = 4.250
Stock 426 Hemi crankshaft stroke = 3.750
Stock 426 Hemi connecting rod length = 6.860
Stock 426 Hemi pin size is 1.031

Piston Set includes: 8 forged pistons, 8 wrist pins and spiro locks. Piston rings are not included, but are sold separately

Piston Ring Set includes: 8 cylinder set of premium plasma moly, file fit piston rings, 1/16, 1/16, 3/16 with standard tension oil ring

Bore
Stroke
Rod Length
C.D.
Weight
Dome Displacement in cc
Compression Ratio with head chamber size of:
Hemi Piston Ring Set
Hemi Piston Set
168 cc
173 cc
4.250
3.750
6.860
1.965
 822
85.0
9.5
9.2
09024250
52500
4.280
3.750
6.860
1.965
824
85.0
9.5
9.2
09024280
52502
4.310
3.750
6.860
1.965
 828
85.0
9.7
9.3
09024310
52505
4.250
4.150 Stroker
6.860
1.765
 770
75.0
9.6
9.3
09024250
52520
4.280
4.150 Stroker
6.860
1.765
775
75.0
9.6
9.3
09024280
52522
4.310
4.150 Stroker
6.860
1.765
 778
75.0
9.8
9.5
09024310
52525
4.280
3.750
6.860
1.965
 800
112
12.6
12.0
09024280
52550
4.310
3.750
6.860
1.965
 806
112
12.6
12.0
09024310
52552
4.280
4.150 Stroker
6.860
1.765
 768
103
12.6
12.1
09024280
52540
4.310
4.150 Stroker
6.860
1.765
 773
103
12.7
12.1
09024310
52542
4.500
3.750
6.860
1.965
 
86
10.5
10.0
09024500
52560
4.500
4.150 Stroker
6.860
1.765
 785
74
10.4
10.0
09024500
52565
Links to related pages on our site:
426 Hemi Connecting Rods K1 Technologies
Diamond Racing Pistons Index
Pistons Main Index
Connecting Rods
Custom Forged Pistons
K1 426 Hemi Crankshafts Hemi Stroker Cranks