B&M Torque Converter High Stall Converters JW Performance Race Torque Converters for Automatic Transmissions
Torque converters are one of the most critical components in getting maximum performance out of an automatic transmission equipped vehicle. This holds true whether you have a restored muscle car, stock street vehicle, hot street strip car, hot rod, street rod or all out race car. The right stall speed torque converter for your exact application will insure maximum performance and long trouble free service. There are many cheap, low quality torque converters on the market as unscrupulous sellers know that from the outside the buyer can not tell what is really inside the outer case that you see when looking at a torque converter. We offer high quality JW Performance Transmissions torque converters, as well as B&M torque converters. We have used their high stall racing torque converters in our own street and race cars since the late 1970s and have been a distributor for JW since the mid 1980s. Not only do these fine companies make outstanding performance products, they also support many racing series and back up their products with top quality service. We are proud to provide info here for both B&M Torque converters and JW Performance torque converters, transmissions, and automatic transmission parts and accessories.
High Performance Torque Converters
We offer torque converters for a wide range of engine sizes, power levels, transmission types and applications. Whether you need a torque converter for towing, street performance, street and strip use, pulling events, or all out drag racing, we have the right stall speed converter for your project.
Contact us to get assistance with purchasing the best torque converter for your application. We have a large selection available but we are way behind on getting them all added to our shopping cart system. Also, on many HP and racing converters are custom built to order to insure maximum performance in you exact application. Please contact us for details and pricing.
You may view our online list of torque converters for your model transmission by using the "Shop Our Store" expanding menu in the left border. Just select your vehicle make, then move your mouse pointer over to "transmission", and then to "torque converter".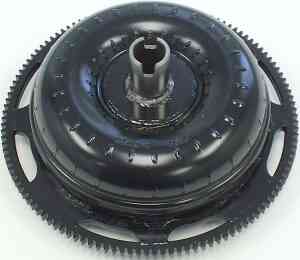 We are also adding new web pages dedicated to torque converters for each make and model of automatic transmission. You may view these pages as they are added by clicking on the appropriate link in the table below. If you can not find the stall converter you need, or have questions, please contact us and let us know what torque converter you are looking for and we will be happy to get back to you ASAP with more info for your exact application.
Characteristics of a High Quality Torque Converter
A quality torque converter, whether it be for towing, muscle car restoration, high performance, or an all out race converter, requires more than just a high stall speed. A high stall converter can improve performance, but of equal importance are efficiency, torque multiplication and durability. Efficiency relates to how well the torque converter transfers the engine power, with minimum loss. This is one area where "cheap" converters really hurt as they often exhibit poor efficiency and slippage, especially under high loads at higher speeds. The JW Performance Torque converters are some of the most efficient on the market, and one of the reasons we use them in our own drag race cars.
| | |
| --- | --- |
| | |
Torque multiplication is another area where a high quality converter really shines compared to a "budget" converter. A quality converter will actually multiply torque, improving acceleration. Durability is another must have factor in a performance torque converter. The high output levels of modern engines, combined with transmission brakes, nitrous, etc. require a strong case and all high quality internal components. Beware of the many budget converters on the market. This is certainly one area where you do really gain by spending a little more for a high quality product. It is easy to have a cheap converter lead the custom to believe he has a high stall speed, simply by making the converter "slip, which makes the tach read higher, but the car generally does not accelerate any better then the stock converter did. A top of the line converter like the JW, however combines the proper stall speed, with high torque multiplication and high efficiency to give you the best all around performance, whether on the highway, or blasting down the drag strip.
More detailed info on available high performance torque converters for your vehicle is available by following the links in the tables below. You can also browse the table below for other torque converters as well as use the search box to search for a specific model converter or transmission part.
JW Performance Transmissions Brand Specific Automatic Transmission Torque Converter Information & Specifications

Dodge Plymouth Chrysler
Mopar Torque Converters

Chevrolet & GM
Torque Converters

Ford
Mercury
Torque Converters

AMC Jeep
Torque Converters

727 Torqueflite TF 727 Torqueflight Torque Converters
Powerglide
PG
C4
Torque Command 727N
TF 904 998 999 Torqueflite Torque Converters
Turbo 350
TH350
Turbo Hydro 350
C6
Turbo 400
TH400
Turbo Hydro 400
Ford AOD
Metric 2004R
Metric 700R4
We offer Mopar, Dodge, Plymouth, Chrysler 727 and 904 torque converters, Ford and Mercury C4, C6 and AOD converters, Chevy, Chevrolet, Buick, Oldsmobile, Pontiac Powerglide, Turbo Hydro 350 TH350, Turbo Hydro TH400, Metric 200-4R and Metric 700 R4 performance converters, and AMC Jeep torque command 727 high stall torque converters.
Links to related pages on our site: