Mopar Pistons Dodge Piston Sets Chrysler Piston Sets Plymouth Pistons High Performance Forged, Cast and Hypereutectic
We offer Mopar, Dodge, Plymouth and Chrysler pistons from many of the best piston manufacturers on the planet. We offer CP Pistons, ROSS Forged Pistons, Probe Ind. forged Mopar pistons, Speed Pro, Diamond Forged Pistons, Federal Mogul, Keith Black, Manley, JE Pistons, TRW, SRP, Silvolite, and more. We have Mopar engine pistons available for 4 cylinder, 6 cylinder, small and big block V8 engines, early, 426 and late model Hemi's and V10s. We offer pistons for use with stock stroke crankshafts as well as Mopar stroker pistons. Scroll down this page for info on the various Chrysler engines we have pistons for as well as the large variety of piston manufacturers whose pistons we distribute.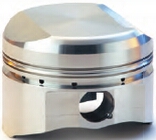 In addition to shelf stocking style pistons we also offer custom made pistons for just about any Chrysler, Plymouth or Dodge piston engine application. We will be happy to work with you to help get you any type of custom piston you desire, at surprisingly reasonable prices. Our list of available pistons and manufacturers is constantly expanding and we usually have far more available than what is listed on this site. If you do not see the piston you need please contact us for assistance.

Please feel free to use our compression ratio calculator to help you decide on the piston specifications you want. Click here to go direct to our Compression Ratio Calculator
.
CE Online Mopar Piston Catalog Index
Click on the links below to go directly to the Mopar pistons catalog section you are interested in. Pistons are listed by engine type, engine size and by manufacturer.
6 Cylinder 170 198 225 239
225 Slant Six Pistons
V8 Small Block A, LA and Magnum
273
318
340
360
Modern 5.7L and 6.1L Hemi
Big Block Wedge 361 383 400 413 426W 440
383 Pistons
440 Pistons
Hemi 331 354 392 426
392 Hemi
426 Hemi
Custom Mopar Pistons
Piston Manufacturers Index Pages
If you do not see the pistons listed for your Mopar engine, please contact us as we have pistons available for engines not listed and we are constantly adding new Mopar engine pistons to our inventory. We normally have pistons available for the following Dodge, Plymouth, Chrysler and Mopar automotive and marine engines as well as stroker motors based on these engines:
2.0L, 2.2L, 2.2 L Turbo, 2.6L, 3.0L, 170 slant six, 198 slant six, 225 slant six, 231 V6, 239 V6, 3.9L V6, 273, 318, 318 Magnum, 5.2L, 340, 360, 360 Magnum, 5.9L, 361, 383, 400, 408, 413, 426 Wedge, 426 Hemi, 440, 488, 498, 500, Chrysler 331 Hemi, 354 Hemi, 392 Hemi