LS1 Rods Chevrolet LS1 Connecting Rods LS Rods & LS1 Rod Sets by K1 Technologies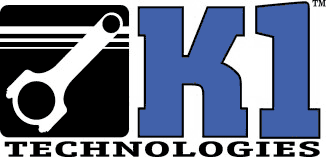 We are proud to sell top quality Chevy H-beam LS1 rods from K1 Technologies. K1 Tech is producing an extremely strong set of 4340 billet LS1 connecting rods at a reasonable price for the LS1 series engines. These LSX, LS2, LS7 and LS1 connecting rods are machined to very close tolerances and are far stronger than the original equipment rods.
K1 Technologies Chevrolet LS1 connecting rods are billet type rods for superior strength and durability. K1 H beam Chevy LS1 rods all include ARP8740 or ARP2000 bolts. All of these LS1 rods both stock and stroker LS1 connecting rods are bushed for use with full floating piston pins. These rods are ideal for any muscle car rebuild project, hot rod, nostalgia dragster, supercharged Chevy LS series engines, custom street car, drag race, etc.
Chevy LS1 LS2 LS7 LSX Rod Sets Billet 4340 H Beam LS Rods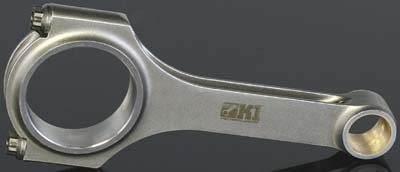 K1 Technologies 4340 H beam steel billet LS1 rods are the best all around LS1 connecting rod value on the market. K1 Technologies rods are held to some of the tightest tolerances in the industry. With K1, you get top quality H beam style, 4340 BILLET LS1 rods, that are weight matched to plus/minus 1 gram per end from the factory. The center to center length tolerance is held to +/- .001 inch and the bores are machined to +/- .0001 inch; Compare these specs to other LS1 rods on the market and then make your decision, buy the best, buy K1.
K1 Tech Chevy LS1 Rod Set Specifications
Chevy LS1 Connecting Rods K1 Technologies Chevrolet LS1 LS2 LS7 Stroker Rods

These rod sets come complete with 7/16 ARP 2000 rod bolts (except supreme lite set CH6125ALLB-LSSL-8A which uses 3/8"), bronze bushings, instructions and ARP moly lube
All of the K1 LS rods listed below are "on center the same as factory LS1 rod sets"
We recommend the matching K1 LS1 crankshafts and LS1 stroker cranks available here
C-C = Length of rod, center to center, in inches
Bore = Rod big end housing bore diameter in inches
CPS = Crank pin size ( rod journal size ), in inches, that rod is designed to work on.
WPS = Wrist pin size that rod is designed to work with
Wt = Weight of 1 rod, in grams

Description
Housing Bore Size
Crank Pin Size
Wrist Pin Size
Bolt Size
Weight
Part Number
Stock length 6.098 Chevy LS1 rods with ARP2000 bolts
2.225"
2.100"
.927"
7/16"
659
CH6098ALLB-LS8-A
6.125" length rods with ARP2000 bolts. Recommended for turbo, supercharged and big nitrous engines
2.225"
2.100"
.927"
7/16"
660
CH6125ALLB-LS8-A
6.125" LS1 Chevy Stroker Rod This rod is specifically designed for use in stroker engines. The rod provides more camshaft clearance in the bolt thread area. It uses a shorter bolt and is designed with strengthening "ears" in this area to retain strength even with the additional clearance.
2.225"
2.100"
.927"
7/16"
651
CH6125ALLBLS-ST8-A
6.125" length Lightweight rods with ARP2000 bolts. Recommended for all normally aspirated engines.
2.225"
2.100"
.927"
7/16"
616
CH6125ALLB-LSL8-A


Contact us for availability!

6.125" LS1 Chevy Supreme Lightweight Bushed

NOTE: Made for 7,600 max RPM applications with lightweight pistons and 3.622 stroke.

2.225"
2.100"
.927"
3/8"
507

CH6125ALLB-LSSL8-A

Sold out, Discontinued by K1

6.340" LS1 Chevy Bushed Stroker Rod
2.225"
2.100"
.927"
7/16"
651
CH6340ALLBLS-ST8-A

$0.00
Contact us for availability!

6.390" LS1 Chevy Bushed Stroker Rod
2.225"
2.100"
.927"
7/16"
653
CH6390ALLBLS-ST8-A


Contact us for availability!

6.400" LS1 Chevy Bushed Stroker Rod
2.225"
2.100"
.927"
7/16"
654
CH6400ALLBLS-ST8-A


Contact us for availability!

6.450" LS1 Chevy Bushed Stroker Rod
2.225"
2.100"
.927"
7/16"
656
CH6450ALLBLS-ST8-A
6.450" LS1 Chevy Lightweight Bushed
2.225"
2.100"
.927"
7/16"
624
CH6450ALLB-LSL8-A
6.477" LS1 Chevy Bushed Stroker Rod
2.225"
2.100"
.927"
7/16"
657
CH6477ALLBLS-ST8-A

$0.00
Contact us for availability!
If you are building a hard running Chevrolet LS series engine, why risk using lesser quality rods in your project? K1 Technologies billet steel LS1 rods are a great value, you get a premium top quality, high performance racing rod, at a great price.

Molnar Technologies LS Engine Connecting Rods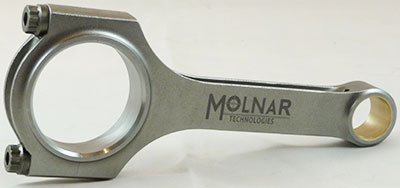 Molnar Technologies H Beam GM LS1 rods are machined from billet 4340 steel, and then heat treated to provide improved strength. To make the rods even stronger, they are shot peened to increase fatigue life. All Molnar GM LS engine rods are fitted with highly durable premium bronze bushings for use with floating pin type pistons. Each rod set includes ARP2000 fasteners, moly lubricant and installation guidelines.
All Molnar rods are finished in the United States at the Molnar Technologies shop in Michigan. Critical rod dimensions are are held to very precise tolerances of +/- .0001 of an inch, which is the tightest tolerance you will find in the performance and racing aftermarket.
Molnar LS1 Connecting Rod Specifications

Length Length of the connecting rod, as measured center to center, in inches.
Weight Weight in grams, of one complete connecting rod assembly
Notes Additional information about specific applications
Bolt Size Bolt diameter in inches, Rods come with ARP2000 fasteners installed
Rod Pin Size Crank rod journal diameter
Pin Size Piston pin diameter, in inches or millimeters
BE Width Width of the crankshaft end of one rod
PE Width Width of the piston end of one rod
Part Number Molnar Technologies Connect Rod set part number
Price The price shown is for a complete set of rods for the engine.

Rod Length
Weight
Description
Bolt Size
Rod Pin Size
Pin Size
BE Width
PE Width
Part Number

GM LS H Beam Connecting Rods

6.125
602
6.125 Lightweight for stock to mildly modified normally aspirated engines with no power adders
7/16
2.100
0.927
0.940
1.010
CH6125NLB-LS8-A
6.200
620
LS1 Standard Weight for most high performance and racing use in normally aspirated engines. Can also be used in boosted engines with 8-10 pounds of boost or nitrous shots up to 200hp
7/16
2.100
0.927
0.940
1.010
CH6200NLB-LS8-A
6.125
654
LS1 Turbo Heavy duty rod for big boost and large nitrous shots
7/16
2.100
0.927
0.940
1.010
CH6125NLB-LST8-A
About K1 Technologies
K1 Technologies is dedicated to providing world class "energy transfer technology" at an affordable price. K1 uses its wealth of knowledge, and real world experience, to produce top quality connecting rods and crankshafts at an affordable price.
K1 Technologies manufactures H beam LS1 connecting rods and I beam LS1 connecting rods, in many rod lengths, and 4340 forged crankshafts and stroker cranks in a variety of strokes. You may view the full line of K1 Technologies products by clicking on this link: K1 Technologies High Performance and Racing Crankshafts Connecting Rods and Engine Parts
We also sell a wide variety of Chevy LS1 pistons to go with the K1 LS1 connecting rods and crankshafts including Ross LS1 pistons and Wiseco forged pistons and others in several different types, supercharged and turbocharged pistons, nitrous pistons, stroker pistons, custom pistons, etc. as well as piston rings, bearings, etc. If you can not find the Chevrolet LS1 engine parts you need, or if you have questions, please e-mail us , call, or use our online chat system and let us know what you need, and we will be happy to help.
K1 Technologies LS connecting rod applications:
LS rods for all LS series engines
LS1 rods
LS2 rods
LS7 rods
LSX connecting rods
LS1, LS2, LS7, LSX based stroker rods
If you do not see the LS1 H beam rods you want for your engine please check our conrods index page for additional connecting rod listings.
Back to Top Chevy LS1 H Beam Connecting Rods